Dr. B Dental Solutions Review 2023 (Dentist Recommended)
Dentist Tested and Reviewed | Time to Read: 8 mins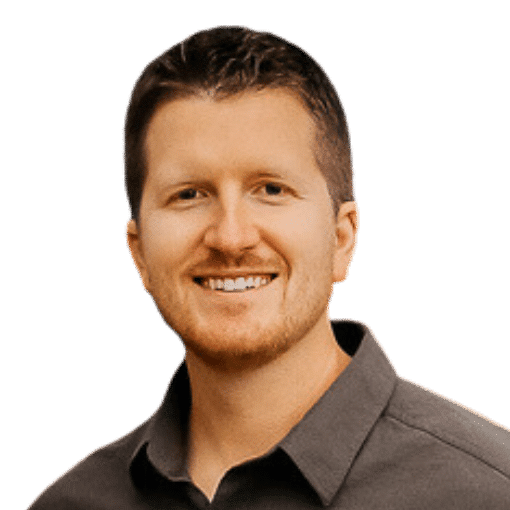 Dr. B Dental Solutions was founded by Dr. Lorin Berland, DDS, after hearing the needs of thousands of denture patients. While practicing for 35 years, he realized that dental treatments had improved drastically; however, the products available to care for the new appliances haven't changed in decades.
By listening to the needs of his patients, he was inspired to develop unique denture and dental appliance products used by dentists and patients around the world.
Recommended Reading:
Learn more about Dentures
Dr. Berland is one of the most published authors on clinical dentistry and dental education, with over 100 articles, the best-selling Lorin Library Smile Style Guide, and instructional videos. In addition, Dr. Berland was recognized by the American Academy of Cosmetic Dentistry for Outstanding Contributions to the Arts & Science of Cosmetic Dentistry and has been featured in major print publications and television.
Dr. B Dental Solutions features a full product line designed to treat real issues, like oral infections and dry mouth.
Dr. B's product line includes three dentist-recommended kits along with individual products. Let's take a closer look at the available denture kit, dental appliance kit and fixed hybrid kit from a dentist's perspective. If you're interested in denture care products, check out their site HERE!
---
First Impressions
As a fellow dentist, I understand how difficult it can be for patients that wear dentures. However, it's our job to provide patients with tailored care and equip them with the knowledge to improve their oral health. Dr. B Dental Solutions meets all these needs, plus more.
My favorite product is the Liquid Crystal Dental Appliance Soak Cleanser because it's versatile and can be used for all types of dental appliances, including dentures, partials, overdentures, retainers, nightguards and sleep appliances. In addition, it's the only cleanser that kills Candida, Strep, Staph, E. coli & other dangerous pathogens.
Keep reading to learn more about each product and my thoughts from a dentist's perspective.
Highlights
ADA-Accepted denture care
Natural benefits
Developed by a dentist
Recommended by dentists
Eliminates tough stains
Eliminates odors & debris
Thousands of reviews
Protects Your Health
Zinc-free adhesive
Kills 99.99% of bacteria
Rich in vitamins & oils
No colors or artificial flavors
No bleach or chlorine
---
Denture Kit
The denture kit is ideal for patients wearing complete dentures, partial dentures and overdentures. Save money when purchasing this kit and receive the entire line of Dr. B Dental Solutions products. The denture kit is specially designed to help improve the denture experience by reducing oral infections, dry mouth, and sore spots. Rich in vitamins, aloe vera, coconut oil, and tea tree oil.
What's Included?
Adhesadent Denture Adhesive
Cleanadent Paste
Cleanadent Denture and Gum Wipes
Dental Prosthetic and Mouth Toothbrush
New and Improved Ultrasonic Cleaner
Liquid Crystal Soak Cleanser
Removable oral appliances are at a high risk of developing Candida, a serious infection known for its many negative health consequences and its resistance to antibiotics.
Dental Appliance Kit
The dental appliance kit is ideal for removable dental appliances, orthodontic appliances, sleep/airway appliances and nightguards.
In addition, the product line includes solutions to keep your gum tissue healthy and dental appliances free of debris. Dr. B products are featured on many websites, including USA Today, American Dental Association and Dentistry Today.
What's Included?
New and Improved Ultrasonic Cleaner
Liquid Crystal Soak Cleanser
Millions of people suffer from dry mouth and sore spots. Removable oral appliances can negatively impact saliva production.
Fixed Hybrid Kit
The fixed hybrid kit is ideal for fixed implant bridges and All-on-4 appliances.
In addition, this kit includes a dental prosthetic toothbrush to remove harmful bacteria from hard-to-reach areas. Lastly, Dr. B products have over 1000 reviews from happy patients. Don't give up on a troublesome denture until you try Dr. B denture products.
What's Included?
Cleanadent Paste
Cleanadent Denture and Gum Wipes
Dental Prosthetic and Mouth Toothbrush
Try the only ultra-low abrasive toothpaste safe for dentures, implant bridges, and gums. Reduces dry mouth, irritation, and sore spots, with vitamins, aloe vera, coconut oil, and tea tree oil.
---
Adhesadent Denture Adhesive
The Adhesadent Denture Adhesive is the only denture adhesive developed by a dentist and accepted by the ADA. It features a secure hold for up to 12 hours; however, be sure to clean the denture and your mouth after each meal to prevent biofilm accumulation.
Highlights
Zinc-free copolymer provides a powerful suction hold
Rich in vitamins and aloe vera to soothe and moisturize
12 hours of secure fit and hold
Thoughts
I can appreciate a strong denture adhesive that also moisturizes the gum tissue. In addition, this denture adhesive is simple to clean using the Cleanadent Paste and Cleanadent Denture & Gum Wipes. Finally, apply three evenly spaced dots on your denture to ensure a secure fit. Less is more!
Cleanadent Paste
Cleanadent Paste can be used with the Dr. B Toothbrush to brush dentures, overdentures and implant bridges inside or outside the mouth. Brushing with Cleanadent Paste will eliminate any denture adhesive, food and pathogenic biofilm. In addition, the Cleanadent Paste is the only dental prosthetic and mouth toothpaste accepted by the American Dental Association (ADA).
Highlights
Ultra-low abrasive, safely clean prosthetics
Moisturizes, refreshes & comforts gums
ADA-Accepted seal of approval
Removes odor, debris, food & plaque
Thoughts
Denture adhesive can be troublesome for patients as it's difficult to remove from your gums and the denture. The Cleanadent paste is a great product to melt adhesive away. In addition, Cleanadent Paste is the only ultra-low-abrasive toothpaste safe for cleaning dentures and implants.
Cleanadent Denture and Gum Wipes
One of the most common issues experienced by people with dentures & implant-supported bridges is difficulty cleaning after meals. Food gets stuck, and there's no way to remove denture adhesive when out and about. Now there's a solution, Cleanadent Denture and Gum Wipes!
Highlights
Individually packaged for portable hygiene
Cleans, smoothes & moisturizes
Vitamins, aloe vera & cocunut oil
Removes stains, food & odor
Thoughts
These wipes are fantastic! The individually packaged moist wipes easily fit in your pocket or purse so that you can take them anywhere! Bring it to the office, restaurant and more for hygiene on the go! I see patients all the time struggling to remove food and debris from their dentures. This product is excellent and meets the needs of denture patients.
Dental Prosthetic and Mouth Toothbrush
The Dr. B Dental Prosthetic & Mouth Toothbrush is tailored to safely and thoroughly brush all the plaque and debris within grooves, ridges and hard-to-reach spots of dental prosthetics. It's perfect for brushing inside and outside the mouth.
Highlights
Ridged bristle design
Matches the shape of prosthetics
Matches the shape of teeth
Revolutionary design
Extra-soft bristles
Ergonomic grip
Thoughts
I love this dental prosthetic toothbrush because it features dual-sided brush heads. In addition, there's a precision bristle tuft to clean deep within the denture. Regular toothbrushes and denture brushes have stiff bristles that are too abrasive for dental prosthetic materials, damaging dentures and other prosthetics. Instead, pair the toothbrush with Cleanadent Paste for exceptional cleaning.
New and Improved Ultrasonic Cleaner
Dr. B's Ultrasonic Cleaner mechanically cleans with ultrasonic waves. The ultrasonic cleaner with Liquid Crystal Soak Cleanser removes 99.99% of harmful oral bacteria. Batteries are included, and it features a USB plug for simple charging.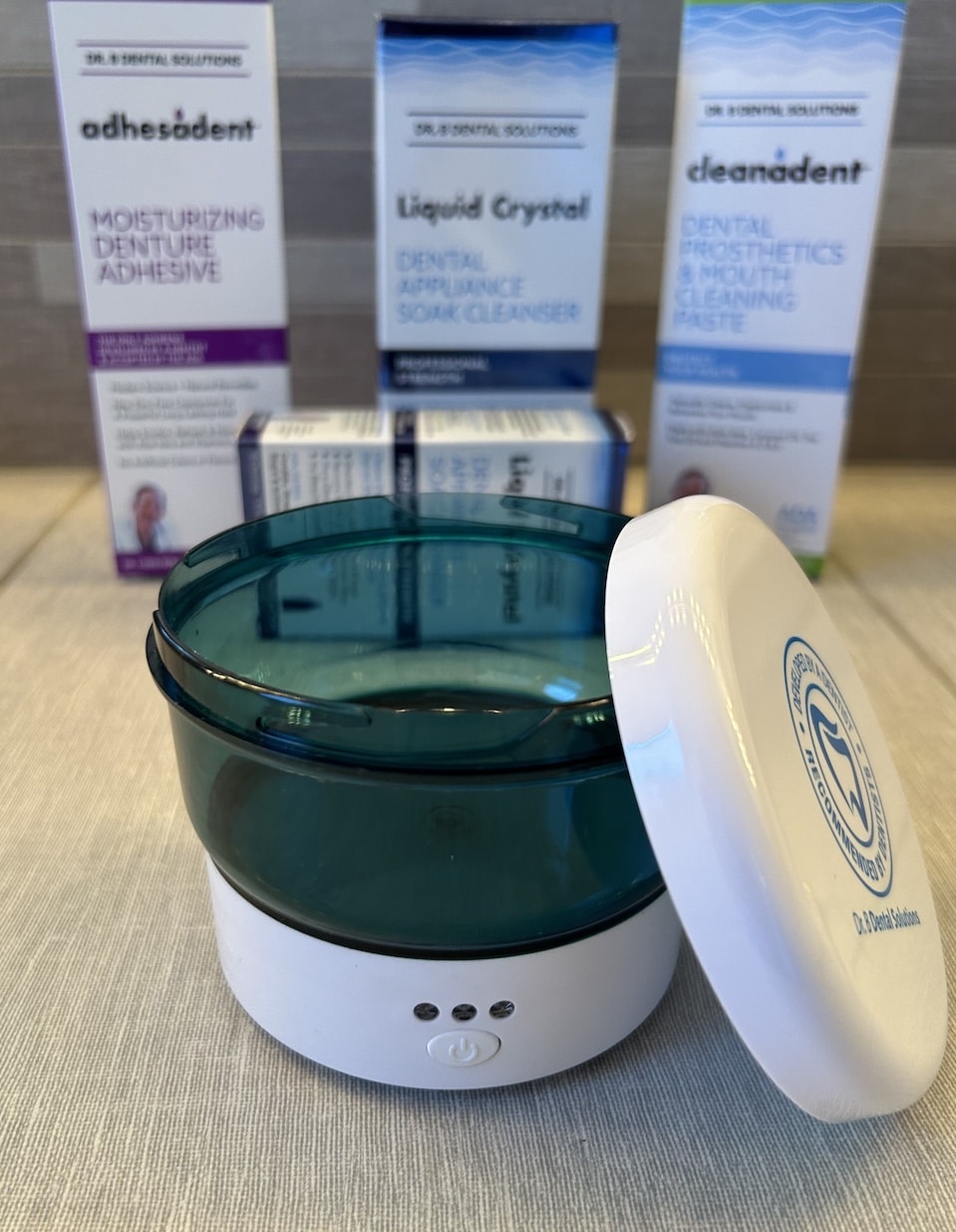 Highlights
Battery & USB charging
Three timer settings (5, 10 & 15 minutes)
Auto shut-off
Mechanically cleans
Thoughts
This ultrasonic wave vibrating bath is similar to the ultrasonic cleaner we use at the dental office.
Use this cleaner as often as you prefer to remove stubborn food and debris while disinfecting the dental appliance. In addition, it includes a large compartment to fit both upper and lower complete dentures.
Liquid Crystal Soak Cleanser
Liquid Crystal Soak Cleanser is the only cleanser that instantly kills dangerous pathogens without harmful chemicals, bleach, alcohol, or chlorine. These pathogens are highly prevalent on oral devices and are the leading causes of oral thrush, stomatitis, and pneumonia. Other cleansers only claim to kill odor-causing bacteria.
Highlights
Kills 99.99% of bacteria
Eliminates odors, stains & debris
Safe for snap-in-dentures
Dental appliance cleaner
Professional strength
Thoughts
Liquid Crystal Soak Cleanser is the cornerstone of Dr. B Dental Solutions Products. I'm unaware of another product that removes bacteria without harmful chemicals that can alter the dental prosthetic material. This product is a must for any dental appliance patient and conveniently pairs with the Ultrasonic Cleanser.
---
Final thoughts
Dr. B Dental Solutions was created by a dentist to improve the lives of patients that wear dental prosthetics. As a fellow dentist, I strongly recommend Dr. B's products! Try Dr. B's products if you struggle with sore spots, dry mouth, or sore gums or want to keep your dental appliance clean.
My Dental Advocate Score | 9.6/10
Knowledge is power when cultivating healthy dental habits. The more informed you are, the better positioned you'll be to prevent avoidable and potentially costly dental procedures for you and your family. Watch for future blog posts, where we'll continue sharing important information, product reviews and practical advice!