Why Dentists Recommend Different Crown Options & Materials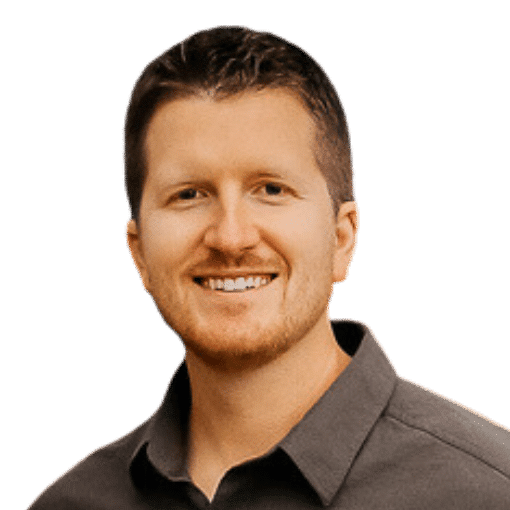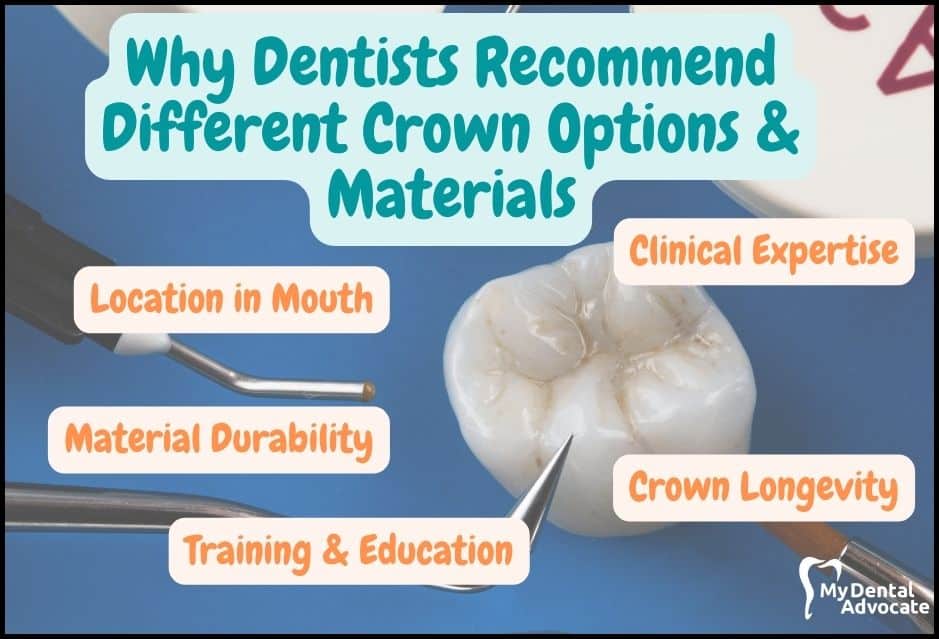 When considering dental crowns, it is essential to understand that dentists may have different opinions and recommendations regarding the necessity and materials used for the procedure.
This issue can be a real head-scratcher for patients. As a dentist, there are many factors to this dilemma. This can be due to their experience level, personal preferences, and the latest technologies available.
As a result, seeking a second opinion before making any decisions about your dental health can be beneficial.
Recommended Reading:
Dental Second Opinion | The Ultimate Guide
My (Dentist) Thoughts
After years of training, education and clinical practice, there are many reasons why dentists have varying opinions. For example, I've encountered many patients confused and frustrated with their previous dentist's treatment plan.
Our diagnosis and recommended treatment plan are often similar; however, occasionally, I disagree. Why is that? Well when it comes to a dental crown there are many factors to consider.
For example, does the patient grind or clench their teeth? If so, a filling may fracture and break under stress load, whereas a crown would be more durable and provide longevity.
Important Factors
Clinical expertise
Location of the tooth in mouth
Material durability
Crown longevity
Training & education
Let's look more in-depth at other factors, including dental crown materials, dental insurance and practice location.
Different Crown Options
Different material options are available for dental crowns. Traditional options include gold, porcelain-fused-to-metal, and base metal alloys. However, newer options such as zirconia, lithium disilicate, and e.max have become increasingly popular due to their durability and aesthetic appeal.
In addition, it's now possible for porcelain crowns and occasionally zirconia crowns to be fabricated and delivered in-office the same day. Therefore, the dentist will need unique scanning, designing and milling equipment.
The most common technology is CAD/CAM units. Some dentists may recommend these crown options over traditional ones, depending on the patient's needs and goals.
Additionally, dentists may have different opinions on the necessity of a dental crown. For example, some dentists may recommend a filling instead of a crown for a less invasive option.
Others may recommend a crown as a long-term solution for a heavily decayed or damaged tooth. In addition, if you grind or clench your teeth, a crown will be more durable.
An inlay, onlay or partial crown may be recommended if a filling is inadequate and a crown would be overkill. An onlay or partial crown covers only a portion of the tooth, leaving healthy tooth structure remaining to support the restoration.
Seeking a second opinion can provide you with alternative treatment options and ensure that the recommended treatment is appropriate for your needs.
Recommended Reading:
10 Reasons You Need a Second Opinion on Dental Work (Dentist's Thoughts)
Different Crown Materials
When seeking a second opinion, it is vital to look for a provider who has the necessary experience and expertise in the procedure, is up-to-date on the latest techniques and technologies, and is willing to take the time to answer all of your questions and explain the risks and benefits associated with the procedure.
Several different types of materials can be used. Each type of material has unique benefits and drawbacks, and the best option for you depends on your individual needs and goals.
Traditional Options
Gold: Gold crowns are known for their durability and longevity. They are also a good option for patients who have allergic reactions to other types of materials. However, there may be more aesthetically pleasing options as they are visible in the mouth and may have a yellowish appearance.
Porcelain-fused-to-metal (PFM): PFM crowns are made by fusing a layer of porcelain to a metal substructure. They are a popular option because they are strong and can match the color of your natural teeth. However, they may be weaker than other options, and the metal substructure can show through the porcelain, making the crown appear dark at the edges.
Base metal alloys: Base metal alloys are a type of metal used to make crowns. They are a cost-effective option and are known for their strength. However, like gold crowns, they may not be the most aesthetically pleasing option as they are visible in the mouth and may have a grayish appearance.
Newer Options
Zirconia: Zirconia crowns are made from a ceramic material that is strong and durable. They can match the color of your teeth and look natural. They are also biocompatible and hypoallergenic. They are also more translucent than other ceramic materials, making them lifelike.
Lithium Disilicate: Lithium Disilicate is a type of glass ceramic with a natural-looking appearance, strong and durable. These materials can be used for multi-unit bridges and implant restorations as well.
E.max: E.max is a lithium disilicate known for its strength, durability, and aesthetic appeal. It is also highly resistant to wear and can match the color of your natural teeth.
The choice of material for your crown will affect your treatment's longevity and success. Your dentist may recommend a specific type of crown material based on the tooth's location, function, aesthetics, health, function, and personal preferences.
Recommended Reading:
Should I get a Second Opinion on Cavities? (Potentially Save Thousands)
Factors to Consider
Regarding dental treatment, the cost is often a primary consideration for patients. Dental crowns, in particular, can be a significant investment, and it's essential to understand the costs associated with the procedure and how to ensure you are getting the most cost-effective option for your specific needs. Cost differences depend on these factors:
Different materials have different costs: As mentioned earlier, varying materials used for dental crowns have variable costs. Gold crowns, for example, can be more expensive than porcelain-fused-to-metal crowns, but they may last longer. On the other hand, Zirconia, lithium disilicate or E.max may have higher costs but offer better aesthetics and durability. Therefore, it is essential to understand the costs associated with different materials and how they compare to your specific needs and goals.
The cost of the procedure can vary depending on the dentist and location: The price of a dental crown can vary depending on the dentist's location, their level of experience and expertise, and the type of materials used. Research dentists in your area and understand the costs associated with the procedure before making any decisions.
Dental insurance: Dental insurance plans can have different coverage for dental crowns. You should check with your insurance company to understand what your policy covers and the out-of-pocket costs.
Financing options: Some dental offices offer financing options to help make dental crowns more affordable. It's essential to understand the terms of these financing options and how they compare to other options available.
Second Opinion: It's recommended to get a second opinion and compare costs; the dentist you visit may recommend alternative treatments that could be less expensive but still meet your needs.
Considering long-term costs: Consider the immediate costs of a procedure and the long-term costs. While a cheaper option may seem more attractive initially, it may be less cost-effective in the long run if it requires frequent replacements or repairs.
By considering these factors and being proactive in researching the costs associated with dental crowns, you can make an informed decision about the best option for your individual needs and budget. The most important thing is to work with a dentist you trust and willing to discuss all options, costs, and benefits with you, to make the best decision for you and your oral health.
Recommended Reading:
5 Benefits of a Dental Second Opinion (Dentist's Perspective)
My Dental Advocate Solution
My Dental Advocate provides a valuable service for patients seeking a second opinion on their proposed dental treatment. By offering asynchronous telehealth consultations, My Dental Advocate allows patients to securely upload their treatment plans and x-rays and receive a response from a board-certified dentist within hours.
We provide a convenient and efficient way to review proposed dental treatment and receive a non-biased report, giving you peace of mind about any expensive dental work you may be considering. In addition, if patients have any questions or concerns about their treatment, they can reply to the email and message the dentist for further clarification.
My Dental Advocate is a helpful resource for patients looking to ensure they receive the best care for their dental health.
MDA Verification Report
What is the My Dental Verification Report, and why is it important? Our board-certified dentists will review your case and provide an unbiased second opinion on how you should move forward with your proposed dental treatment. We respect all dentists suggested treatment.
However, we desire clarity for your dental needs. You should understand what dental work is necessary to move forward with treatment confidently.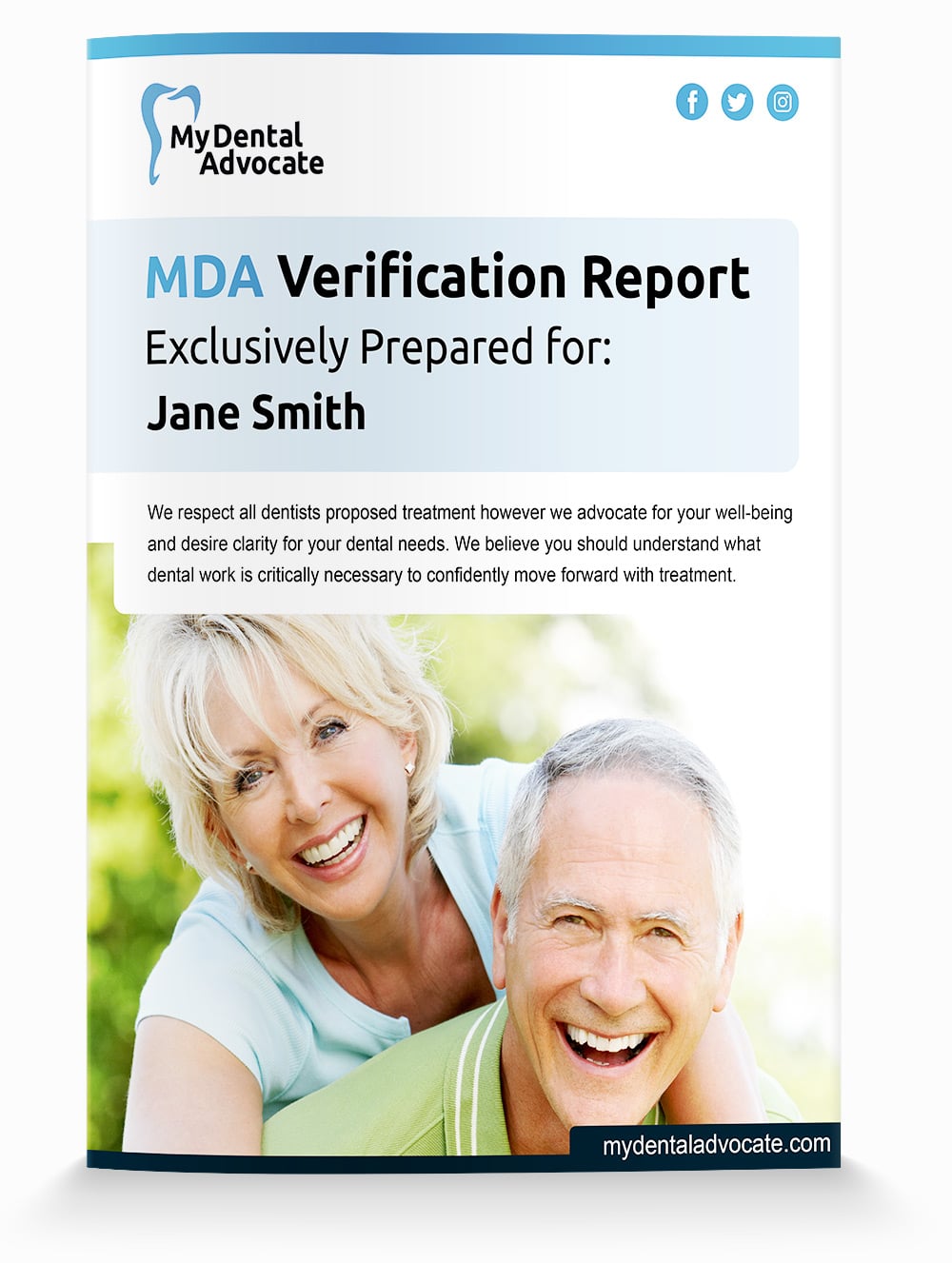 How We Help
Avoid unnecessary dental treatment
Potentially save you thousands of dollars
Information reviewed privately and securely
Unbiased assessment that brings you peace of mind
Quick response time to review the report at your convenience
Clarity and confidence moving forward with dental treatment
Completed from the comfort of your own home
What's Involved?
With My Dental Advocate, patients of all ages now have an unbiased, expert second opinion to securely review their proposed dental treatment and gain the knowledge to improve their oral health.
Step 1: Complete the questionnaire
The questionnaire includes a brief medical history, oral hygiene habits, and an opportunity to explain your dental concerns.
Step 2: Upload x-rays
Contact your provider to request your x-rays or take a photo of them at the office. You can also upload dental photos, current treatment plans, periodontal probings, and other supporting documents.
Step 3: Submit payment
We will privately send your information to a board-certified dentist who will securely assess your case and provide a detailed second opinion for your proposed dental work.
Step 4: Receive MDA Verification Report
We will email your MDA Verification Report second opinion within hours for review at your convenience and from the comfort of your home.
Frequently Asked Questions (FAQ)
My Experience & Expertise
When it comes to dental crowns, it's important to understand that different dentists may have different opinions and recommendations regarding the necessity and materials used for the procedure.
Seeking a second opinion can provide alternative treatment options and ensure the recommended treatment is appropriate for your needs and goals.
Knowledge is power when cultivating healthy dental habits. The more informed you are, the better positioned you'll be to prevent avoidable and potentially costly dental procedures for you and your family. Watch for future blog posts, where we'll continue sharing important information, product reviews and practical advice!