Colgate Hum Electric Toothbrush Review 2023
Dentist Tested and Reviewed | Time to Read: 6 mins
Updated: January 30, 2023
By: Dr. Advocate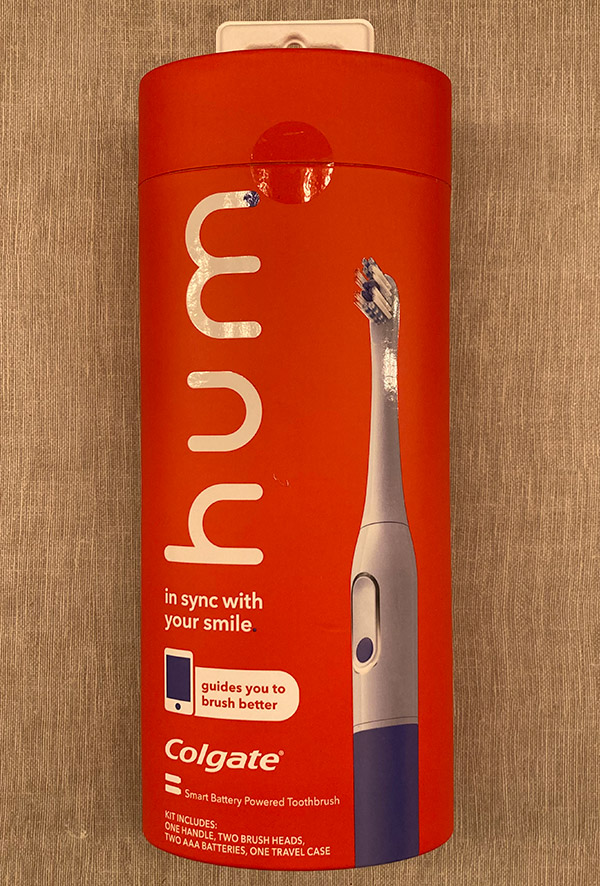 Colgate Hum is a "smart electric toothbrush that guides you, times you, and reminds you – helping you get into the rhythm of better brushing for cleaner smiles." Colgate has been in the oral health care industry for over 145 years and offers a range of oral care products. The company values sustainability as it recently created a first-of-its-kind recyclable toothpaste tube. Also, they strive to be an accessible company that offers many educational resources to the public and dental professionals.
Colgate Hum offers rechargeable or battery-powered versions, and both arrive with a slim, compact case. Subscription replaceable brush heads are also available for automatic delivery every three months. Colgate Hum's most notable feature is the smartphone connectivity. The toothbrush is equipped with intelligent sensors to track and notify you about your brushing habits.
"A brush that knows you and an app that shows you" tracks your brushing style's frequency, duration, and coverage. If you're in the market for a new toothbrush or any other Colgate products, use code XE994G for 30% off at checkout. From a dentist's perspective, let's look at the Colgate hum.
Related Reviews
---
---
---
First Impressions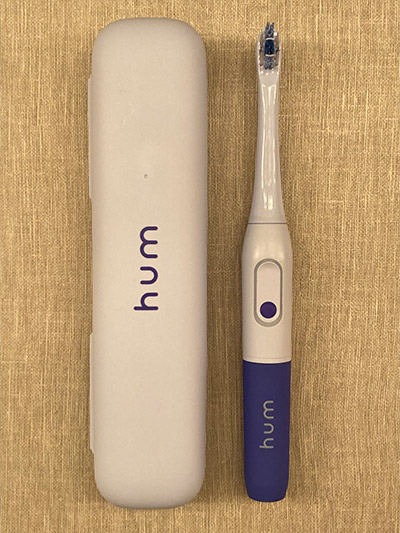 We tested and reviewed the battery-powered hum, and you can't miss the unique brush head bristle design. Colgate was very purposeful on the overall bristle layout, including the multi-level length and various bristle thicknesses. The center features stiffer, tightly packed bristles surrounded by a polishing cup to remove tough stains.
The toothbrush is lightweight and comfortable to hold and handle. We would have appreciated various textures as we found it slip around when brushing. Lastly, the tongue and cheek cleaner is practical and offers a fine texture to remove bacteria. For $39, this toothbrush provides smart technology, innovative bristles, and an ergonomic handle.
---
Innovative Features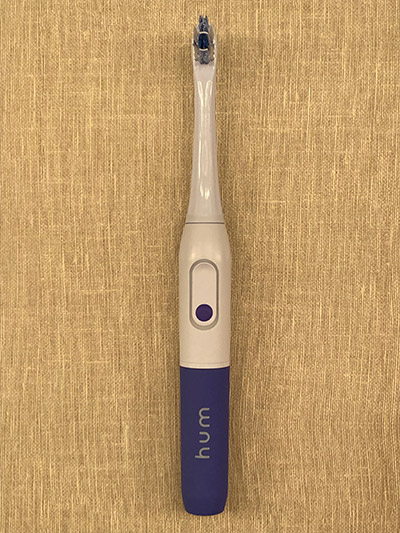 Colgate Hum offers many features for a great value. Colgate understands Oral-B and Philips Sonicare are at the top of most electric toothbrush consumers. So they are looking to cultivate their own followers by offering hum in many colors, including seafoam green, light blue, and purple. Also, the Hum kids product line is available so everyone can hum together. So let's check out the features that set Colgate Hum apart.
Smartphone connectivity keeps you up to date on your brushing habits. For example, did you know that most people miss up to 40% of their teeth when they brush? The interface via the Colgate app highlights the brushing coverage, areas that you missed, and how long you brushed.
Rechargeable or battery-powered toothbrushes are available to find the toothbrush that suits you. Both options feature expert-design brush heads with floss-tip bristles to clean your teeth.
Powerful vibrations scrub away unwanted plaque by 30,000 sonic vibrations/minute for the rechargeable option and 20,000 sonic vibrations/minute for the battery-powered. So now you know why they call this toothbrush hum.
Various brushing modes are available. Deep clean, normal and sensitive are available with the rechargeable version; however, only standard and sensitive modes are available with the battery-powered. Double-click the power button to toggle between modes.
Tongue and cheek cleaner is purposeful and effective at removing bacteria. The stubby rubber bristles flex as you scrub to sweep away bacteria within the grooves of your tongue. Also, the cheek cleaner extends the length of the entire brush head attachment for quality cheek contact while you're brushing.
Subscription replacement brush heads are a no-brainer, so you never have to worry about replacing them. It arrives in the mail every three months for only $4.99.
Bristle design seeks to clean every aspect of the tooth. Also, the multi-level bristle length allows adequate reach to clean behind the last tooth in each quadrant.
---
Effectiveness
After testing Colgate Hum for multiple weeks were disappointed in the cleaning quality for various reasons. Our main complaint was the lack of sonic vibrations between both modes. If you purchase this toothbrush, spend the extra money for the rechargeable option. It features 30,000 sonic vibrations/min, compared to the 20,000 vibrations/min battery-powered option we tested.
Also, we found ourselves desiring to brush actively because of how little movement occurred. Lastly, the toothbrush head is well-designed; however, we expected it to be more significant. This toothbrush is ideal for individuals with small mouths.
---
Pros
Multi-level bristles
Travel case provided
Subscription replacement heads
Smartphone connectivity
2-minute timer
Various brushing modes
Ergonomic handle
Tongue and cheek cleaner
30k sonic vibrations/min (rechargeable)
20k sonic vibrations/min (battery)
---
Cons
Stiff and abrasive bristles
Sonic vibrations are inadequate
Smaller brush head
Minimal bristle density
---
---
Final Thoughts
The Colgate Hum is a quality electric toothbrush that features smartphone connectivity, multiple brushing modes, and subscription replacement heads. Although it offers many great features, we were disappointed with the plaque removal and cleaning effectiveness. If you're planning on purchasing this toothbrush, be sure to buy the rechargeable option, as it offers the maximum sonic vibrations/minute. If you're in the market for a new toothbrush or any other Colgate products, use code XE994G for 30% off at checkout.
My Dental Advocate Score | 7.5/10
The more you know, the more healthy habits you can develop, saving you and your family from avoidable and potentially expensive dental procedures. Talk to your dental professional for more suggestions on improving oral health and check back for more blog posts and relevant information. Please share this site and let us know what else you'd like to know!
---
About the Author
Dr. Advocate is a board-certified dentist with 5+ years of clinical practice experience on a mission to provide accurate dental patient education. He believes everyone should access easy-to-read dental resources presented in layperson's terms with relevant, up-to-date dental research and insight to improve their oral health.
---
---