Top 4 Best Sensitive Gums Mouthwash Review 2023
Dentist Tested and Reviewed | Time to Read: 7 mins
By: Dr. Advocate
Updated: January 30, 2023
Most mouthwashes you find at the store seek to reduce the microbial load in your mouth, eliminating bad breath; however, other oral rinses treat various issues, including dry mouth, oral fungus, stained teeth, and oral pain.
In addition, individuals with sensitive gums may have challenges with some of these products because of the harsh active ingredients. Gum tissue is susceptible and, if adversely triggered, can lead to redness, pain, peeling, and irritation. For example, sodium lauryl sulfate (SLS) is a common ingredient in most over-the-counter mouthwash that has been shown to cause gum irritation.
Several products provide oral health benefits while being gentle on the gum tissue. However, gum irritation can occur from SLS, trauma, oral accident, tissue burn, mouth sores, or denture irritations. Therefore, oral hygiene becomes even more important to prevent further irritation and possible complications.
Let's look at the four best oral rinses for sensitive gums.
---
Tested and Reviewed
---
Evaluation Criteria
We highlight each product's unique, advertised benefits, identify their pros and cons and score each one from 1 to 5 based on four categories. The oral rinse with the highest score is crowned the overall champion; however, we'll also give suggested patient benefits for each product. Prices listed are subject to change and discussed in each review, however they were not considered within the scoring criteria.
---
Effectiveness: Does the mouthwash treat the advertised need? How effective were the results?
Comfort: Are you able to swish for recommended time? Did it sting or burn? How did the mouth feel afterwards?
Taste: How was the overall taste? Was it tolerable? Did it alter your sense of taste?
Likeability: Is the product likeable and enjoyable to use? Are you able to use it as directed?
---
Related Reviews
---
---
---
Oxyfresh Fresh Breath Mouthwash
Oxyfresh was founded in 1984 and developed oral care products for people and pets. They create "safe, eco-friendly solutions that combine science and natural ingredients." Also, they have products that treat oral health problems, including bad breath, sensitive teeth, mouth sores, gingivitis, and gum disease. Oxyfresh oral rinse was awarded first place in the 2020 Family Choice Awards.
Let's take a closer look at this flavorful mouthwash.
---
Highlights
Dentist approved
Instant, all-day fresh breath
Reduces harmful bacteria by 44%
Improves plaque index by 79%
pH-balanced
Contains essential oils, aloe and xylitol
Alcohol-free and dye free
---
Results
Effectiveness: ⭑⭑⭑⭑⭑
Comfort: ⭑⭑⭑⭑⭑
Taste: ⭑⭑⭑⭑⭒
Likeability: ⭑⭑⭑⭑⭑
Total: 19/20
---
Best for patients with bad breath and dry mouth
Directions
Shake well
Swish 1-2 capfuls for 1 minute
Use in morning and after meals
---
Pros
Oxyfresh mouthwash is different from all other products tested. Its lemon mint flavor is much sweeter than other rinses that are overpowering and uncomfortable to swish. It was comfortable and enjoyable to use. There was no burning, stinging, or dry mouth aftertaste. Also, it effectively eliminated bad breath and left our mouths clean and refreshed.
---
Cons
One minor concern was that the lemon mint aroma reminded us of a chemical cleaning product. It was an odd experience from an otherwise fantastic product.
---
---
---
---
CloSYS Non-Irritating Rinse
In 1980, Dr. Perry Ratcliff founded Closys to replace ineffective and irritating oral rinses. He formulated an extremely effective yet gentle oral rinse that a small group of dentists praised. Closys Oral Care was born and continues to create high-quality, comfortable oral rinses. Their products are made in the USA and are free from alcohol, sulfates, and triclosan.
Let's take a closer look at this non-irritating rinse.
---
Highlights
American Dental Association accepted
Gentle mint flavor
Naturally activated and pH balanced
Reduces bad breath
Free from alcohols, sulfates and triclosans
Floss or water irrigate between teeth
Brush teeth with CloSYS toothpaste
Rinse for 30-45 seconds with 1 capful
Try not to eat or drink for 20 minutes
---
Results
Effectiveness: ⭑⭑⭑⭑⭑
Comfort: ⭑⭑⭑⭑⭑
Taste: ⭑⭑⭑⭑⭑
Likeability: ⭑⭑⭑⭑⭑
Total: 20/20
---
Best for patients with sensitive gums and design gentle mint flavor.
Pros
CloSYS is comfortable and surprisingly flavorful. There's no burning, stinging, bitterness, or odd aftertaste. They formulated an effective product that's highly desirable. They offer other flavors and an ultrasensitive non-irritating rinse if this product is difficult to tolerate.
---
Cons
No concerns were observed.
---
Champion
---
---
---
TheraBreath Dentist Formulated Fresh Breath Oral Rinse
Dr. Harold Katz created TheraBreath to help his daughter overcome her struggle with bad breath. Since 1994 they've been creating oral care products that treat halitosis, gum disease, tooth decay, stained teeth, immune support, tooth sensitivity, and dry mouth. The original TheraBreath formulation attacks odor-causing bacteria rather than masking it with heavy flavors or powerful odors. TheraBreath is one of the five largest oral care companies and the largest privately-held manufacturer. TheraBreath Oral Rinse stimulates saliva flow and circulates antibacterial, oxygen-rich bacteria throughout your mouth.
Let's take a closer look at this product.
---
Highlights
American Dental Association accepted
Dentist formulated
Fights bad breath for 24 hours
Alcohol-free formulation doesn't burn or irritate
Oxygenated ingredients that kills bad bacteria
Mild mint is gentle on sensitive gums
No artificial flavor or colors
Certified kosher, vegan and gluten-free
100% satisfaction guarantee
---
Results
Effectiveness: ⭑⭑⭑⭑⭑
Comfort: ⭑⭑⭑⭑⭑
Taste: ⭑⭑⭑⭑⭑
Likeability: ⭑⭑⭑⭑⭒
Total: 19/20
---
Best for patients with sensitive gums and averse to overpowering flavors.
Directions
Rinse mouth for 1 minute with one capful
Gargle with another capful for 30 seconds to clean throat
Wait 5 minutes before eating
Use morning and night
For best results use with TheraBreath Toothpaste
---
Pros
Dr. Katz developed a formula that works to reduce bad breath. Immediately you realize how comfortable it is to swish around. You forget you're using mouthwash as it seems like you're swishing with water. The mild mint flavor is just the right amount to be refreshing but not overpowering. After multiple days of use, morning breath is eliminated, guaranteed, or your money back. We were pleased with the overall effectiveness of this product.
---
Cons
The directions state to use one capful for 1 minute and another for 30 seconds. If you continued this regimen twice daily, you would need a new bottle every week. One option is to use one capful for one-minute swishing and gargling or half a capful for each.
---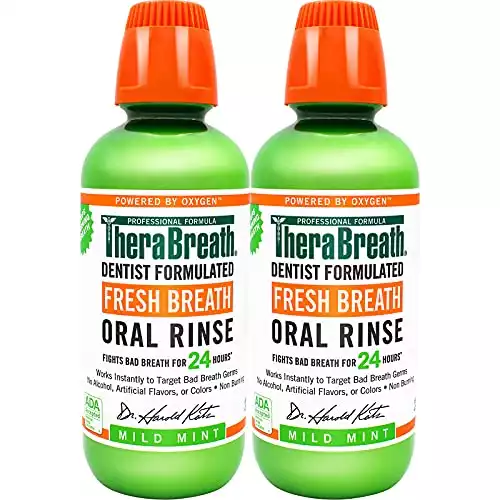 ---
---
---
StellaLife VEGA Antimicrobial Rinse
StellaLife is passionate about providing patients with safe, natural, and effective oral care products. They're a biotech oral health company that "innovates and seeks social responsibility." Their products include pain relief gel, bad breath rinse, and dry mouth spray. They have received the Dental Advisor Oral Healing Product Top Award for 2019, 2020, and 2021.
Let's take a closer look at this award-winning product.
---
Highlights
Natural, antimicrobial oral rinse
Hydrates and promotes healthy gums
Maintains oral health and freshens breath
Peppermint or coconut flavor
Reduces bacteria that causes tooth decay and gum disease
Non-staining, sugar-free and non-toxic
---
Results
Effectiveness: ⭑⭑⭑⭑⭑
Comfort: ⭑⭑⭑⭑⭑
Taste: ⭑⭑⭑⭒⭒
Likeability: ⭑⭑⭑⭑⭒
Total: 17/20
---
Best for patients that value natural ingredients and antimicrobial benefits.
Directions
Specifically for adults and children over 6 years old
Use 10 mL rinse for 1-2 minutes then spit out
Use up to 3 times per day
Refrain from eating or drinking for 20 minutes after
---
Pros
This product was comfortable to swish and provided hours of dry mouth relief. The peppermint flavor was intense but enjoyable. The product comes with a measuring cup for accurate pours each time, and the directions are simple to follow. Natural flavors are beneficial, and limiting teeth stains is a bonus. Aso, it's encouraging that they were able to combine antimicrobial benefits with dry mouth hydration.
---
Cons
The aftertaste was unique and slightly bitter. However, it seemed to subside after 20-30 mins. Unfortunately, they only recommend using this product three times daily, so we recommend other products if you need repeated refreshing.
---
---
---
---
Overall Champion:

CloSYS Non-Irritating Rinse*
CloSYS edged out TheraBreath and Oxyfresh to claim the top spot. CloSYS and TheraBreath are similar in flavor and comfort. Both products are recommended for patients that desire a mild taste. Oxyfresh has a robust flavor with lasting freshness. CloSYS offers many other types of mouthwash, including Multi-Benefit 55+Rinse and an Ultrasensitive Non-Irritating Rinse.
---
Final Rankings
CloSYS Non-Irritating Rinse 20/20
TheraBreath Dentist Formulated Fresh Breath Oral Rinse 19/20
Oxyfresh Fresh Breath Mouthwash 19/20
StellaLife VEGA Antimicrobial Rinse 17/20
---
* My Dental Advocate product reviews are based on individual experience and your results with the products may vary.
The more you know, the more healthy habits you can develop, saving you and your family from avoidable and potentially expensive dental procedures. Talk to your dental professional for more suggestions on improving oral health and check back for more blog posts and relevant information. Please share this site and let us know what else you'd like to know!

---
About the Author
Dr. Advocate is a board-certified dentist with 5+ years of clinical practice experience on a mission to provide accurate dental patient education. He believes everyone should access easy-to-read dental resources presented in layperson's terms with relevant, up-to-date dental research and insight to improve their oral health.
---
---