---
SNOW LED Whitening Electric Toothbrush Review 2022
Category: Adult Dentistry, Cosmetic Dentistry, Dr. Advocate's Insights, Oral Health
Dentist Tested and Reviewed | Time to Read: 6 mins
By: Dr. Advocate
Updated: November 24, 2022
---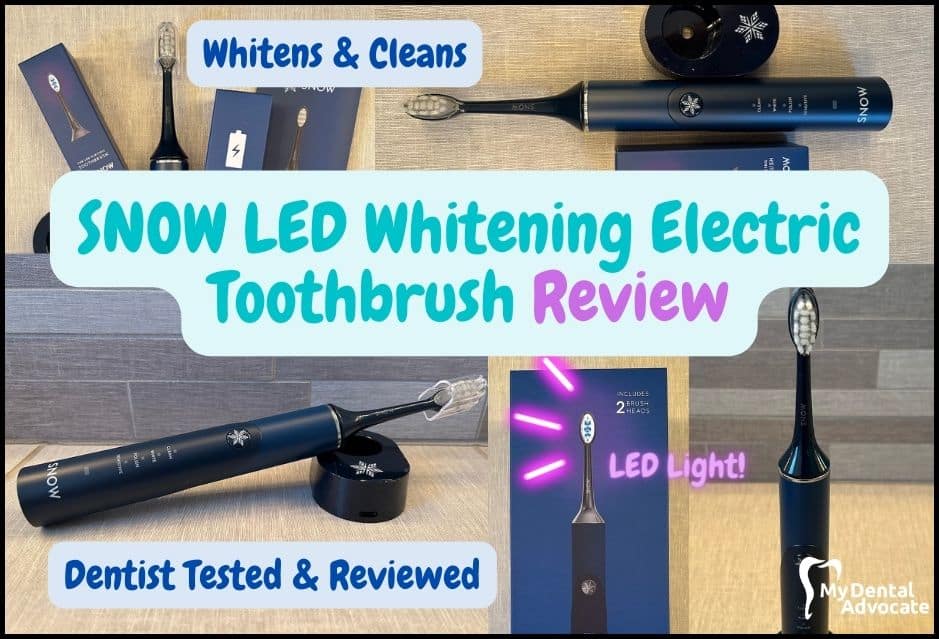 SNOW's LED Whitening Electric Toothbrush is called the "Apple of Oral Care" because it cleans AND whitens teeth. This toothbrush does it all! It also features an active blue LED light offering whitening support while brushing. In addition, four unique brushing modes are available to suit your needs – Clean, Whiten, Polish and Sensitive. The sonic technology delivers a powerful clean, and for faster whitening results, use SNOW's Whitening Toothpaste!
Recommended Reading: SNOW Cosmetics | The Ultimate Guide 2022
SNOW Cosmetics packed exciting features into this revolutionary toothbrush. For example, it features "Intelligent Brushing" that alerts the user to switch quadrants every 30 seconds. Did I mention you can subscribe and save on replacement brush heads? You never have to remember when to change them again. Simply sign up and receive a new brush head in the mail every three months. Lastly, the soft toothbrush bristles are gentle on the teeth and gums, so you won't have to worry about damaging your gums.
Check out the whitening electric toothbrush below for $149.00 or subscribe and save $20!
---
---
---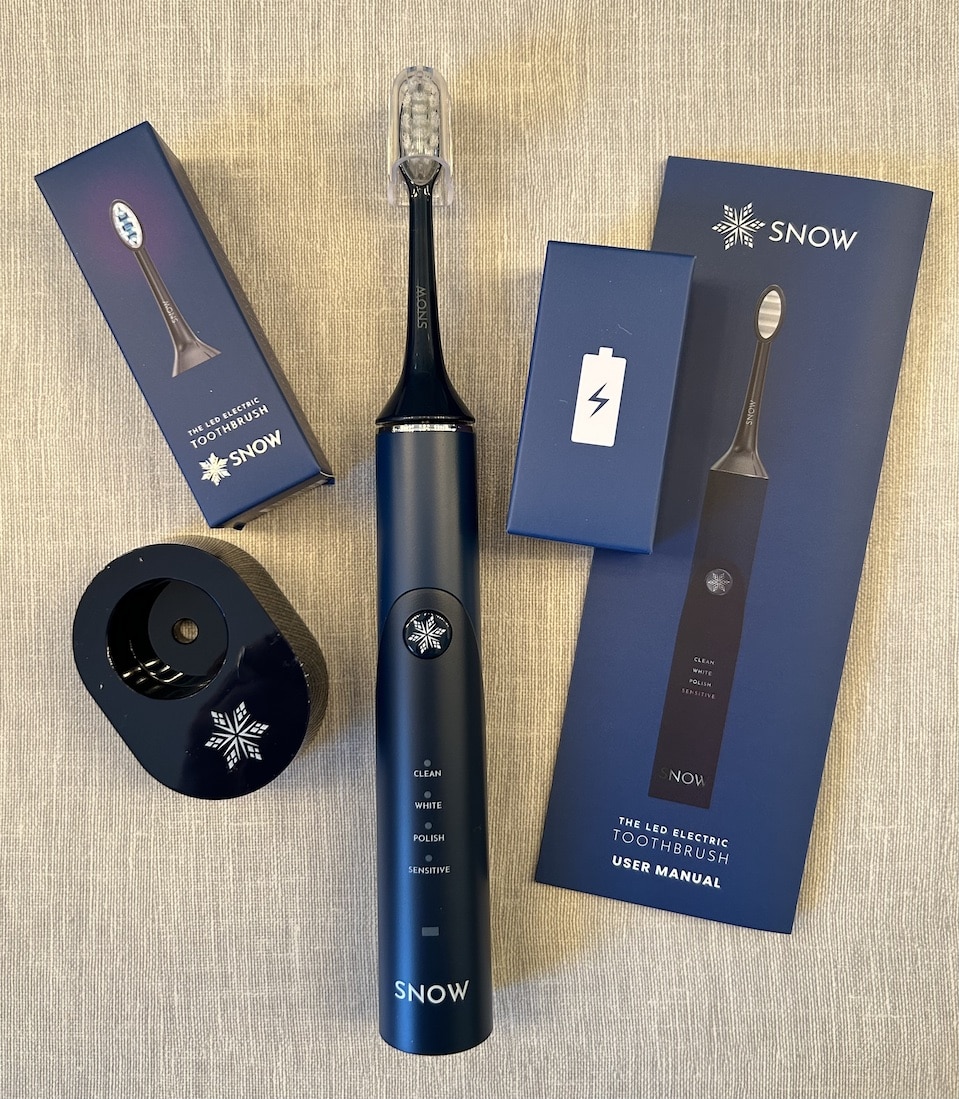 First impressions
SNOW's LED Whitening Electric Toothbrush arrived neatly packaged and included a charging base, replacement battery and extra LED brush head. The rechargeable battery lasts 4+ weeks, so it's always ready when you are.
Recommended Reading: SNOW Cosmetics At-Home Teeth Whitening Kit Review 2022
I can't get over how comfortable the brush head bristles are along my sensitive gums. SNOW designed an electric toothbrush with sensitive gums in mind. As a result, SNOW delivers healthier and brighter smiles for even the most sensitive teeth and gums. Overall, I was impressed with the four different brushing modes' effectiveness. My favorite is the Sensitive mode, as the toothbrush vibrates with lower intensity avoiding overwhelming rattling in the mouth. 

---
Meet the 2022 NEW BEAUTY® Award Winner!
---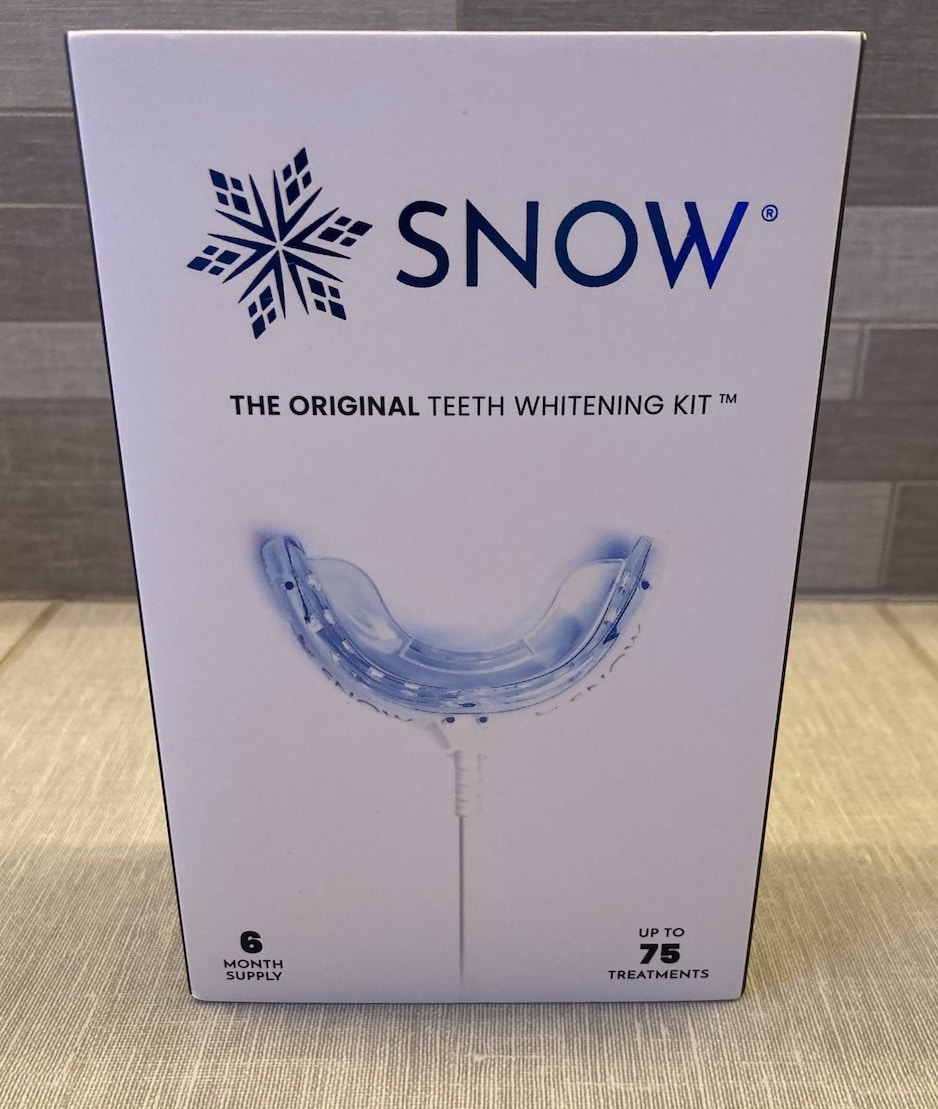 User Instructions
If you're interested in easy and effortless teeth whitening solutions, check out SNOW's At-Home Teeth Whitening Kit and follow the steps below.
Brush your teeth – Brush your teeth for two minutes using circular motions. When finished, floss and rinse.
Apply whitening serum – Twist up the wand and apply serum to each tooth – paint each tooth as you would your nails!
Plug LED light into your device (wireless available) – Once the serum has been applied to your teeth, plug the LED light into your device and put the mouthpiece in.
Whiten for 10-30 minutes – Keep the light in for 10-30 minutes (time varies based on your desired whiteness)
Remove light and rinse with water – After whitening for your desired length of time, unplug and remove the light from your mouth. Rinse both the light and your mouth, and voila! You're done!
---
---
---
Innovative features
As someone with sensitive teeth and gums, I'm always hesitant when testing teeth whitening products and electric toothbrushes. Rightfully so, most products I've tried came with a cost. For example, I've tried electric toothbrushes that sound and feel like a jackhammer. As a result, I would achieve a healthy, bright smile but suffer from gum and tooth sensitivity for days; That doesn't seem like a fair tradeoff, even from a dentist. However, after testing SNOW's LED Whitening Electric Toothbrush, I was pleasantly surprised with how effectively it scrubbed away plaque, whitened the teeth and polished away the stubborn stain.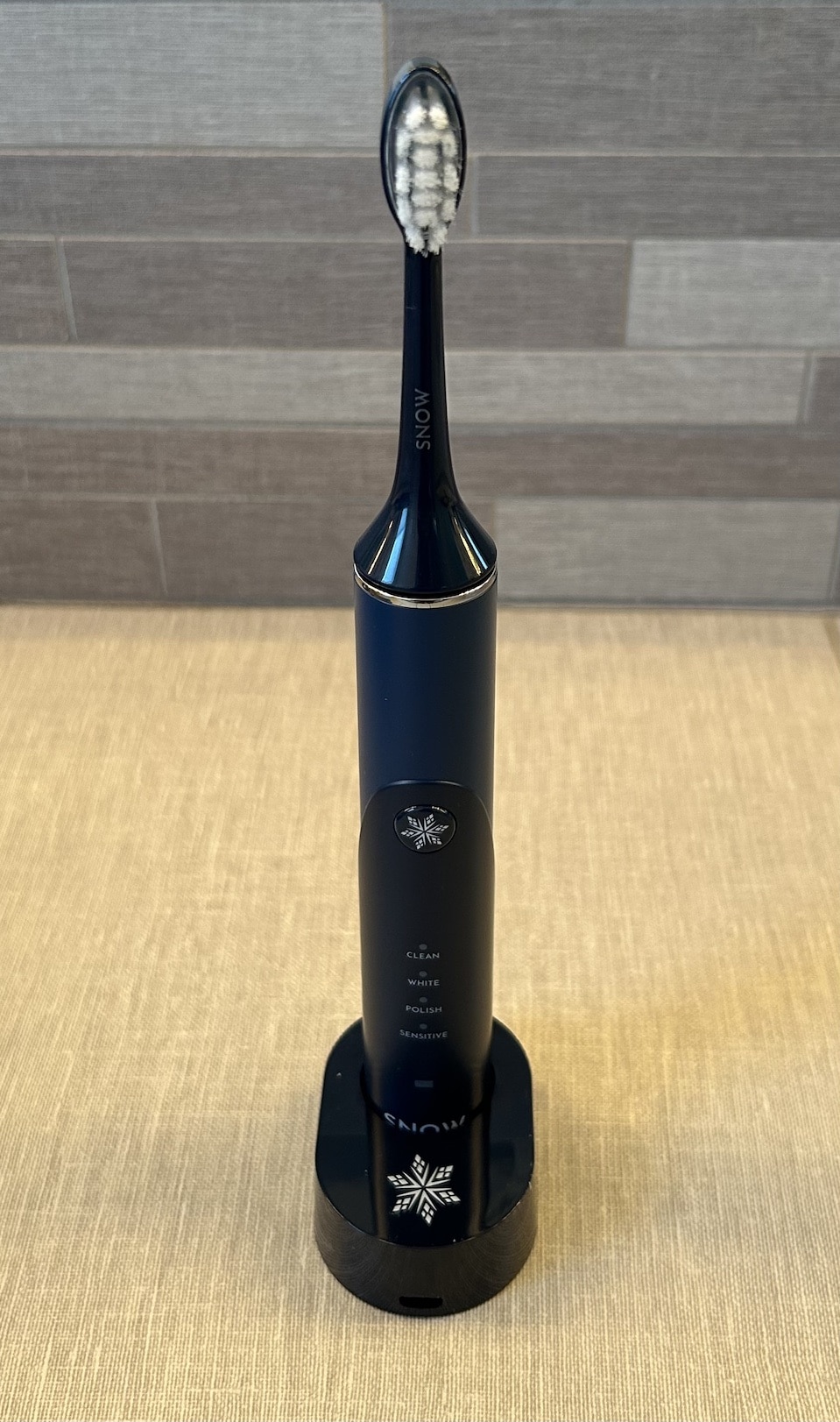 Are you interested in teeth whitening? SNOW has you covered! Their At-Home Teeth Whitening Kit is their most popular whitening product, with over 1 million kits shipped. You can check out our 2022 review HERE (FYI, we were blown away)! In addition, they offer Extra-Strength Whitening Serum, Whitening Toothpaste and Magic Whitening Strips.
Let's explore what makes this LED Whitening Electric Toothbrush incredibly effective yet gentle on the teeth and gums. 
4 unique brushing modes for all your smile's needs
Sonic technology for better cleaning
2-minute timer with 30-second intervals for easy, better brushing
Signature blue LED light trusted by millions for whitening support
Long-lasting battery life with charging base
Includes (2) LED brush heads ($22 value)
---
As featured in VOGUE, Womens' Health, Real Simple, ELLEN, Good Housekeeping and Marie Claire!
---
---
---
Effectiveness
SNOW took the conventional toothbrush and turned it on its head. Who would have thought you could combine a whitening-supportive LED light with a quality electric toothbrush? I was impressed with how well the toothbrush cleaned away plaque around each tooth and along the gum line. In addition, the bristles are incredibly soft, and the variable brushing modes are a great touch. I was hoping for a better ergonomic grip as the handle is slightly slick. However, overall it's a well-designed whitening toothbrush with a quality clean.
Pair the toothbrush with whitening toothpaste to maximize whitening, as the blue LED light activates the whitening solution. Remember that the LED light is only effective with light-activated whitening serum or toothpaste. Aside from whitening, what I appreciate most about this innovative toothbrush is the subscription service that automatically sends you a new toothbrush head every three months. Check it out to learn more!

---
"In my experience, SNOW LED Whitening Electric Toothbrush provides exceptional clean to brush away cavity-causing plaque while delivering brighter teeth whitening results, compared to other electric toothbrushes." ~ Dr. Advocate
---
Pros
Four brushing modes
LED light w/soft bristles
4+ week battery life
Rechargeable battery
Includes extra toothbrush head
2-minute smart timer
Subscription service available
Sonic technology for better cleaning
Pairs with whitening toothpaste
Pairs with SNOW Face Brush
Cons
Rattles opposing teeth when bumped
LED light is ineffective without whitening
Toothbrush handle is slick
---
---
Final thoughts
SNOW Cosmetics is positioning itself as a premier oral care company in 2022. As a dentist, I can attest to their electric toothbrush quality and whitening effectiveness, and I look forward to trying more innovative products. I've tried numerous electric toothbrushes and have never used one that whitens while you brush. I'm a believer in SNOW Cosmetics. Try it today, and let us know what you think.
My Dental Advocate Score | 9.2/10
---
About the Author
Dr. Advocate is an actual board-certified dentist with clinical practice experience and a mission to provide accurate dental patient education. He believes everyone should access easy-to-read dental resources presented in layman's terms with relevant, up-to-date dental research and insight to improve their oral health.
---
---