BURST Sonic Toothbrush Review 2023 & Promo Code (UF4JEC)
Dentist Tested and Reviewed | Time to Read: 6 mins
Updated: January 30, 2023
By: Dr. Advocate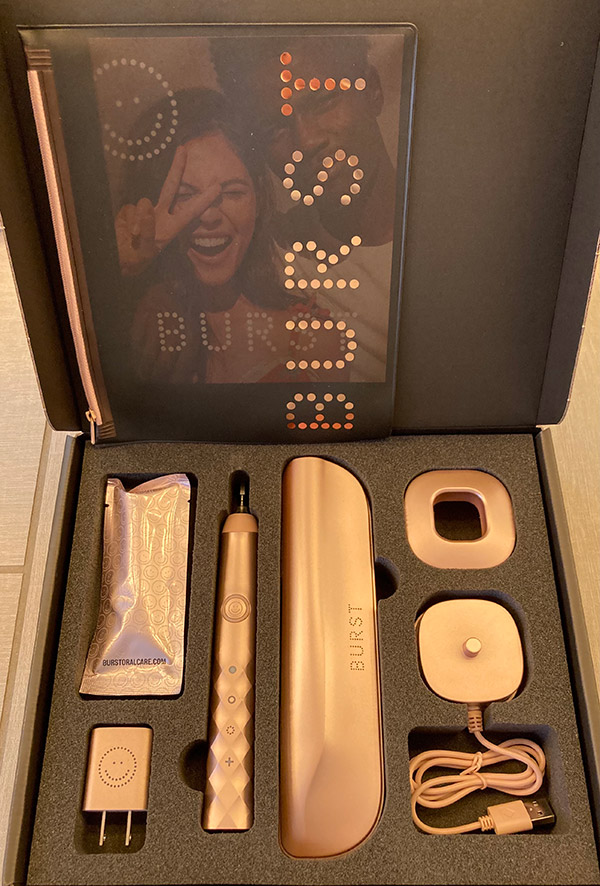 BURST Oral Care seeks to "turn an outdated industry dominated by dinosaurs upside down." They partner with dental professionals for real-time feedback, resources, and product development. Their oral care products include a sonic toothbrush, kids' sonic toothbrush, dental floss, toothpaste, whitening trays, and water flosser. Also, they recently launched an oral probiotic supplement.
Recommended Reading: BURST Oral Care | The Ultimate Guide
All of their products are uniquely designed attention-grabbers. They offer many color options, including lavender, rose gold, black, and white, but their products aren't just flashy; they're innovative. For example, the sonic toothbrush features subscription brush heads mailed to you every 12 weeks. Also, their charcoal-infused floss comes with a refillable case for easy replacement when the subscription spool arrives.
Recommended Reading: BURST Teeth Whitening Trays Review 2023
BURST is well-positioned to carve out more space in the oral healthcare sector. We tested their sonic toothbrush to see how it stacks up to its competitors. If you're in the market for a new toothbrush, check out their site and use code UF4JEC for 45% off at checkout. Let's take a closer look at this innovative toothbrush from a dentist's perspective.
Related Reviews
---
---
---
First impressions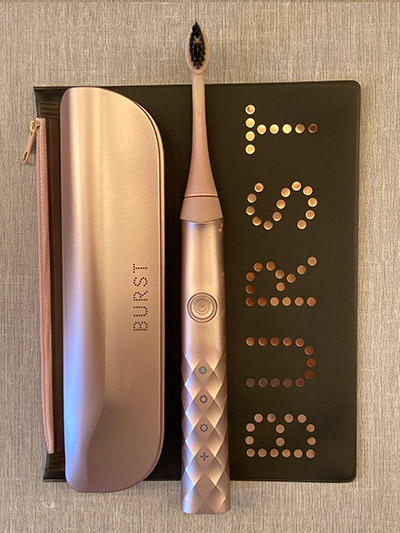 The sonic toothbrush arrives neatly packaged and has a magnetic-closing travel case, USB-powered rechargeable stand, US 110V adapter, and zipper travel bag. That's some serious swag for only $39 (originally $69) when applying code UF4JEC at checkout. The sleek toothbrush handle features a diamond-ridged handle for easy grip when sliding back around hard-to-reach areas.
Recommended Reading: BURST Water Flosser Review 2023
Another aspect we appreciated is the option to charge via USB or US 110V plug-in. Having the versatility to charge an electric toothbrush using a USB is advanced. The zipper travel bag is a nice touch, and the magnetic-closing travel case is surprisingly durable. Overall, we were impressed with how much product comes with this sonic toothbrush.
---
Innovative features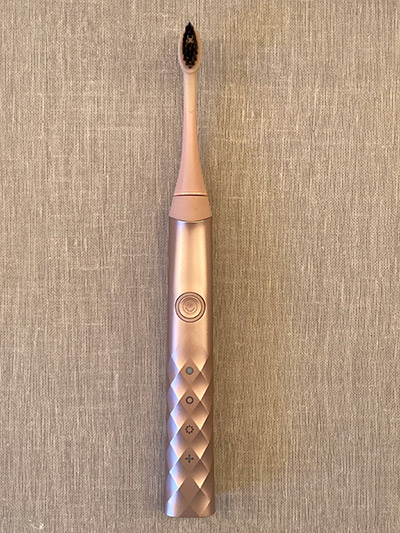 The features that come with this powerful toothbrush are pretty impressive. Have you ever seen a lavender-colored toothbrush? There's no doubt they're just getting started with the color selections, and we're excited to see what comes next. Sports cars may look nice, but what's under the hood matters. So let's explore what's under the hood of this supercharged toothbrush.
Charcoal-infused PBT bristles are some of the softest bristles we've tested. Most toothbrushes feature nylon bristles that can be stiff and irritating to the sensitive gum tissue. PBT is much more delicate, and BURST finely coated them with high-quality charcoal. Also, the bristles are feathered to slide between teeth and under the gums easily.
Quad-interval 2-minute timer technology pauses every 30 seconds informing you to transition to the next quadrant. So now there's no more excuse for slacking when brushing.
Four-week battery life after a single overnight charge is pretty impressive. On top of that, it's USB ready, so you can charge it with your laptop when you're on the go.
Pressure sensors detect when you're brushing a little too hard. These sensors automatically slow down the motor to protect your teeth and gums from unnecessary damage.
33,000 sonic vibrations/minute delivers an incredible yet gentle clean. In addition, the sonic vibrations brush away plaque with ease. According to their clinical trials, 10x more plaque was removed and 3x reduction in gum bleeding after 15 days compared to a manual toothbrush.
Three brushing modes allow the user to find what suits them. Whitening mode is full-power to polish away stains, sensitive mode gives your gums a break, and massage mode pampers your mouth.
Lifetime guarantee protects your toothbrush from unexpected problems. Considering how often toothbrushes are used, this is a great perk. Also, the interactions we've had with their customer service team have been exceptional. They're quick to respond and address issues.
---
Effectiveness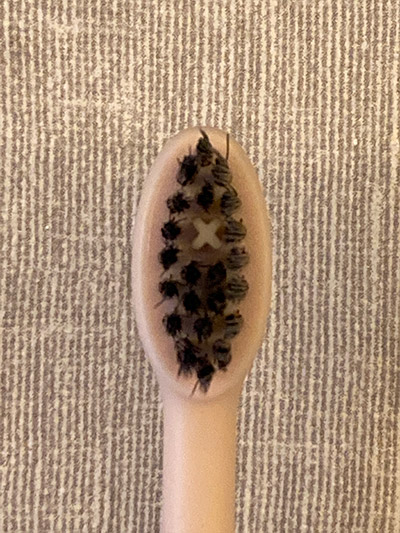 After using this toothbrush for multiple weeks, we found it very effective at removing plaque. There's a silicone plus sign within the center of the brush head that works to polish away stubborn stains. The bristles were gentle on the gums and adequately wrapped around the teeth for full-coverage cleaning. The whitening mode was our preferred mode because of its full-power capabilities.
Compared to other electric toothbrushes, the sonic vibrations are powerful and whip around the feathered bristles effectively. After weeks of regular use, the bristles were intact, upright, and without wear.
---
Pros
Feathered charcoal-infused bristles
Subscription brush heads
Travel case provided
Three brushing modes
Pressure sensors
Four-week battery life
Quad-interval timer
Lifetime guarantee
33,000 sonic vibrations/minute
---
Cons
Average cheek and tongue cleaner
Bristles may be too soft for some individuals
Lacks smartphone connectivity
---
---
Final thoughts
BURST is reimagining the oral care industry; what's not to love about the sonic toothbrush's futuristic look and attractive colors? It's loaded with features and surprisingly fun to use. It performs like a high-dollar Oral-B or Philips Sonicare for a fraction of the price, $39 (use code UF4JEC). It lacks smartphone connectivity. However, it wouldn't surprise us if that feature is in the works.
My Dental Advocate Score | 9.5/10
The more you know, the more healthy habits you can develop, saving you and your family from avoidable and potentially expensive dental procedures. Talk to your dental professional for more suggestions on improving oral health and check back for more blog posts and relevant information. Please share this site and let us know what else you'd like to know!
---
About the Author
Dr. Advocate is a board-certified dentist with 5+ years of clinical practice experience on a mission to provide accurate dental patient education. He believes everyone should access easy-to-read dental resources presented in layperson's terms with relevant, up-to-date dental research and insight to improve their oral health.
---
---