---
SNOW Cosmetics At-Home Teeth Whitening Kit Review 2022
Category: Adult Dentistry, Cosmetic Dentistry, Dr. Advocate's Insights
Dentist Tested and Reviewed | Time to Read: 6 mins
By: Dr. Advocate
Updated: November 24, 2022
---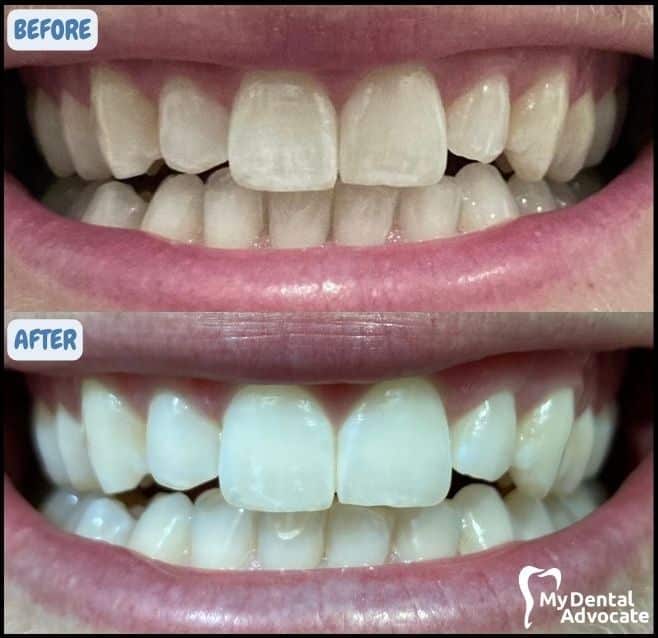 SNOW Cosmetics At-Home Teeth Whitening Kit is one of the most innovative and effective at-home whitening systems. With over 1 MILLION kits sold and counting, this advanced dentist-formulated system delivers a professional-level whitening experience. Formulated with leading cosmetic dentist Dr. Brian Harris, SNOW Cosmetics is the highest-rated teeth whitening product, according to the Better Business Bureau and TrustPilot.
Recommended Reading: SNOW Cosmetics | The Ultimate Guide 2022
Whiter teeth in as little as 9-minutes per day! Are your teeth stained from smoking, coffee, soda or wine? SNOW Cosmetics At-Home Teeth Whitening Kit eliminates stains within minutes! The kit features 75+ whitening treatments (6-month supply), less than $2 per whitening treatment. In addition, a portion of every sale is donated to help provide free dental care to children in need (Save a Child's Smile).
SNOW is backed by thousands of 5-star reviews! We tested their at-home teeth whitening kit to see how it stacks up to their competitors. If you're interested in teeth whitening products, check out their site HERE. Let's take a closer look at this LED whitening system, from a dentist's perspective.
---
---
---
First impressions
SNOW's at-home teeth whitening kit arrived neatly packaged, containing an accelerating LED mouthpiece, 3 whitening wands, 1 extra-strength whitening wand and a shade guide. The accelerating LED mouthpiece is a first-of-its-kind feature for at-home whitening systems. In addition, the mouthpiece comes with a protective case for easy transport and storage. The mouthpiece is comfortable to insert with no pinching or pain. Also, the LED mouthpiece simply plugs into your phone to activate the light for 10-30 minutes.
Recommended Reading: Top 5 Best Whitening Toothpaste 2022
Twisting the whitening wands and applying the serum was simple and easy. Although the LED accelerating mouthpiece is one size fits all, I can't get over how comfortable it is to use. SNOW designed this at-home whitening kit system with sensitive teeth in mind. As a result, SNOW delivers brighter smiles for even the most sensitive teeth with just a few minutes of daily usage. Overall, we were impressed with how much standard and extra-strength whitening wand serum comes in the kit.

---
The custom shade guide is a great feature and allows you to track teeth whitening progression after each session.

Orders ship 24/7 from Arizona & Pennsylvania.
---
User Instructions
Brush your teeth – Brush your teeth for two minutes using circular motions. When finished, floss and rinse.
Apply whitening serum – Twist up the wand and apply serum to each tooth – paint each tooth as you would your nails!
Plug LED light into your device (wireless available) – Once the serum has been applied to your teeth, plug the LED light into your device and put the mouthpiece in.
Whiten for 10-30 minutes – Keep the light in for 10-30 minutes (time varies based on your desired whiteness)
Remove light and rinse with water – After whitening for your desired length of time, unplug and remove the light from your mouth. Rinse both the light and your mouth, and voila! You're done!
---
---
---
Innovative features
As someone with sensitive teeth, I'm always hesitant when testing teeth whitening products. Rightfully so, most treatments I've tried came with a cost. I would achieve whiter teeth but have to drink lukewarm water; That doesn't seem like a fair tradeoff, even from a dentist. However, after testing SNOW's at-home whitening kit system, we were pleasantly surprised with how minimally sensitive my teeth were after the full 21-day treatment. Take the "21-day SNOW challenge" and see for yourself.
Recommended Reading: SNOW LED Whitening Electric Toothbrush Review 2022
Are you interested in a wireless mouthpiece? SNOW has you covered! A limited edition at-home whitening wireless kit is available in various colors. Check them out HERE, and it's available for $299 or $399 (2nd generation). In addition, it features dual-light therapy settings (blue light for whitening and red for gum support). Also, it's water-resistant, so you can save time and use it in the shower. Let's explore what makes this at-home teeth whitening system incredibly effective yet gentle on the teeth.
Advanced at-home whitening kit was formulated with leading cosmetic dentist Dr. Brian Harris.
Fast-acting whitening delivers noticeable whitening results after one 9-minute session and full results after the 21-day course.
Ready-to-use teeth whitening wand serum is activated after clicking the wand. Simply paint on teeth before activating the LED accelerating mouthpiece.
Dentist-recommended by 9 out of 10 dentists according to DentalAdvisor.
Designed for sensitive teeth – Use whitening serum + LED accelerating mouthpiece for a few minutes each day for improved whitening without sensitive teeth.
6-month supply – 75+ whitening treatments per kit equals less than $2 per whitening treatment.
---
As featured in VOGUE, Womens' Health, Real Simple, ELLEN, Good Housekeeping and Marie Claire!
---
---
---
Effectiveness
I was blown away after using SNOW Cosmetics At-Home Teeth Whitening Kit for 7 days. It effortlessly erased years of stubborn stains without dreaded sensitive teeth. The 7-day whitening treatment consisted of brushing my teeth, applying the maximum strength whitening serum, and using the LED accelerating mouthpiece. For me, teeth whitening always comes at a cost, specifically for sensitive teeth. I was wrong!
This product well exceeded my expectations. I have absolutely no sensitivity post-whitening. The only slight discomfort I experienced was the heat from the LED accelerating mouthpiece at the 25-minute mark. Noticeable results were observed after each day, and I can still drink ice-cold water without triggering my sensitive teeth! I'm continuing the 21-day SNOW-whitening journey and look forward to seeing the final results.

---
"In my experience, SNOW Cosmetics At-Home Teeth Whitening delivers brighter teeth whitening results compared to many in-office teeth whitening products." ~ Dr. Advocate
---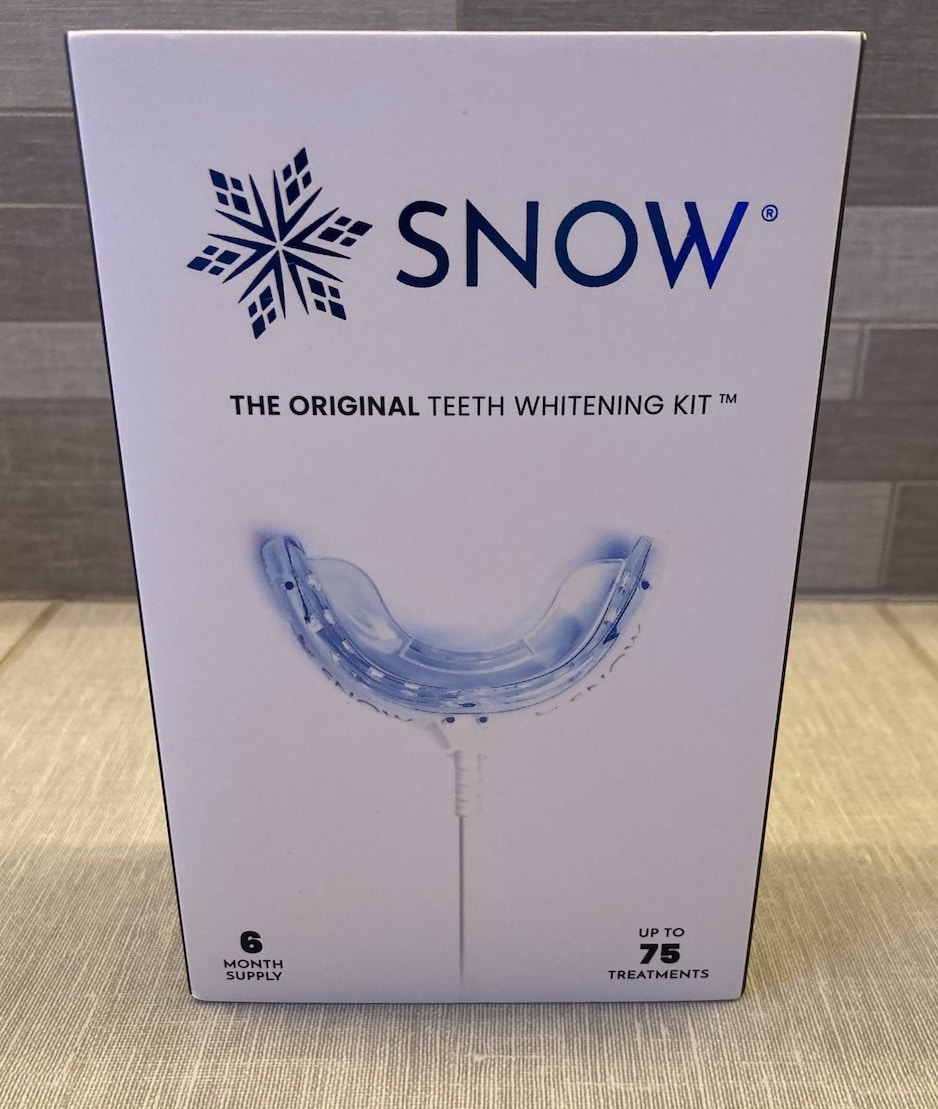 Pros
Dentist formulated and easy to use in seconds at-home
Highest-rated teeth whitening products (BBB, TrustPilot)
Thousands of glowing five-star reviews
(3) Wands of teeth whitening serum with built-in applicators
(1) Original LED whitening accelerating technology mouthpiece
(1) Wand of extra-strength whitening serum for even faster results
75+ whitening treatments (6-month supply)
Dentist-recommended (Including ME)
Designed for sensitive teeth
Fast-acting advanced formula
Cons
Unable to talk with LED accelerating mouthpiece
Slight sensitivity with LED accelerating mouthpiece
Excess gel has an odd taste
---
---
Final thoughts
SNOW Cosmetics is positioning itself as the premier at-home teeth whitening product. As a dentist, I can attest to their whitening effectiveness and look forward to trying more innovative products. I've tried numerous teeth whitening products and have never experienced this amount of whitening improvement. I'm a believer in SNOW Cosmetics. Try it today, and let us know what you think.
My Dental Advocate Score | 9.8/10
---
About the Author
Dr. Advocate is an actual board-certified dentist with clinical practice experience and a mission to provide accurate dental patient education. He believes everyone should access easy-to-read dental resources presented in layman's terms with relevant, up-to-date dental research and insight to improve their oral health.
---
---