AquaSonic Electric Toothbrush Review 2023
Dentist Tested and Reviewed | Time to Read: 6 mins
Updated: January 30, 2023
By: Dr. Advocate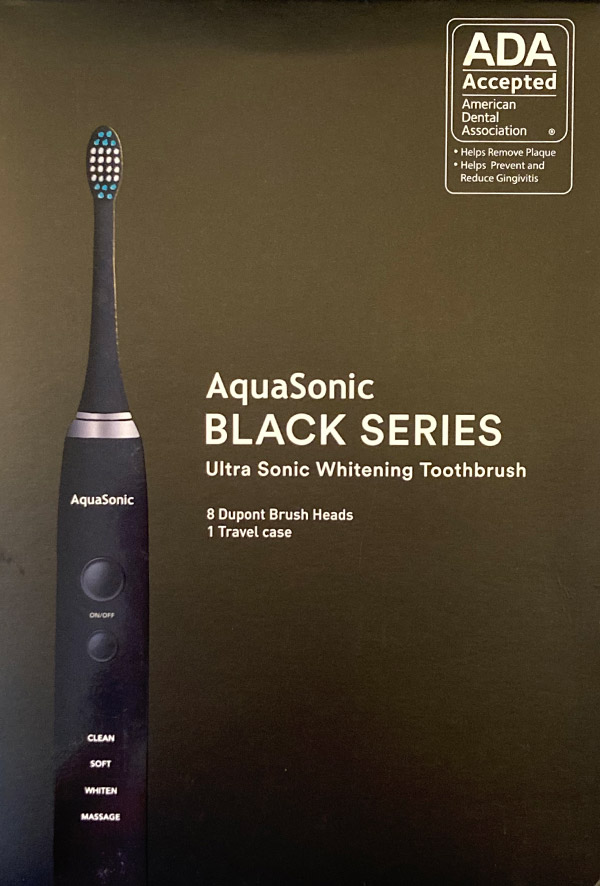 AquaSonic was founded in 2017 to provide superior at-home oral care through technology, innovation, and affordability. In addition, they seek to deliver premium oral care technologies without unnecessary mark-ups. Their product line includes their most popular "black series" electric toothbrush, aqua flosser, and kids electric toothbrush. They also offer an electric toothbrush called Pro-spin that features a rotating brush head, similar to Oral-B.
The AquaSonic Electric Toothbrush features the American Dental Association (ADA) Council on Scientific Affairs seal of acceptance showing efficacy in removing plaque and reducing gingivitis. Also, it features state-of-the-art technology pumping out 40,000 vibrations/minute, which is not only ultra-powerful, it's also industry-leading. Let's take a closer look at this ADA-accepted toothbrush.
Related Reviews
---
First Impressions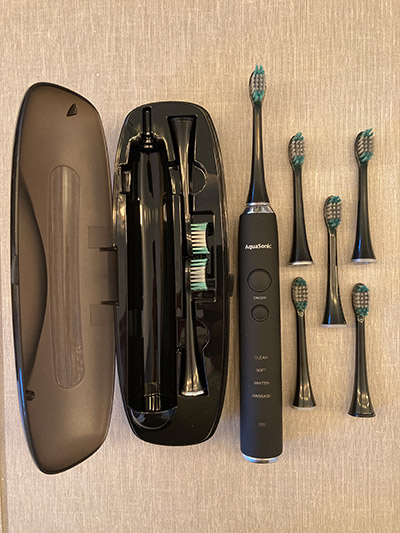 AquaSonic offers a lot of value at a low price point. Although it lacks a subscription brush head service, it includes eight DuPont engineered brush heads and a travel-ready case. The toothbrush is sleek and easy to grip due to its thick black satin handle. Also, it's lightweight, ergonomic, and waterproof. The four brushing modes are easy to toggle through, and you can't miss the larger on/off button.
The brush head bristles have a significant density (total bristle amount) and anatomically curved bristles from tip to tip. The overall brush head design is practical; however, the bristles lack feathering and are pretty rigid. Once you turn it off, you realize how powerful the motor is as it visibly whips the bristles. Also, the bristle motions are easily visualized as you toggle between modes. Other toothbrushes offer multiple brushing modes; however, little effect is noted with the bristle movement.
---
Innovative Features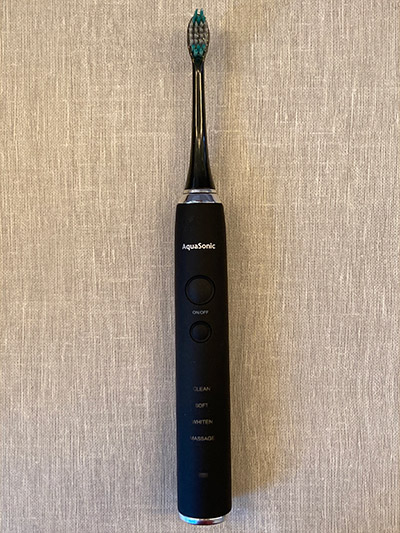 AquaSonic's innovative features set it apart, with many electric toothbrushes available. Along with its industry-leading 40k vibrations/minute electric toothbrush, eight DuPont replacement brush heads and a travel-ready case is included. As a result, AquaSonic provides the most bang for your buck compared to other electric toothbrushes. Let's take a closer look at its features.
DuPont brush heads are individually engineered for precise fit and accuracy. Eight brush heads are included and will last you 2.5+ years when replaced every three months.
Lithium-ion battery features the latest battery tech and lasts 30 days on a single charge. In addition, it's travel-ready with full charge capacity and includes a travel case.
40,000 vibrations/minute is an industry leading-output. The lithium ion battery powers the motor, and the toothbrush is clinically proven to reduce plaque by 10x compared to a manual toothbrush and 3x vs. older electric brands.
Four brushing modes allow the user to find what suits them. The clean mode is best for standard brushing, while the soft mode is gentler. Whiten mode removes surface stains and polishes teeth. Lastly, massage mode improves overall gum health.
---
Effectiveness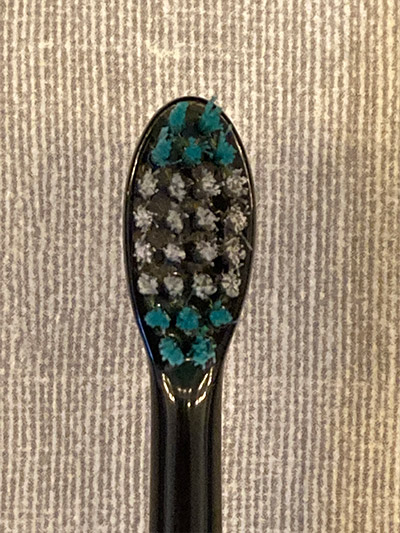 If you're looking for a powerful toothbrush, look no further. AquaSonic is highly effective at removing plaque around the gum line. The four distinct modes are helpful, with some modes being more gentle than others. We preferred the soft mode as it offers more than enough power.
On the other hand, the clean mode could also be intense; it was too much for us to handle. The bristle curvature offers an effective clean around the gum line, and the tip easily slides between teeth. We were pleased with the cleaning results; however, we desired a tongue and cheek cleaner to finish the remaining bacteria.
---
Pros
40,000 vibrations/minute
American Dental Association (ADA) accepted
DuPont engineered brush heads
Travel case provided
Four brushing modes
Eight replacement brush heads
Full charge lasts 30 days
2-minute auto timer
---
Cons
No cheek and tongue cleaner
Stiff and abrasive bristles
Lacks smartphone connectivity
No brush head subscription
---
---
Final Thoughts
Overall, this toothbrush checks just about all the boxes if you're in the market for a new toothbrush. It features industry-leading power, a travel case, eight brush heads, a 30-day charge, and four distinct brushing modes. Bluetooth connectivity and a tongue cleaner would have been a nice perk; however, the stiff and rigid bristles pulled down the overall score.
We can't understate one final note: how much product you receive for the price. AquaSonic is holding its own against more prominent oral health care brands, including Oral-B and Philips, at a fraction of the cost.
My Dental Advocate Score | 9.3/10
The more you know, the more healthy habits you can develop, saving you and your family from avoidable and potentially expensive dental procedures. Talk to your dental professional for more suggestions on improving oral health and check back for more blog posts and relevant information. Please share this site and let us know what else you'd like to know!
---
About the Author
Dr. Advocate is a board-certified dentist with 5+ years of clinical practice experience on a mission to provide accurate dental patient education. He believes everyone should access easy-to-read dental resources presented in layperson's terms with relevant, up-to-date dental research and insight to improve their oral health.
---
---