5 Best Electric Toothbrush for Gingivitis 2023 (Dentist-Recommended)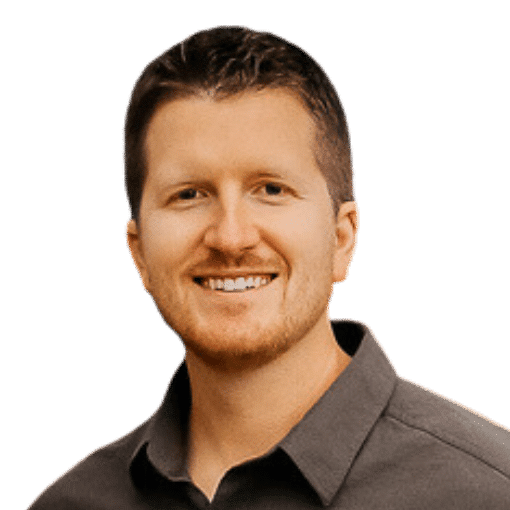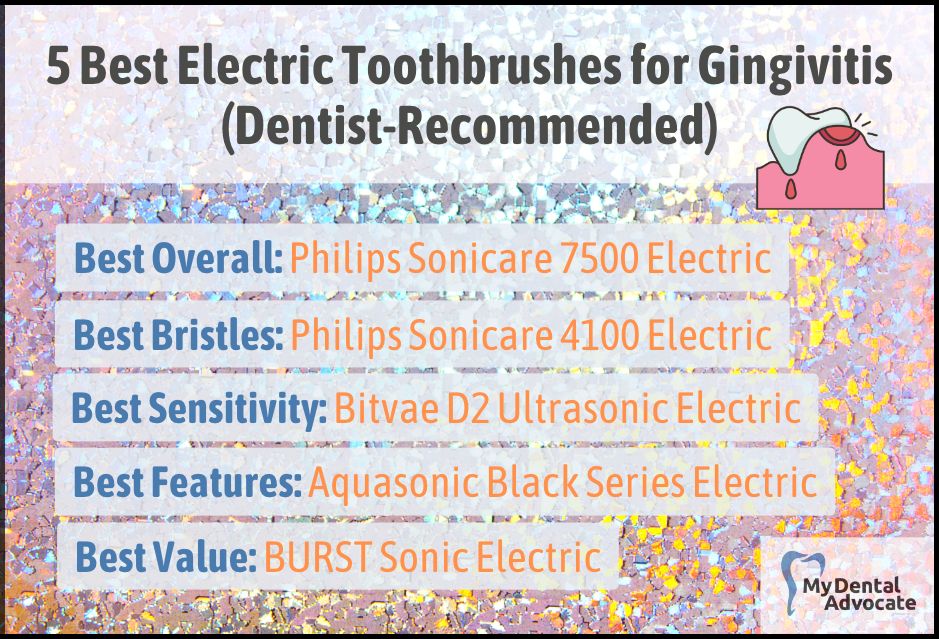 Ever wake up with swollen, tender gums, wincing as you brush your teeth in the morning? If so, you might be one of the millions of people battling gingivitis, a common gum disease that can be painful and, left untreated, can lead to more serious oral health issues.
But what if we told you there's a powerful weapon you can add to your oral care arsenal right at this moment? That's right – the magic lies in the bristles of an electric toothbrush!
As an experienced dentist with years of experience, I've tested and evaluated 200+ dental products. I strive to find the best products for achieving excellent oral hygiene, so let's take a closer look at the 5 Best Electric Toothbrush for Gingivitis from a dentist's perspective.
Buying Guide
Best Overall: Philips Sonicare 7500 Electric Toothbrush
Best Bristles: Philips Sonicare 4100 Electric Toothbrush
Best Value: BURST Sonic Electric Toothbrush
Best Features: Aquasonic Black Series Electric Toothbrush
Best Sensitivity: Bitvae D2 Ultrasonic Electric Toothbrush
Related Reviews
What is Gingivitis?
Gingivitis is a common and mild form of gum disease (periodontal disease) that causes irritation, redness, and swelling (inflammation) of your gingiva, the part of your gum, around the base of your teeth. It's the initial stage of gum disease and the easiest to treat. The direct cause of gingivitis is plaque – a soft, sticky, colorless film of bacteria that forms on the teeth and gums.
When plaque is not removed through regular brushing and flossing, it produces toxins that irritate the gum tissue, causing gingivitis. If left untreated, gingivitis can advance to periodontitis, a more serious form of gum disease that can lead to tooth loss and other health complications.
Symptoms of gingivitis include red, swollen gums, bad breath, receding gums, and discomfort or bleeding when brushing or flossing. But worry not – these symptoms can often be reversed with the right oral care routine, starting with the right electric toothbrush.
Good oral hygiene, including brushing twice daily, flossing daily, and regular dental checkups, can help prevent gingivitis and promote gum health.
How Can an Electric Toothbrush Help Prevent Gingivitis?
The humble toothbrush is your front-line defense in the battle against gingivitis. But in today's age of technology, electric toothbrushes are bringing more power to your brushing routine and proving themselves as game-changers in the fight against gum disease. Here's why:
Superior Plaque Removal: Electric toothbrushes, with their fast, oscillating bristles, are highly efficient at banishing plaque. They excel in reaching those hard-to-reach areas, such as the gum line and between teeth, where gingivitis lurks. In fact, they're clinically proven to remove significantly more plaque compared to manual toothbrushes.
Built-in Timers: Ever wonder if you're brushing long enough? Most electric toothbrushes have built-in timers that nudge you to brush for the dentist-recommended two minutes. This helps ensure a thorough clean for every nook and cranny of your mouth.
Pressure Sensors: Brushing too hard can be detrimental, causing gum irritation and exacerbating gingivitis. To counter this, many electric toothbrush models have pressure sensors that alert you when pressing too hard, promoting gentle yet effective brushing.
Ease of Use: With an electric toothbrush, the gadget does the hard work for you. This makes them an excellent choice for those with limited dexterity, such as individuals with arthritis or anyone who simply wants to make their brushing routine easier and more efficient.
In the war against gingivitis, an electric toothbrush isn't just a handy tool – it's your secret weapon. It empowers you to take control of your oral health with enhanced efficiency and precision. But with many options, which electric toothbrush should you arm yourself with?
A randomized clinical study of children aged 3-6 found that electric toothbrushes reduced 32.3% more plaque than manual toothbrushes.
Features to Look for in an Electric Toothbrush for Gingivitis
When you're on the hunt for an electric toothbrush to help combat gingivitis, certain features can significantly boost the effectiveness of your oral care routine. Below are some key aspects to consider:
Plaque Removal Efficiency: The primary goal is to obliterate plaque that triggers gum inflammation. Look for brushes with oscillating-rotating or sonic technology that are known for their superior plaque-busting ability.
Pressure Sensor: This feature alerts you if you're brushing too hard, which can irritate gums and worsen gingivitis. A pressure sensor helps you maintain safe and effective brushing pressure.
Built-in Timer: Dentists recommend brushing for two minutes twice a day. An integrated timer can ensure you meet this benchmark every time you brush.
Multiple Cleaning Modes: Some advanced brushes offer various cleaning modes such as daily cleaning, gum care, sensitivity, whitening, and deep cleaning. A gum care mode can be particularly useful when dealing with gingivitis.
Long Battery Life: A toothbrush that needs to be charged frequently can be a hassle. Opt for one with a battery life that lasts several days to a week on a single charge.
Comfortable Handle and Easy Controls: Your toothbrush should feel good in your hand and the controls should be easy to navigate while brushing.
Replacement Brush Heads: Over time, brush heads wear out and need to be replaced for the toothbrush to remain effective. Ensure that replacement heads are readily available for the model you choose.
The perfect electric toothbrush for you is out there, and these key features will help guide your choice.
Top 5 Best Electric Toothbrushes for Gingivitis
Using the right toothbrush can make all the difference when maintaining healthy gums. Electric toothbrushes are an excellent option for those with gingivitis, as they can provide a more thorough cleaning and remove plaque more effectively than manual brushes.
1. Philips Sonicare 7500 Electric Toothbrush (Best Overall)
The Sonicare ExpertClean 7500 Electric Toothbrush elevates oral health with its state-of-the-art features designed for superior clean. Central to its functionality is its advanced sonic technology, which drives fluid between the teeth and along the gum line for effective and gentle plaque removal.
This toothbrush stands out with its unique brush heads – the C3 Plaque Control and G3 Gum Care. The C3 Plaque Control brush head is designed to remove up to 10 times more plaque than a manual toothbrush, while the G3 Gum Care brush head provides a gentle yet efficient clean at the gum line, helping prevent and reduce signs of gingivitis.
But the sophistication of the Sonicare 7500 doesn't stop there. One of its standout features is the ability to sync with the Sonicare app. This provides personalized coaching and feedback, enabling you to target problem areas and improve your brushing technique.
It also offers four brushing modes and three intensity settings to cater to your oral care needs. With a two-week battery life and convenient charging glass, the Sonicare 7500 is an excellent choice for home and travel use.
Pros: Sonicare App-enabled, two brush heads, four brushing modes, smart pressure sensor, three intensity levels, advanced ultrasonic technology and USB charging travel case.
Cons: More expensive than some alternatives, may take time to get used to the different intensity levels.
Smart Sensor Coaching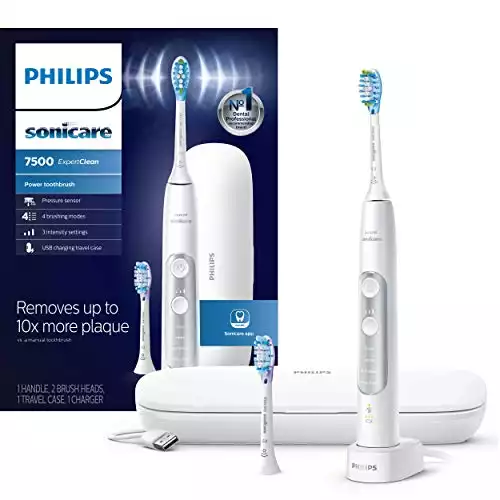 Philips Sonicare ExpertClean 7500, Rechargeable Electric Power Toothbrush
Removes up to 10x more plaque vs. a manual toothbrush.
The pressure sensor lets you know when you're brushing too hard.
Progress report gives you the guidance you need to improve and maintain healthy brushing habits (Sonicare App).
BrushSync Technology lets you know when to replace your brush head.
Features 4 brushing modes: Clean, whiteplus, Gum Health and DeepCleanplus Care and 3 Intensities.
Buy Now
Our Review
We earn a commission if you make a purchase, at no additional cost to you.
11/30/2023 06:45 pm GMT
2. Philips Sonicare 4100 Electric Toothbrush (Best Bristles)
The Philips Sonicare ProtectiveClean 4100 Electric Toothbrush is an affordable yet effective option for those focusing on gum health. It's equipped with uniquely designed, soft bristles that are gentle on gums but tough on plaque. It also features a pressure sensor that vibrates when brushing too hard, which helps protect your gums.
The ProtectiveClean 4100 includes a Smartimer and QuadPacer to keep you on track with the recommended brushing time and ensure even brushing throughout your mouth.
Check out our Philips Sonicare 4100 Electric Toothbrush hands-on full review!
Pros: Affordable, gentle on gums, pressure sensor for safe brushing, Smartimer and QuadPacer for efficient brushing, and effective plaque removal with sonic technology.
Cons: Fewer cleaning modes than other models, no travel case included.
5X Plaque Removal
Philips Sonicare 4100 Power Toothbrush, Rechargeable Electric Toothbrush
Removes up to 5x-7x more plaque vs. a manual toothbrush.
A pressure sensor and two intensity settings protect sensitive gums from overbrushing. 2-minute SmarTimer with QuadPacer ensures Dentist-recommended brushing time
A brush head replacement reminder ensures your brush head is always effective. Long battery life with battery light indicator: One charge lasts for 2 weeks.
Buy Now
Our Review
We earn a commission if you make a purchase, at no additional cost to you.
11/30/2023 01:00 pm GMT
3. BURST Sonic Electric Toothbrush (Best Value)
I personally use the BURST Sonic Electric Toothbrush because it features feathered charcoal-infused bristles that are gentle on my gums. In addition, it has 3 brushing modes and a two-minute timer to ensure you brush for the recommended time. The toothbrush also has a long battery life, a charging base, and a travel case
Lastly, you can subscribe to their replacement brush head service, which automatically sends you a new brush head every 3 months.
Check out our BURST Sonic Electric Toothbrush hands-on full review!
Pros: Travel case included, 3 intensity modes, 2-minute timer with QuadPacer, ergonomic handle and a gentle brushing experience
Cons: Slightly more expensive than others
Best Value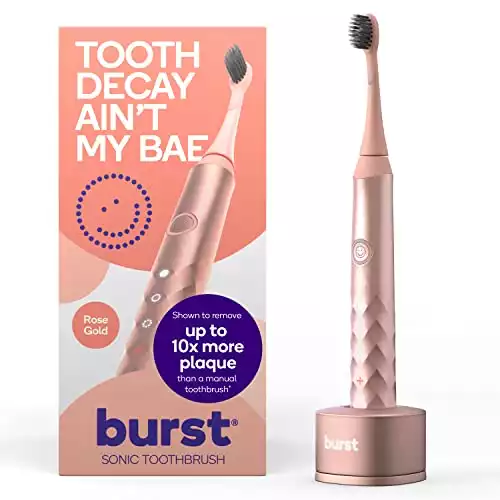 BURST Sonic Electric Toothbrush (Code: UF4JEC for 30% Off)
33,000 sonic vibrations/minute delivers an incredible but gentle clean.
BURST reduces gum bleeding (gingivitis) up to 3x more than a manual toothbrush.*
Tapered multi-length charcoal black bristles to remove plaque without damaging your gums.
Use BURST for up to a month on a single charge.
Buy Now
Save 30% (UF4JEC)
We earn a commission if you make a purchase, at no additional cost to you.
11/30/2023 03:15 pm GMT
4. Aquasonic Black Series Electric Toothbrush Toothbrush (Best Features)
The AquaSonic Black Series Electric Toothbrush delivers a professional-grade cleaning experience in your home. Packed with many features, this sleek toothbrush uses advanced ultrasonic technology to deliver 40,000 vibrations per minute, effectively removing up to ten times more plaque than a traditional manual toothbrush.
The AquaSonic Black Series has four cleaning modes: clean for everyday use, soft for sensitive teeth, whitening for polishing the teeth, and massage for gum stimulation. This allows you to tailor your brushing routine to meet your specific oral health needs.
One standout feature is its smart vibration timer, which prompts you every 30 seconds to switch areas, ensuring a balanced clean. After the dentist-recommended two minutes, the brush automatically shuts off, removing the guesswork from the equation.
Moreover, it comes with 8 DuPont engineered brush heads. Known for their superior quality, these brush heads can last up to 4 months each, providing over 2 years of supply.
Check out our Aquasonic Black Series Electric Toothbrush hands-on full review!
Pros: Combination of water flosser and electric toothbrush, ten pressure settings for water flosser, two-minute timer for the toothbrush, eight brush heads included, and a storage case for convenience.
Cons: Some may find the advanced ultrasonic motor to be too powerful.
ADA Accepted
Aquasonic Black Series Ultra Whitening Toothbrush
An incredibly powerful 40,000 VPM motor delivers a complete and thoroughly clean - but the black series goes beyond just cleaning your teeth.
Use Whiten mode to dissolve surface stains towards the end of your brushing sessions. Massage mode delivers vibrating micro-bursts into gum tissue to improve circulation and tissue function. Whiter teeth and healthier gums mean a more beautiful smile.
Buy Now
Our Review
We earn a commission if you make a purchase, at no additional cost to you.
11/30/2023 07:15 am GMT
5. Bitvae D2 Ultrasonic Electric Toothbrush (Best Sensitivity)
The Bitvae D2 Electric Toothbrush provides a powerful and personalized clean, standing out with its ADA approval and impressive cleaning performance. Harnessing sonic technology delivers 40,000 strokes per minute, removing up to 7X more stains than a manual toothbrush and gently pulsing fluid between teeth and along the gum line for optimal cleanliness and health.
This toothbrush offers five unique modes to cater to various dental needs: Clean for daily cleaning, White for removing stubborn stains, Polish for a brightening effect, Soft for first-time users or sensitive teeth, and Gum Care for improving gum health.
The Bitvae D2 has eight replacement heads, each boasting soft, w-shaped bristles designed to adapt to your teeth's topography and effectively remove stains, even in hard-to-reach areas. These heads and the included toothbrush holder ensure an organized and efficient brushing routine lasting over two years.
Check out our Bitvae D2 Electric Toothbrush hands-on full review!
Pros: five brushing modes, gentle on sensitive teeth and gums, eight replacement brush heads, pressure sensor, Smartimer and QuadPacer, travel case included, and effective plaque removal.
Cons: May take some time to find the ideal brushing mode.
ADA-Accepted
Bitvae D2 Ultrasonic Electric Toothbrush
Electric toothbrush delivers 40,000 strokes per minute, removing up to 7X more stains vs. a manual toothbrush.
Sonic technology gently pulses fluid between the teeth and along the gum line for a gentle and effective clean every time.
Features 5 brushing modes for adluts and kids. Clean - for daily cleaning; White - for removal of stubborn stains; Polish - for brighter teeth; Soft - for first-time users or sensitive teeth; Gum Care - for improving gums health and blood circulation.
Soft, "W-shape" bristles are designed to suit teeth topography and remove more stains from hard-to-reach spots.
Buy Now
Our Review
We earn a commission if you make a purchase, at no additional cost to you.
11/30/2023 06:50 pm GMT
Frequently Asked Questions (FAQ)
While an electric toothbrush can't cure gingivitis on its own, it can play a significant role in managing and preventing the condition. By effectively removing plaque, it reduces gum inflammation caused by bacteria. It's important to note that overcoming gingivitis also requires flossing, using an antiseptic mouthwash, and regular dental check-ups.
Absolutely. Electric toothbrushes are not only safe, but they are also often recommended for people with gingivitis. Many electric toothbrushes have gentle modes designed for sensitive gums, and pressure sensors to ensure you don't brush too hard and irritate inflamed gums.
No, all electric toothbrushes are not the same. They can vary in brush technology (sonic, oscillating), speed, pressure sensitivity, additional features (timers, multiple cleaning modes), and even battery life. It's essential to choose one that suits your specific needs, especially when fighting gingivitis.
Dentists generally recommend replacing your toothbrush head every three to four months, or sooner if the bristles become frayed. Consistently replacing the brush head ensures that your toothbrush remains effective in removing plaque and battling gingivitis.
My Experience & Expertise
As a dentist, I've seen countless patients battling gingivitis and other gum-related issues. Let me reassure you, investing in your oral health is one of the best decisions you can make, and choosing the right toothbrush can make a world of difference.
Electric toothbrushes have revolutionized how we approach oral hygiene, offering a level of cleanness that's tough to achieve with manual brushing. Their plaque-fighting capabilities, ease of use, and smart features make them an invaluable weapon against gingivitis.
Remember, the fight against gingivitis doesn't stop at brushing. Regular flossing, using an antibacterial mouthwash, and keeping up with your dental appointments are all crucial steps. It's about creating an all-encompassing oral care routine that works for you.
Your mouth is the gateway to your overall health, and investing in it pays dividends for your well-being. So, whether you're struggling with gum disease or aiming to prevent it, consider switching to an electric toothbrush. Your gums will thank you for it.
Knowledge is power when cultivating healthy dental habits. The more informed you are, the better positioned you'll be to prevent avoidable and potentially costly dental procedures for you and your family. Watch for future blog posts, where we'll continue sharing important information, product reviews and practical advice!