---
BURST Teeth Whitening Trays Review & Promo Code 2023
Category: Cosmetic Dentistry, Dr. Advocate's Insights
Dentist Tested and Reviewed | Time to Read: 6 mins
By: Dr. Advocate
Updated: January 30, 2023
---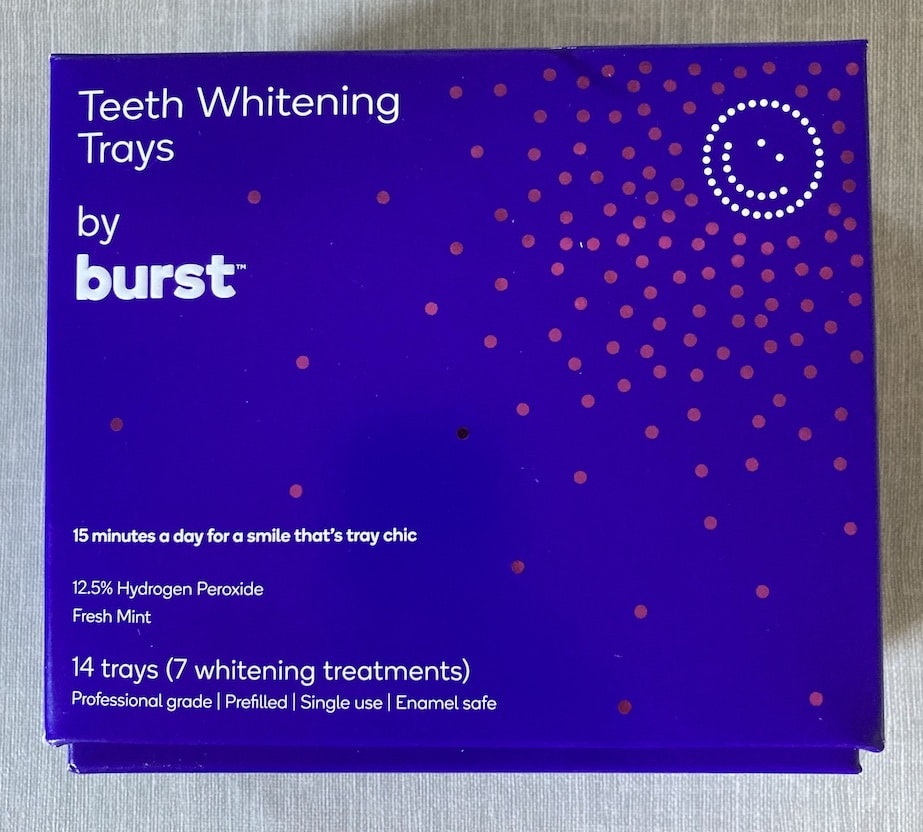 BURST Oral Care seeks to "turn an outdated industry dominated by dinosaurs upside down." They partner with dental professionals for real-time feedback, resources, and product development. Their oral care products include a sonic toothbrush, kids' sonic toothbrush, dental floss, toothpaste, whitening strips, whitening trays and water flosser. Also, they recently launched an oral probiotic supplement.
Recommended Reading: BURST Oral Care | The Ultimate Guide
BURST teeth whitening trays are their newest product that features fast-acting results after one 15-minute session. In addition, after completing the 7-day course, you'll notice dramatically whiter teeth. Say goodbye to nasty chemical taste, as these trays are made without parabens, phthalates, sulfates, allergens, artificial sweeteners, flavors, and colors. The natural mint flavor was surprisingly refreshing and the custom-fit trays were simple to use.
Recommended Reading:
BURST Sonic Toothbrush Review 2023
---
BURST teeth whitening trays retail for $79.99; however, if you use promo code UF4JEC at checkout, you can purchase them for $59.99 or $54.99 with a 12-week subscription!
---
BURST is well-positioned to carve out more space in the oral health care sector. We tested their teeth whitening trays to see how it stacks up to their competitors. If you're interested in teeth whitening products, check out their site and use promo code UF4JEC at checkout. Let's take a closer look at these new fast-acting whitening trays, from a dentist's perspective.
---
---
---
First impressions
The 7-day teeth whitening trays arrive neatly organized in daily packages containing an upper and lower custom-fit feel tray. Each tray is specifically marked, so there's no confusion when applying it to your teeth. At the base of each tray is a bead of whitening gel that runs from edge to edge so your teeth receive the maximum whitening gel coverage.
Inserting and forming the custom-fit feel trays around your teeth is simple to achieve. We immediately experienced a comfortable fit without pinching or poking that we've experienced from other whitening trays. The whitening gel was sensitivity-free, mint-flavored and revealed noticeable results. In addition, the tray fits firmly, and the excess gel was easy to sweep away without burning or stinging. Overall, we were impressed with how simple, comfortable and flavorful the teeth whitening trays were.
Recommended Reading: SNOW Cosmetics At-Home Teeth Whitening Kit Review 2023
---
Innovative features
As someone with sensitive teeth, I'm always hesitant when testing teeth whitening trays. Rightfully so, most treatments I've tried came with a cost. I would achieve whiter teeth but have to drink lukewarm water; That doesn't seem like a fair tradeoff, even from a dentist. However, after testing these whitening trays, I was pleasantly surprised with how minimally sensitive my teeth were after the 7-day treatment. So let's explore what makes these teeth whitening trays sensitive-free.
Advanced at-home whitening was created by dentist and hygienist "BURST ambassadors" that contain 12.5% hydrogen peroxide for professional-grade whitening.
Fast-acting whitening delivers noticeable results after one 15-minute session and full results after the 7-day course.
Ready-to-use teeth whitening trays come pre-filled that extend from edge to edge. 14 trays are supplied to complete the 7-day treatment with upper and lower trays clearly marked.
Enamel-safe ingredients are vegan and formulated without parabens, phthalates, sulfates, allergens, artificial sweeteners, flavors, or colors.
Designed for sensitive teeth – Xylitol, a natural sweetener known to help mineralize teeth which can decrease sensitivity, together with

potassium hydroxide

– a pH conditioner that lowers acidity – mean sensitive-free, sparkling-white teeth.
No chemical taste – Features peppermint oil and natural-mint flavor for exceptional taste and lasting fresh breath.
---
---
---
Effectiveness
After using the 7-day teeth whitening trays, we were pleased with how effectively they whitened without rendering tooth sensitivity. Noticeable results were observed after each day until treatment completion and I can still drink ice-cold water without triggering my sensitive teeth!
Recommended Reading: BURST Water Flosser Review 2023
Unlike other teeth whitening products, BURST teeth whitening trays are fast-acting and effectively whiten our stained teeth. It's been 8 weeks since I used BURST teeth whitening trays, and I'm still pleased with the overall results.
Recommended Reading: Top 5 Best Whitening Toothpaste 2023
---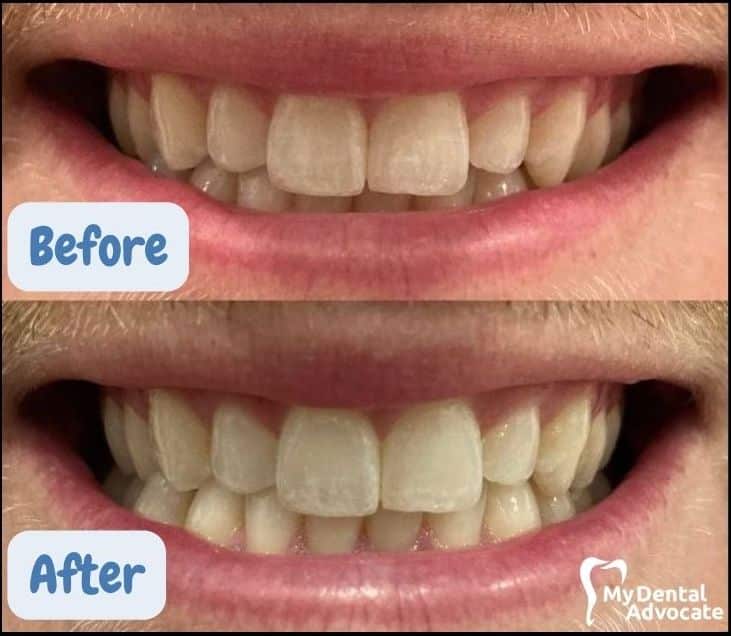 Pros
12.5% hydrogen peroxide
Satisfied whitening results
Comfortable custom-fit feel tray
Tray extends to pre-molar teeth
Designed for sensitive teeth
Xylitol prevents tooth decay
Refreshing mint flavor
Safe for enamel
Easy-to-clean whitening gel
Cons
Whitening trays were difficult to open
Excess gel noted after fitting upper tray
Slight sensitivity
---
Final thoughts
BURST is reimagining the oral care industry by aligning with dental professionals (dentists & hygienists); what's not to love about these enamel-safe, mint-flavored whitening trays? For just $54.99 (using promo code: UF4JEC), you get in-office hydrogen peroxide-strength whitener without lasting tooth sensitivity for a fraction of the cost. Try it today, and let us know what you think.
My Dental Advocate Score | 9.4/10
---
About the Author
Dr. Advocate is a board-certified dentist with 5+ years of clinical practice experience on a mission to provide accurate dental patient education. He believes everyone should access easy-to-read dental resources presented in layperson's terms with relevant, up-to-date dental research and insight to improve their oral health.
---
---