---
BURST Water Flosser Review & Promo Code
Category: Adult Dentistry, Dr. Advocate's Insights, Oral Health
Dentist Tested and Reviewed | Time to Read: 6 mins
By: Dr. Advocate
Updated: September 19, 2022
---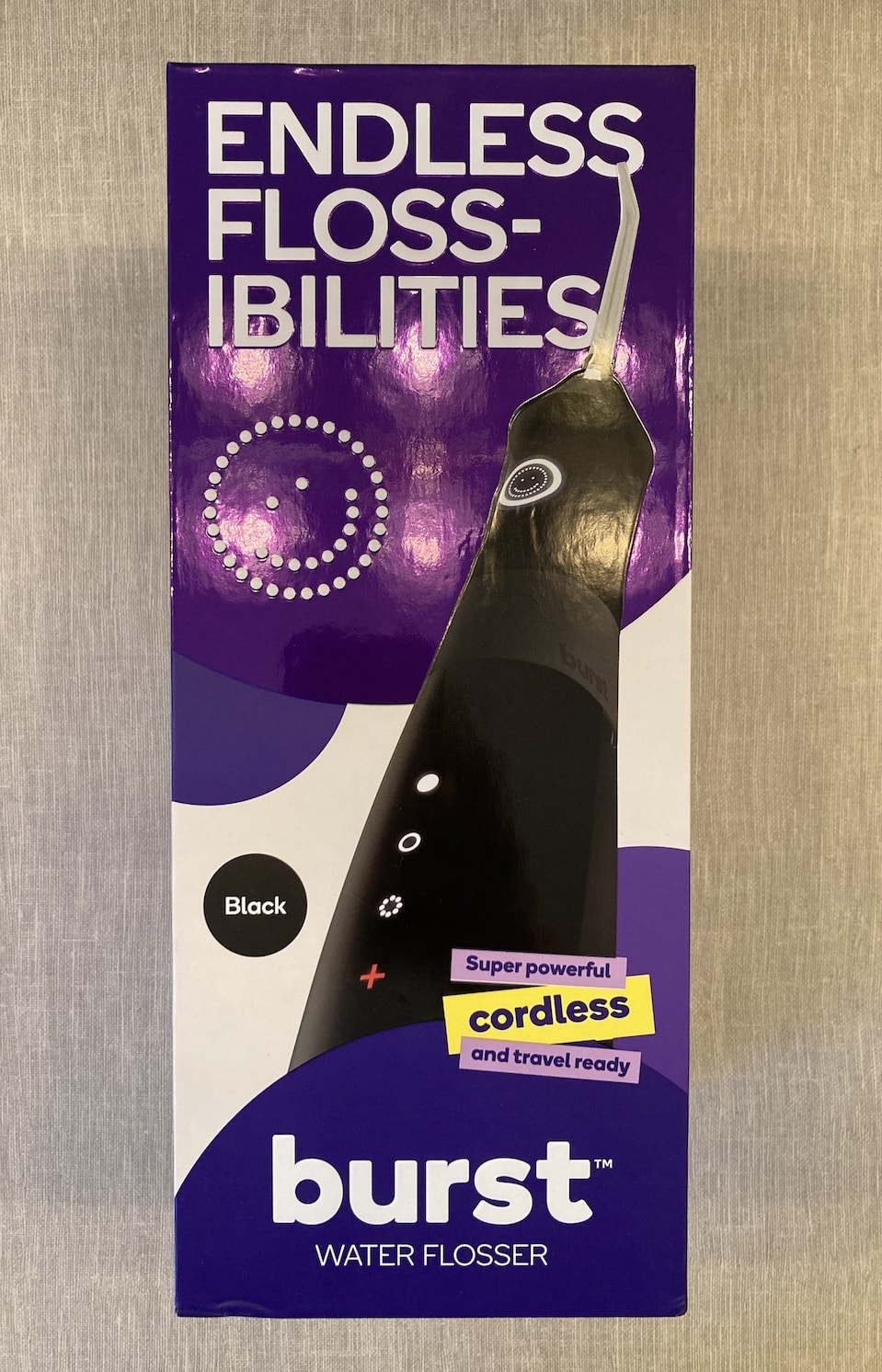 BURST Oral Care seeks to "turn an outdated industry dominated by dinosaurs upside down." BURST relies on thousands of BURST ambassadors (like me) – hygienists, dentists and dental assistants – to help design, refine and market. Their oral care products include a sonic toothbrush, kids' sonic toothbrush, dental floss, toothpaste, whitening strips, whitening trays and water flosser. Also, they recently launched an oral probiotic supplement.
Recommended Reading: BURST Oral Care | The Ultimate Guide
The BURST water flosser is modern, compact and cordless. It easily cleans hard-to-reach areas where harmful bacteria like to hide. In addition, the water flosser was developed after thousands of hours of research, development and BURST ambassadors' suggestions. So say goodbye to clunky, immobile water flossers and welcome this portable multiple-mode water flosser. After using it for weeks, I was impressed with the portability and power along with three different flossing modes.
Recommended Reading:
BURST Sonic Toothbrush Review
BURST is well-positioned to carve out more space in the oral health care sector. We tested the water flosser to see how it stacks up to its competitors. If you're interested in other dental products, check out their site HERE and use promo code UF4JEC at checkout. Let's take a closer look at this slick water flosser, from a dentist's perspective.
BURST water flosser retails for $89.99; however, if you use promo code UF4JEC at checkout, you can purchase it for $49.99!
---
---
---
---
First impressions
The water flosser arrived neatly packaged containing the portable unit, water-resistant traveling bag, USB charging cable, classic water flosser tip and quick start instructions. The compact, cordless water flosser is surprisingly lightweight even after filling the water reservoir. The classic tip was easy to insert and swiveled 360 degrees to clean all surfaces. In addition, it features three flossing modes (turbo, standard and pulse) and up to 80 days of flossing on a single charge!
Recommended Reading:
BURST Teeth Whitening Trays Review
The water flosser reservoir holds enough water for about 30-40 seconds before needing to refill. Also, the water flosser is water-resistant, so I recommend using it in the shower to spare your bathroom from water spray. In addition, it was comfortable to use along the gumline at a 90-degree angle. The standard mode was powerful and effective at removing food between the teeth. If you desire more power, hold down the smiley face button to switch between modes. I recommend using pulse mode (with the Ortho tip) if you have braces. Overall, we were impressed with how efficient, high-powered and portable the BURST water flosser was.
---
Innovative features
As someone who prefers traditional string floss, I'm always skeptical when testing water flossers. However, after trying this water flosser for several weeks, I was pleasantly surprised with how fun and effective it was to use. I love that you can switch tips (sold separately), each with a unique design.
For example, the classic tip is excellent for everyday use, whereas the perio tip features a slim nozzle with a slight bend for more precise cleaning under the gums. Also, the ortho tip features tiny clustered bristles in conjunction with water spray to clean in and around ortho brackets.
Let's explore more remarkable features of this BURST water flosser.
Easy cleaning: Simply press the smiley face button and walk the tip along the gumline.
Fresh breath: Use the high-powered water spray to clean your tongue and throat (common areas that harbor bad-breath bacteria).
Healthy smile: Gently cleans between teeth and massages gums!
Subscription refills: $6 replacement water flosser tip every 24 weeks, cancel anytime.
4 colors available: Black, white, lavender and rose gold.
3 cleaning modes: Turbo, standard and pulse (massage).
3 Replacement tips: Classic, perio and ortho (see picture).
360-degree rotating precision tip.
80 days of battery life on a single charge
---
---
---
Effectiveness
After using BURST water flosser for weeks, I was pleased with its portability and usefulness. As I mentioned, I prefer traditional string floss; however, this water flosser is having me re-think my nightly oral care routine. In addition, the four available color options are incredibly slick and stylish.
Recommended Reading:
Top 8 Best Dental Floss
Unlike other water flossers, BURST water flosser is highly-powerful and effectively cleaned my teeth (Dentist approved)! I've been using BURST water flosser for 2 weeks and I'm still impressed with its ability to blast away food in hard-to-reach areas.
---
Pros
4 color options (black, white, lavender & rose gold)
3 flossing modes (turbo, standard & pulse)
3 replacement flosser tips (classic, perio & ortho)
360-degree rotating precision tip
80 days of battery life per charge
Compact and cordless
Lightweight and comfortable to hold
Water-resistant
Features USB charging cable + travel bag
Backed by 30k BURST ambassadors
Subscription flosser tip refills
Lifetime warranty
Cons
Limited water reservoir (30-40 seconds of water)
Competitors feature more tip options
Upright position required during use
---
Frequently asked questions (FAQ)
---
---
Final thoughts
BURST is reimagining the oral care industry by aligning with dental professionals (dentists & hygienists); what's not to love about this high-powered traditional string floss alternative? For just $49.99 (using promo code: UF4JEC), you receive a super powerful, cordless and travel-ready water flosser. Try it today, and let us know what you think.
---
My Dental Advocate Score | 9.6/10
---
About the Author
Dr. Advocate is an actual board-certified dentist with clinical practice experience and a mission to provide accurate dental patient education. He believes everyone should access easy-to-read dental resources presented in layman's terms with relevant, up-to-date dental research and insight to improve their oral health.
---
---