Top 3 Best Charcoal Manual Toothbrush Review 2023
Dentist Tested and Reviewed | Time to Read: 7 mins
By: Dr. Advocate
Updated: January 30, 2023
Toothbrushes have significantly evolved from a simple toothbrush with uniform bristles to a rechargeable one that pairs with your phone. Brushing habits are essential to promote healthy teeth and gums and prevent tooth decay. The original manual toothbrush requires diligence to consistently and adequately brush at a certain pace to remove plaque and bacteria.
However, many individuals prefer this brush which effectively keeps their gums and teeth healthy. Charcoal is a new addition to oral care products because of its antibacterial and whitening qualities. Today, charcoal is infused in toothbrushes, toothpaste, and even floss.
Related:
Best Electric Toothbrush Under $50
Charcoal Benefits
When charcoal is exposed to high temperatures, it creates an activated form with a negative electric charge. This activated form of charcoal is believed to have properties that can whiten teeth. The activated charcoal is highly porous, which can bind to often-positively charged toxins in the teeth through microscopic pores.
After attaching to these micro toxins, the charcoal is brushed off with a toothbrush and water, removing stain-causing materials from the tooth's surface. Theoretically, this eliminates stains and harmful agents, potentially preventing cavities while creating brighter teeth. (Ramachandra, et al., 2014).
From a dentist's perspective, let's look at the best charcoal-infused manual toothbrush.
---
---
Evaluation Criteria
We highlight each product's unique, advertised benefits, identify their pros and cons and score each one from 1 to 5 based on four categories. The charcoal manual toothbrush with the highest score is crowned the overall champion; however, we'll also give suggested patient benefits for each product. Prices listed are subject to change.
---
Effectiveness: Is the toothbrush effective at removing plaque? Did the brush head design translate to improved results?
Comfort: Were the bristles comfortable on the gums and teeth? Was the brush head comfortable to use? Is the toothbrush comfortable to grip?
Features: What features are unique to toothbrushes? Are the features effective and do they translate to improved oral hygiene?
Likeability: Is the toothbrush likeable and enjoyable to use?
---
Related Reviews
---
---
---
Isshah Charcoal Bamboo Toothbrush
Isshah is a well-known e-commerce oral health brand that focuses on creating eco-friendly, biodegradable oral care products. They were inspired after seeing plastic waste's effects on people and the environment. Every product they design focuses on "limiting waste, reducing global footprint and preserving natural resources." They also have floss, cotton swabs, and interdental brushes; however, their charcoal bamboo toothbrush may be their most popular item. Charcoal use in oral health has become more popular because of its antibacterial and whitening properties.
Let's take a closer look at this all-natural whitening toothbrush.
---
Highlights
Soft charcoal bristles
Biodegradable handle
Eco-friendly
BPA-free nylon
Vegan friendly
Antibacterial bristles
All natural waste-free
---
Results
Effectiveness: ⭑⭑⭑⭑⭑
Comfort: ⭑⭑⭑⭑⭒
Features ⭑⭑⭑⭒⭒
Likeability: ⭑⭑⭑⭑⭒
Total: 16/20
---
Best for patients with sensitive gums and desire eco-friendly products.
---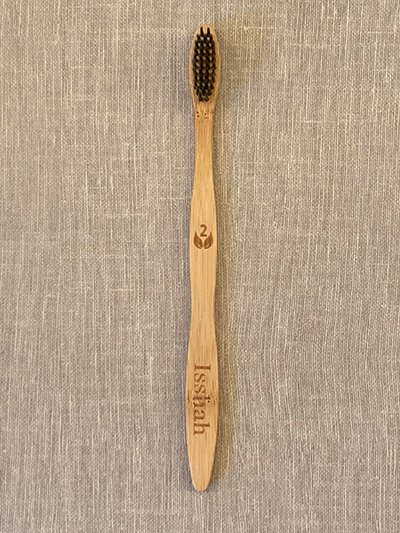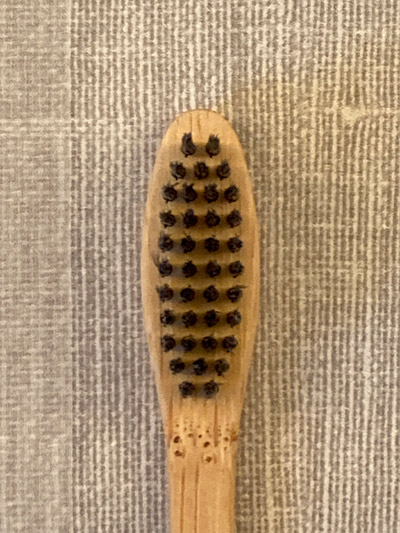 ---
Pros
This bamboo toothbrush scores points for being eco-friendly and biodegradable. The charcoal-infused bristles are feathered at the tip for comfortable interaction with the gums and teeth. The soft bristles are also comfortable to brush with and provide a thorough cleaning. In addition, the toothbrush is lightweight, and the bamboo handle is unique.
---
Cons
Although the bamboo handle was lightweight, it was uncomfortable to hold and seemed to slip around during use. We would have also appreciated the tip of the toothbrush to be less pronounced as it frequently rubbed along the gum tissue.
---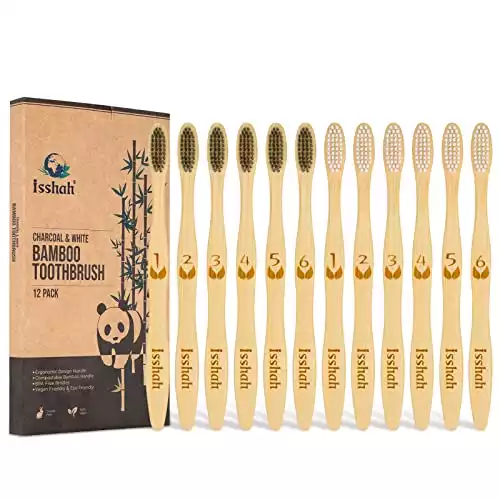 ---
---
---
Dental Expert Soft Charcoal Toothbrush
Dental Expert is another popular e-commerce brand that creates affordable dental products. This soft charcoal toothbrush is sleek, comfortable, and provides whitening benefits. They offer various types of toothbrushes, floss, and toothpaste. They recommend using their Activated Charcoal & Coconut Toothpaste and the toothbrush for maximum whitening results.
Let's take a closer look at this affordable option.
---
Highlights
Soft ultra-fine charcoal bristles
Slim and comfy handle
Whitens teeth and removes stains
---
Results
Effectiveness: ⭑⭑⭑⭑⭑
Comfort: ⭑⭑⭑⭑⭒
Features ⭑⭑⭑⭑⭒
Likeability: ⭑⭑⭑⭑⭑
Total: 18/20
---
Best for patients desiring a comfortable and affordable charcoal toothbrush.
---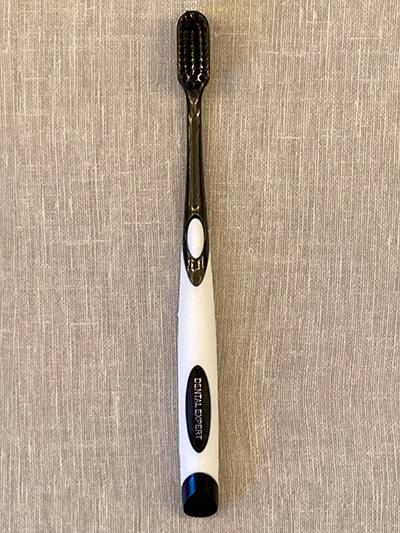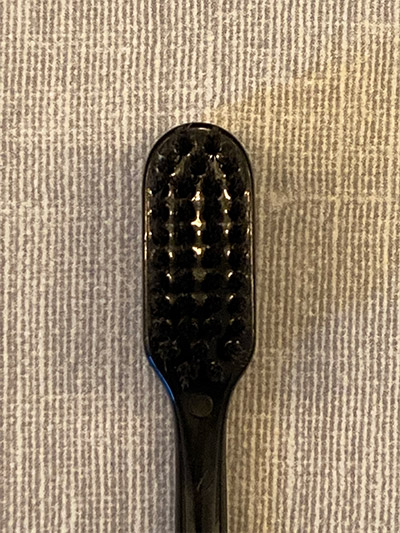 ---
Pros
This charcoal toothbrush was very comfortable to hold and maneuver when brushing. It was lightweight, and the rounded plastic tip was comfortable when it inadvertently bumped into the gum tissue. The bristles are also feathered and provide a comfortable feel around the gums. We also appreciated the density of bristles that held up better than other brushes.
---
Cons
The charcoal-infused bristles weren't as soft as other toothbrushes we tested. Also, the brush head may be too large for individuals with smaller mouths.
---
Runner-up
---
---
---
Oral-B Charcoal Toothbrush
Oral-B was founded in 1949 by a periodontist and his wife to create a safer and more effective toothbrush. The brand "trusted by dentists and consumers worldwide" offers many products to meet your unique oral care needs. Oral-B is most well known for its electric toothbrush line; however, they have several manual and battery-powered toothbrushes. They strategically place charcoal-infused bristles throughout the brush head to clean and whiten different areas of the tooth. In addition, this brush has a tongue and cheek cleaner on the opposing side to remove bacteria.
Let's take a closer look at this charcoal toothbrush.
---
Highlights
Charcoal-infused soft bristles
End-rounded bristles gentle on gums and teeth
Whitens teeth and massages gums
Tongue and cheek cleaner
---
Results
Effectiveness: ⭑⭑⭑⭑⭑
Comfort: ⭑⭑⭑⭑⭒
Features ⭑⭑⭑⭑⭑
Likeability: ⭑⭑⭑⭑⭑
Total: 19/20
---
Best for patients desiring a great overall charcoal toothbrush.
---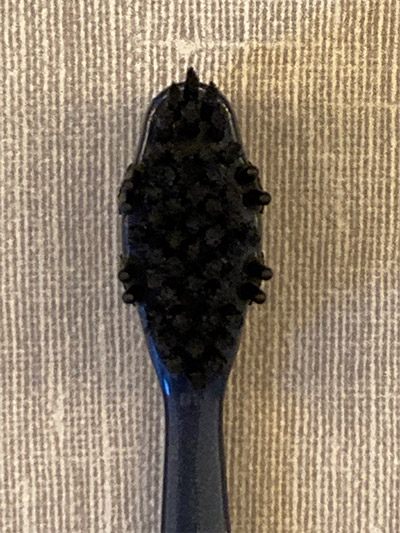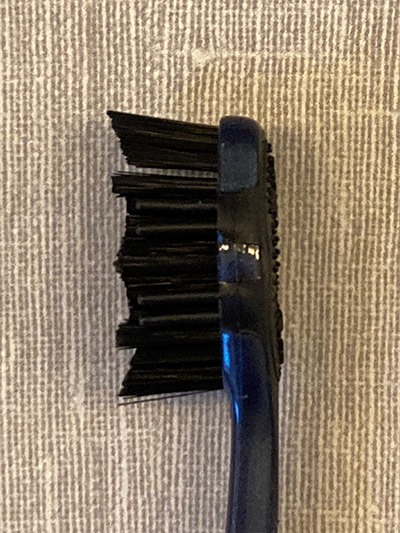 ---
Pros
Oral-B did an excellent job with the overall design for this toothbrush. It begins with the strategically placed round-ended bristles along the outer rim to clean away plaque along the gum line without irritating the gum tissue. Also, the charcoal bristles are soft and effective at removing plaque. The toothbrush handle is exceptionally comfortable to hold and provides excellent grip. Lastly, the tongue and cheek cleaner is a wonderful touch for a thorough cleaning.
---
Cons
The charcoal bristles are round-ended, and because of that, they lack feathered tips. Due to this difference, the pressure on the gum tissue is more pronounced than on toothbrushes with feathered tip bristles.
---
Champion
---
---
---
Overall Champion:

Oral-B Charcoal Toothbrush*
The Oral-B Charcoal Toothbrush came out on top because of its comfortable handle, round-ended bristles, and overall effectiveness in removing plaque around the gum line. The brush head's design allows the bristles to wrap around the teeth as your brush to prevent missing any area of the tooth. Also, the round-ended bristles provided a more thorough clean than the feather-tipped bristles.
Individuals with more sensitive gums should go with the Dental Expert or Isshah Charcoal Bamboo brush, as both provide a more gentle cleaning. Also, both options are about half the price compared to the Oral-B toothbrush. All three products are great options to consider when looking for your next charcoal toothbrush.
---
Final Rankings
Oral-B Charcoal Toothbrush 19/20
Dental Expert Soft Charcoal Toothbrush 18/20
Isshah Charcoal Bamboo Toothbrush 16/20
---
* My Dental Advocate product reviews are based on individual experience and your results with the products may vary.
---
About the Author
Dr. Advocate is a board-certified dentist with 5+ years of clinical practice experience on a mission to provide accurate dental patient education. He believes everyone should access easy-to-read dental resources presented in layperson's terms with relevant, up-to-date dental research and insight to improve their oral health.
---
---