---
BURST Oral Care | The Ultimate Guide (Content Hub)
Category: Adult Dentistry, Content Hubs, Dr. Advocate's Insights, Oral Health
By: Dr. Advocate
Updated: November 24, 2022
---
BURST Oral Care seeks to "turn an outdated industry dominated by dinosaurs upside down." BURST relies on thousands of BURST ambassadors (like me) – hygienists, dentists and dental assistants – to help design, refine and market. Their oral care products include a sonic toothbrush, kids' sonic toothbrush, dental floss, toothpaste, whitening strips, whitening trays and water flosser. Also, they recently launched an oral probiotic supplement. Use discount code UF4JEC to receive 30% off at checkout!
Related:
Best MDA Recommended Products
Table of contents
---
BURST Sonic Toothbrush Review 2022
BURST is reimagining the oral care industry; what's not to love about the sonic toothbrush's futuristic look and attractive colors? It's loaded with features and surprisingly fun to use. It performs like a high-dollar Oral-B or Philips Sonicare for a fraction of the price, $39 (use code UF4JEC). It lacks smartphone connectivity, however, it wouldn't surprise us if that feature is in the works.
If you're interested in learning more about the BURST Sonic Toothbrush, check out our 2022 full below.
---
BURST Water Flosser Review 2022
The BURST water flosser is modern, compact and cordless. It easily cleans hard-to-reach areas where harmful bacteria like to hide. In addition, the water flosser was developed after thousands of hours of research, development and BURST ambassadors' suggestions. So say goodbye to clunky, immobile water flossers and welcome this portable multiple-mode water flosser. After using it for weeks, I was impressed with the portability and power along with three different flossing modes.
If you are interested in learning more about how the BURST Water Flosser, check out our 2022 review below.
---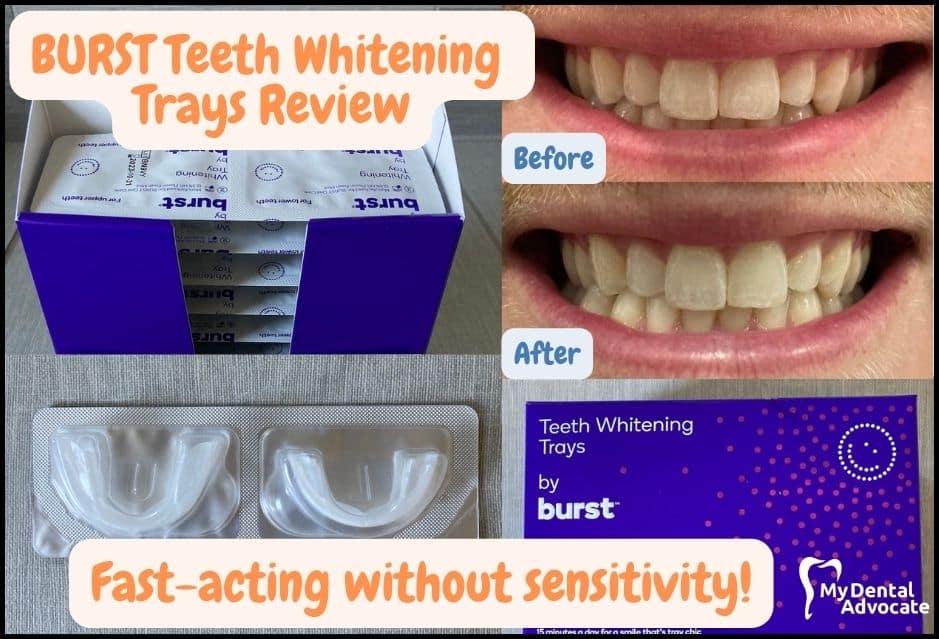 BURST Teeth Whitening Trays Review 2022
BURST teeth whitening trays are their newest product that features fast-acting results after one 15-minute session. In addition, after completing the 7-day course, you'll notice dramatically whiter teeth. Say goodbye to nasty chemical taste, as these trays are made without parabens, phthalates, sulfates, allergens, artificial sweeteners, flavors, and colors. The natural mint flavor was surprisingly refreshing and the custom-fit trays were simple to use.
If you are interested in learning more about the BURST Teeth Whitening Trays, check out our 2022 below.
---
BURST Charcoal Expanding Floss Review 2022
BURST charcoal expanding floss has only been around for a few years, but it's making waves in the dental community. This floss is exceptional because it's incredibly effective at cleaning away plaque and black floss let's you see that it's working. The mint/eucalyptus flavor is refreshing, and the case is sleek and easy to handle. It's the most robust case by far and comes with simple instructions on changing the replaceable floss bobbin. The subscription model lets you set it and forget it. They'll deliver a new floss bobbin every three months to you in the mail.
If you are interested in learning more about the BURST Charcoal Expanding Floss, check out our 2022 review below.
---
BURST Kids Sonic Toothbrush Review 2022
BURST has excelled at disrupting the electric toothbrush market. This toothbrush is sleek, elegant, and uniquely designed, beginning with the soft, ergonomic toothbrush handle to the powerful 31,000 sonic vibrations/minute motor. Also, the toothbrush motor slows if too much pressure is applied to prevent gum irritation. It's rechargeable and can last for an impressive 21 days after a full charge. The brush head is perfectly sized and features a tongue cleaner on the opposing side. The PBT charcoal-infused bristles are incredibly soft and are feathered to sneak below the gum tissue.
If you are interested in learning more about the BURST Kids Sonic Toothbrush, check out our 2022 review below.
---
Final Thoughts
This guide highlights all aspects of 2022 BURST Oral Care products, including pros, cons and cost. We desire that this guide points you to the selected articles, so you are fully informed the next time you visit the dentist. Circle back to this content hub, home base. Good luck!
---
The more you know, the more healthy habits you can develop, saving you and your family from avoidable and potentially expensive dental procedures. Talk to your dental professional for more suggestions on improving oral health and check back for more blog posts and relevant information. Please share this site and let us know what else you'd like to know!
---
---
Sources
---
About the Author
Dr. Advocate is an actual board-certified dentist with clinical practice experience and a mission to provide accurate dental patient education. He believes everyone should access easy-to-read dental resources presented in layman's terms with relevant, up-to-date dental research and insight to improve their oral health.
---
---