Truthbrush Product Review 2023 (Dentist Recommended)
Dentist Tested and Reviewed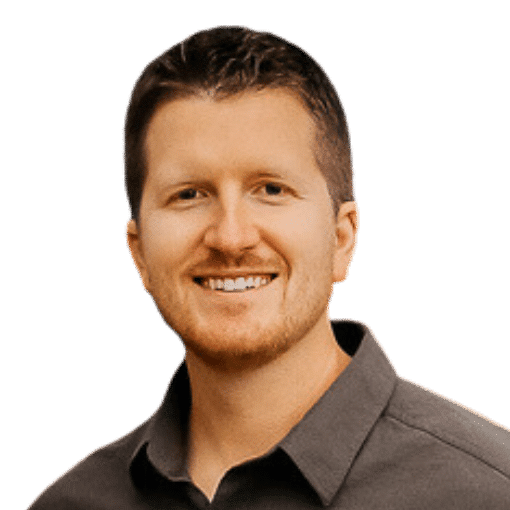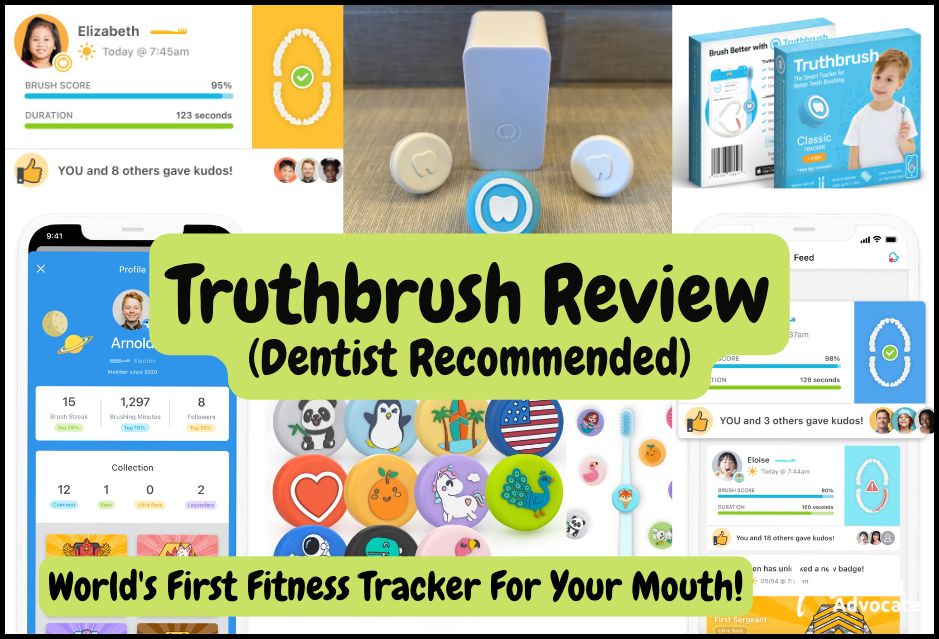 Truthbrush is the world's FIRST fitness tracker for your mouth! Gone are the days of slacking off while your brush. Never miss a spot to clean again. The Truthbrush is an innovative solution to track all brushing movements on a manual or electric toothbrush. Slide the tracker onto your brush head and brush away.
Recommended Reading:
Best MDA-Recommended Products
The Truthbrush tracker is waterproof and protected by silicon "skins." Children will love the various kid-loving skins, including a unicorn, astronaut or panda bear.
Check out more Truthbrush skin options. In addition, the Truthbrush app changes how my kids and I talk about building teeth-brushing habits. The push notifications, user-friendly app and professional recommendations motivate my kids and me to improve.
Check out the Truthbrush below for 10% OFF!
---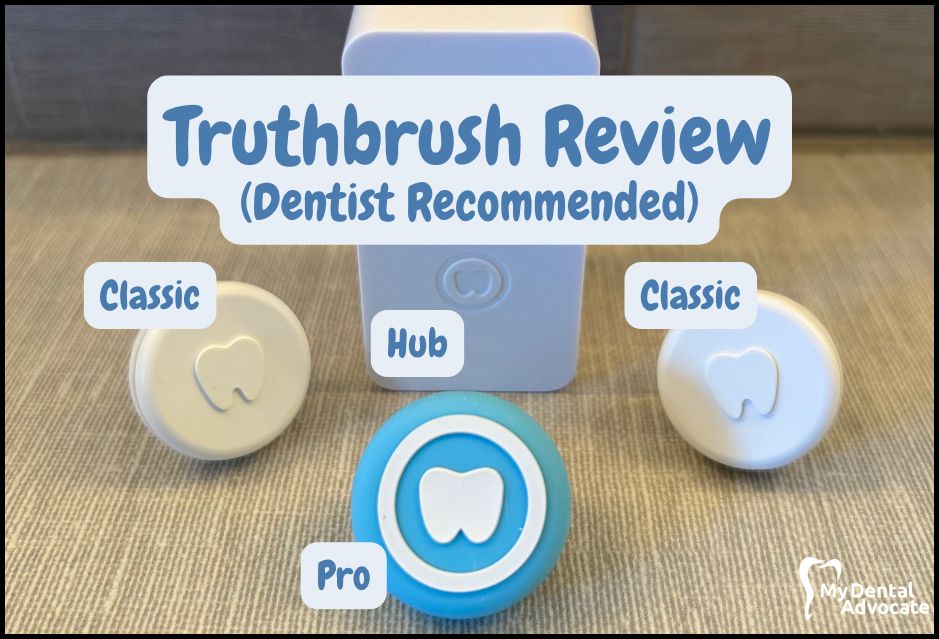 First impressions
The Truthbrush bundle arrived neatly packaged and consisted of a Tracker and Hub; both are required for the system to work.
A great perk is that each Hub can support multiple Trackers simultaneously. You can add additional Hubs for expanded coverage area; however, we use a single Hub across two bathrooms (3 trackers).
Recommended Reading:
SNOW Cosmetics At-Home Teeth Whitening Kit Review 2023
As a dentist, I was blown away by how effectively it tracked every movement across my mouth. It sparked a newfound enjoyment for brushing again. Syncing was simple – there were no buttons to push – everything was automatic. I don't even have to have my phone present to capture the data or sync. Everything is done via Wifi!
In addition, the user interface within the app is clutter-free, intuitive and straightforward enough for my kids to use. Truthbrush designed an exciting toothbrush tracker to motivate children, allow parents to monitor their progress and even send reports to their dentist!
"Truthbrush is a revolutionary dental product that tracks, educates and empowers patients to better understand their oral health." ~ Dr. Advocate
Pricing
With Truthbrush, you can develop independent and healthy brushing habits for a fraction of the cost. Alternative methods of toothbrush-tracking include purchasing a premium, high-dollar electric toothbrush for $200+. Truthbrush provides greater technological tracking while being versatile for ANY (manual or electric) type of toothbrush.
Recommended Reading:
Best Electric Toothbrush Under $50 Review 2023
Let's take a closer look at the pricing of Truthbrush products (prices may vary).
Truthbrush Classic
Classic bundle (tracker + hub) = $36
Extra tracker = $23
Most advanced tracking technology
Built-in battery lasts up to 12 months
Pairs with app to set goals
Get feedback, earn rewards and share with your dentist
Worldwide shipping
30-day guarantee
Truthbrush Pro
Pro bundle (tracker + hub) = $41
Extra tracker = $27
Next-generation oral care tracking technology
Multi-year functionality with replaceable battery
Sleek, modern design
Louder beep timer & longer wireless range
Pairs with app to set goals
Get feedback, earn rewards and share with your dentist
Multi-User Bundle
Pro = $63
Classic = $54
Skins collection = $20
Includes the new (2023 model year)
Pro Trackers (battery replaceable)
1 data collection Hub and decorative Skins
Each bundle is ready to use
Truthbrush Skins
Skins = $5
Kid-loving skins
Works with Classic & Pro Trackers
Easy to replace and clean
Collect them all!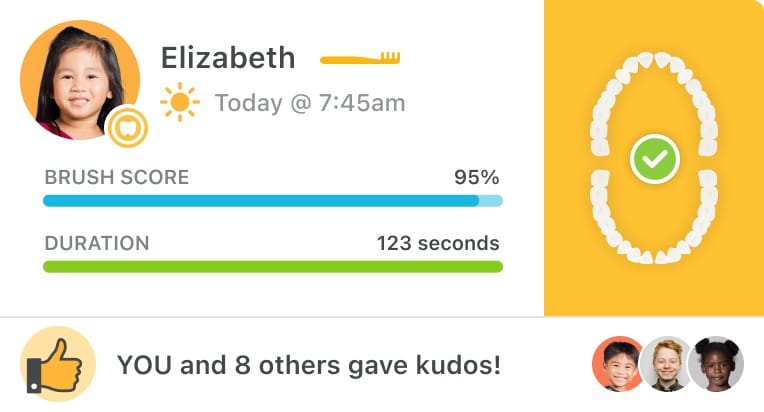 Truthbrush Hubs
Standard/travel hub = $14
Connect trackers with a WiFi signal
At least 1 Truthbrush hub is required
Add additional hubs if needed
Truthbrush is a modern and fun way to improve your family's oral health!
How it works
Truthbrush changes how you interact, coach, and build positive habits with your family. Reliable monitoring in the background, no phone needed in the bathroom, and no addictive games. Bring the fun back to brushing!
Recommended Reading:
Best Battery-Powered Toothbrush Review 2023
Truthbrush is designed to collect brush data over time. Identifying patterns with accurate, reliable information allows you to make the right adjustments. The hub unit can be plugged into any wall outlet and connects to your wifi. It passively collects and passes all brush data to a secure server where it can be analyzed and made available for viewing in your mobile app or by your dentist. How cool is that?
Connect with your dentist!
Truthbrush is a connected device that provides real-time, actionable information on your brush habits that can be instantly sent to your dentist. As a result, your dentist will be alerted and inform patients who need assistance and can reach out to them naturally and unobtrusive way. In addition, the dentist can provide new services for coaching and building excellent home care habits.
---
Innovative features
As a dentist, I always look for products to help my patients improve their oral health. I often encounter patients that "think" they are brushing well enough and wonder why they have gum disease. Many patients desire to improve their gum health but only have a few healthy habits. I believe Truthbrush is a product that will revolutionize oral health and patient connectivity. It's straightforward and provides numerous data points to improve brushing habits.
Let's explore how Truthbrush will revolutionize oral home care habits.
96% of users showed significantly improved mouth coverage after first month
84% of users brush for longer than 90 seconds after 3 months using Truthbrush
62% of users improved their daily brush counts after 1 month, with average improvement of 40%
My kids look forward to brushing their teeth and race to my phone to check their brushing scores!
User Interface
Check out the screenshots to learn more!
The Truthbrush Hub passively collects data
Instantly passes all brush data to the app
No phone needs to be present
No app needs to be launched
No need to turn on Bluetooth
Focus on brushing first!
Effectiveness
I have four children, two of whom are old enough to use the Truthbrush. I was excited to get the Truthbrush app on my phone and on the kid's devices. I can accompany their habits, but now, they can also accompany mine. Togeter we are all doing better! I also knew they would enjoy using the tracker, but I was shocked by how much improvement I saw from them over many months.
Aside from the innovative technology, I greatly appreciate this product because it brings excitement back to mundane tasks like brushing teeth. In addition, I can monitor my children's brushing habits and coach them on areas to improve. In turn, it empowers them to improve their oral health, develop lasting habits and enjoy the process. Check it out to learn more!
[divider height="10″]

Reliable monitoring in the background, no phone needed in the bathroom and no addictive games!
Frequently Asked Questions (FAQ)
Final thoughts
If you struggle to keep up with your children's brushing or desire to improve your oral health, Truthbrush is for you! This innovative dental product is inexpensive, intuitive and technologically advanced to provide detailed statistics. Check out the Truthbrush website or click below to take advantage of 10% OFF!
My Dental Advocate Score | 9.8/10
Knowledge is power when cultivating healthy dental habits. The more informed you are, the better positioned you'll be to prevent avoidable and potentially costly dental procedures for you and your family. Watch for future blog posts, where we'll continue sharing important information, product reviews and practical advice!