---
Help! My CEREC Crown Fell Out (BEST Recement Guide)
Category: Adult Dentistry, Dr. Advocate's Insights
By: Dr. Advocate
Updated: August 25, 2022
---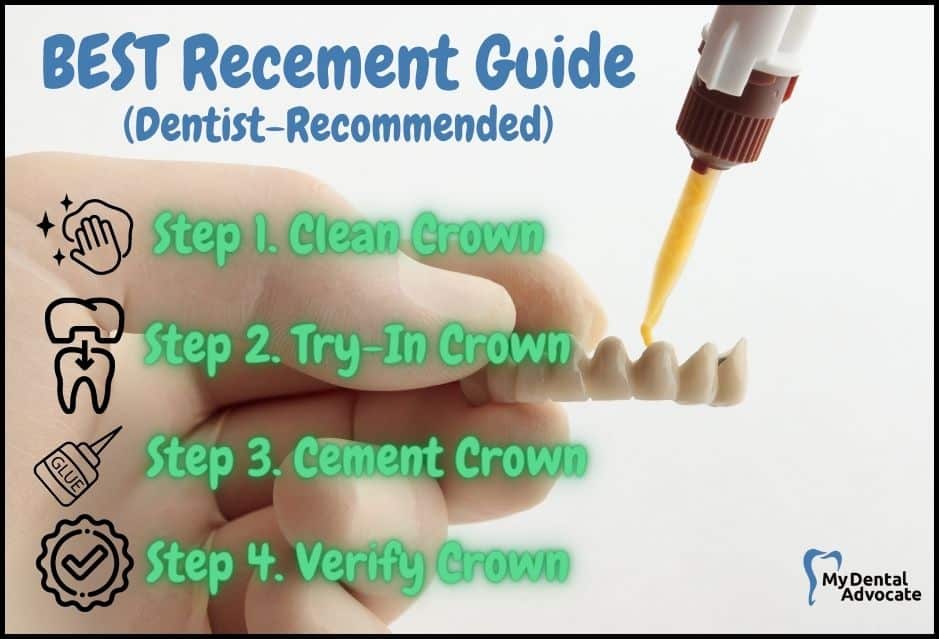 If you are like most people, the last thing you want to deal with is a dental emergency. But if you are in this situation, don't worry – we are here to help! This blog post will discuss what to do if your crown falls out and how to manage the emergency. We will also provide a guide on how to best recement a crown to avoid any potential problems before seeing the dentist.
Recommended Reading:
CEREC Crowns | The Ultimate Guide
What is a crown?
A crown or cap is a dental restoration to cover and protect a tooth. It is usually made of metal, ceramic, or a combination of both and is cemented in place. Crowns restore teeth that are damaged or decayed and are also used to improve overall esthetics.
Crowns last 10-15 years, and their success depends on many factors, including dental cement longevity. Dental cement has been around for over 100 years, and after years of clinical research and development, the material is still the best method to secure a dental crown in the mouth.
Traditional dental cement relies on mechanical bonds to lock the crown over the tooth. The tooth's width, wall height, and tooth parameters also factor into the success rate. Bonding cement relies on chemical bonds to adhere the crown to the tooth using acid etch, adhesive, and other bonding materials. Bonding types of cement are newer and are highly successful; however, they lack extensive clinical research, unlike traditional cement.
---
What are CEREC crowns?
CEREC crowns are all-ceramic crowns fabricated in-office using CAD/CAM technology. They are made from a high-strength ceramic material matched to the color of your natural teeth.
CEREC crowns are an ideal solution for repairing damaged or decayed teeth because they are esthetic, durable, and efficient to fabricate. In addition, the dentist can use them to replace old metal fillings, improve the appearance of misshapen or discolored teeth, and protect weak teeth from further damage.
The CEREC crown process takes two hours from start to finish and doesn't require a gooey impression, temporary crown, or future delivery appointment. Everything is completed in just one visit!
---
Recommended Reading:
What Are CEREC Crowns? (Advantages & Disadvantages)
---
Not all dentists have CEREC CAD/CAM technology in their office, so it's important to call around and find one that does. In addition, your insurance coverage, dental office location, and dentist expertise will dictate the cost of a CEREC crown.
---
Why did my crown fall out?
There are many possible reasons why your dental crown may fall out. Permanent and temporary crowns are susceptible to fall out; however, temporary crowns are more susceptible because they are cemented with temporary cement and fit less accurately. The most common reasons permanent crowns fall out are poor oral hygiene or tooth decay.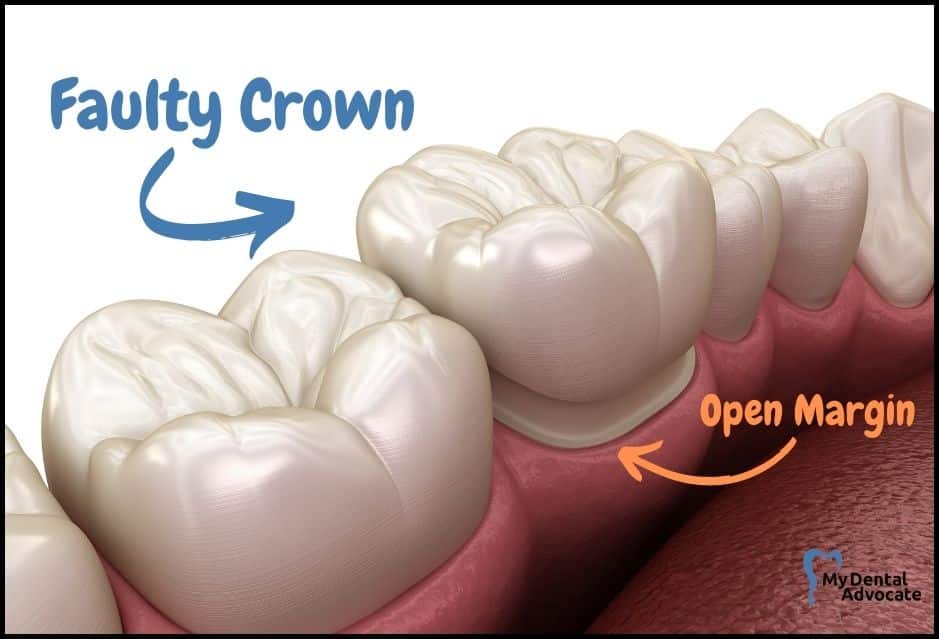 Crown failure causes
Tooth/mouth trauma
Sticky foods
Biting or chewing hard food
Faulty crown (poor-fit)
Dentist technique error
Cement failure
---
Can I put my crown back on myself?
Yes, you can put a crown back on yourself; however, there are critical factors to consider before proceeding. If your crown fell out and you misplaced it or accidentally swallowed it, don't panic.
If you lost the crown and your tooth is not causing you pain, call your dentist as soon as possible to schedule an appointment. Avoid hot or cold beverages, and don't chew on the tooth if possible.
---
Recommended Reading:
How Do CEREC Crowns Stay On? (Top 8 Reasons Crowns Fall Off)
---
If you swallowed your crown, thankfully, they are small enough to pass through your system unannounced, but call your dentist as soon as possible to schedule an appointment. If your tooth is hurting, consider taking OTC medications (Tylenol, Ibuprofen, etc.) and avoid foods and beverages that may trigger a pain response.
---
Can I super glue my crown back in?
No! Sadly, I've seen several patients that have used super glue to cement their crown back on; it worked surprisingly well, but it's a bad idea. Super glue is toxic and should not be consumed or applied to the mouth. Also, super glue can harm your tooth and the sensitive nerve tissue leading to irreversible damage and pain.
There's a better way to recement a crown that fell off. However, it's important to remember that although there are safe and effective ways to recement a crown, your first step should be to call your dentist and schedule an appointment. In the meantime, recementing your crown can protect your tooth from further damage.
---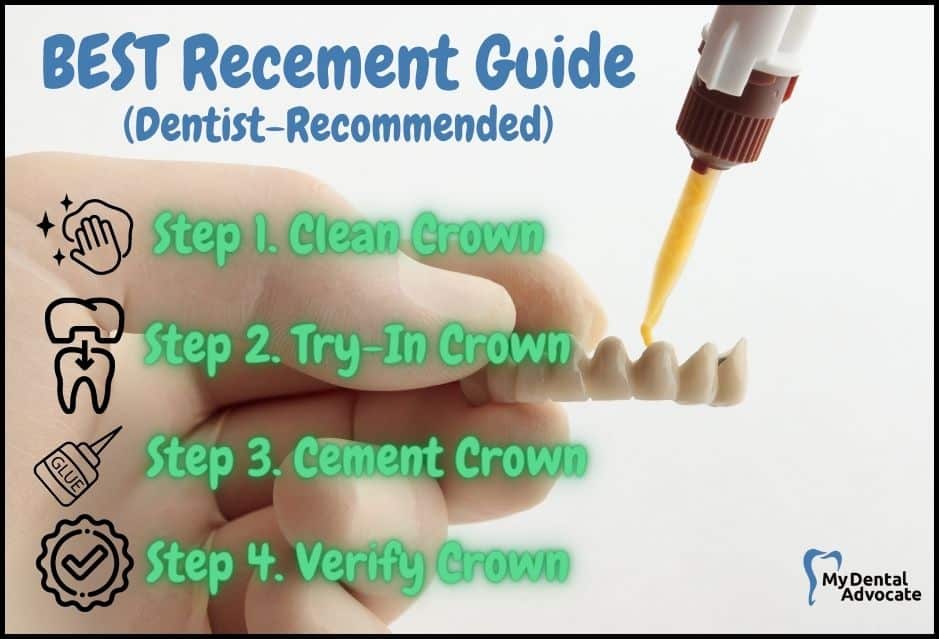 Dentist-recommended recement guide
Four simple steps are involved to recement a permanent or temporary crown that fell off. We'll discuss each step and highlight tips and tricks that you can use.
Step 1. Clean crown
Step 2. Try-in crown
Step 3. Cement crown
Step 4. Verify crown
Before you recement the crown, call your dentist and inform them that your crown fell out, identify where it's located, and discuss any symptoms. In addition, you will need temporary crown cement that can be purchased online or at a store nearby. Look for one that's eugenol free as eugenol may interfere with permanent cement bond.
---
Step 1. Clean crown
Inspect your crown for any issues, including chips, fractures, or other forms of damage. Next, soak your crown in hydrogen peroxide for 2-4 minutes to kill harmful bacteria. If hydrogen peroxide is unavailable, use soap and hot water to scrub away any food debris. Use an old toothbrush to scrub the inside and outside of the crown as best as possible. Don't be alarmed if cement flakes fall out of the crown while cleaning. In addition, be sure to clean the crown over your sink with the drain plugged to prevent the crown from falling and being damaged.
---
Recommended Reading:
When Are CEREC Crowns NOT Recommended? (Top 6 Reasons)
---
After cleaning the crown, it's time to clean the tooth. If you have any symptoms, avoid this step. If it hurts while breathing, proceed with cementing the crown cautiously. It may be best to leave the crown off to prevent further pain. If you are not experiencing pain, gargle warm (or room temperature) salt water for 60 seconds to clear away any food debris on the tooth. The salt water also helps soothe irritated gum tissue after a crown falls off.
---
Step 2. Try-in crown
Once the crown and tooth are clean and free of debris, it's time to try in the crown before cementing. This step is critical for proper fit and to avoid damaging opposing teeth. If the crown is not seated correctly, it can sit high and cause pain or damage to the opposing teeth (above/below the crown).
Identifying which way the crown fits may feel like fitting a puzzle piece in the dark. Ensure you have a good light source and mirror to visualize the tooth. The cheek side of the crown is usually the longest/tallest wall of the crown. Try in the crown this way first. If it doesn't fit, rotate the crown 180 degrees and try again. If you cannot seat the crown or it's causing pain, don't proceed and wait until you see your dentist.
If you can seat the crown, make sure you can gently remove it without dropping it or swallowing it. Occasionally the crown's micromechanical fit is so tight that fitting it back on even without cement will hold it securely in place. If you can't get the crown back off, don't panic; leave it in place until you see the dentist.
---
Step 3. Cement crown
After carefully removing the crown, dry off the inside and set it aside. Remove the temporary cement cap and apply a small amount of cement material to the upper inside edge of the crown. Next, remoisten your tooth and place the crown onto the wet tooth surface. Cementing the crown onto a damp surface minimizes a pain response.
"If you don't have access to temporary crown cement, use toothpaste for similar results." -Dr. Advocate
Bite down several times to ensure proper fit. If necessary, bite down on your toothbrush head for added pressure. If the crown feels abnormal, remove the crown and repeat all steps until the crown fits and feels normal.
---
Step 4. Verify crown
After cementing the crown, wait 5 minutes and gently remove any excess material with a cotton tip applicator. Rinse out mouth well with water and wait at least 1 hour for cement to set before eating or drinking. The cement will be fully formed in 1 to 3 hours.
If you are unable to remove all excess cement, don't panic. Most temporary crown cement is biocompatible and will not harm your gums. In addition, if you need to floss your teeth, be sure to floss down between the contacts and pull out the floss to the side to avoid popping the crown back off.
---
How long does temporary cement last?
In my experience, I've seen temporary cement secure permanent crowns in place for up to 2 years. In addition, I've seen temporary cement secure temporary crowns in place until the final crown is ready (4 weeks maximum). Although it's labeled as temporary cement, most formulations contain ingredients used in past permanent adhesives, meaning they can be exceptionally effective.
"There have been a few times I've been unable to remove a permanent crown that was recemented with temporary cement. So I informed the patient to let it be until it came off again." -Dr. Advocate
---
What happens if I don't recement a crown?
Suppose you don't recement the crown and have no intentions of going to your dentist; you could harm your tooth, leading to irreversible damage and possibly a root canal or tooth extraction. In addition, the tooth is weak, unsupported, and will be exposed to harmful bacteria that can lead to tooth decay. Therefore, it's paramount to recement the crown yourself or visit the dentist as soon as possible to prevent further problems.
---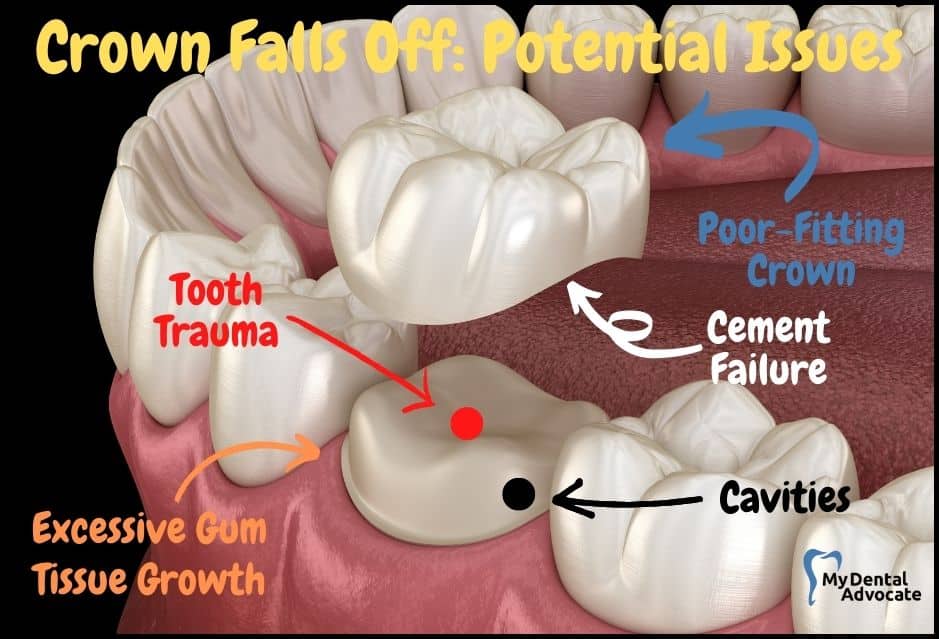 How long can I go without a crown?
If you leave a crown off for an extended period before visiting the dentist, your tooth could shift and prevent the crown from fitting correctly. Therefore, before taking an impression or intraoral scan of the crown, the dentist will trim the tooth to specific parameters, measured in millimeters. Other potential problems include:
Excessive gum tissue growth
Tooth trauma
Poor-fitting crown
Cement failure (due to bacteria contamination)
---
Why is my tooth black under my crown?
If you notice your tooth is black after a crown falls off, bacteria contamination has occurred. This primarily occurs under a temporary crown because a temporary crown doesn't fit as well as a permanent crown. The poor-fitting crown harbors bacteria that cause black stains on your tooth. Before your dentist cements the permanent crown, they will disinfect the tooth so the cement bond will be successful.
---
How long does it take to put a crown back on?
If the crown is intact and able to be recemented, it will take 10-15 minutes to recement the crown. The dentist will do similar steps as indicated above if they are using traditional dental cement. In addition, they have solutions that can kill harmful bacteria on the crown and tooth surface to improve longevity and cement success rate. If the dentist is bonding the crown to the tooth, it will take longer as both surfaces need to be treated and prepared for chemical adhesion.
---
How much does it cost to put a crown back on?
It costs $0 to $250 to recement a crown back on. Some insurances only require a copay without having to pay a treatment fee. However, fee-for-service practices often charge more for recementing a crown. If you have insurance discuss the benefits with your insurance company and dental provider, so you are prepared for the appointment.
---
Recommended Reading:
How Much Are CEREC Crowns? (Pros, Cons & Treatment Cost)
---
Final thoughts
Dental crowns can be a valuable asset to your oral health, but they are not impervious to failure. Therefore, when you experience a dental emergency and your crown falls out, it is crucial to take the necessary steps to avoid further damage and seek professional treatment as soon as possible. By following the guide in this article, you will be able to recement your crown and protect your smile until you can visit your dentist.
---
The more you know, the more healthy habits you can develop, saving you and your family from avoidable and potentially expensive dental procedures. Talk to your dental professional for more suggestions on improving oral health and check back for more blog posts and relevant information. Please share this site and let us know what else you'd like to know!
---
---
---
About the Author
Dr. Advocate is an actual board-certified dentist with clinical practice experience and a mission to provide accurate dental patient education. He believes everyone should access easy-to-read dental resources presented in layman's terms with relevant, up-to-date dental research and insight to improve their oral health.
---
---