---
What Does Gingivitis Look Like? (20 Gum Disease Pictures)
Category: Adult Dentistry, Common Questions, Dr. Advocate's Insights, Oral Health
By: Dr. Advocate
Updated: September 23, 2022
---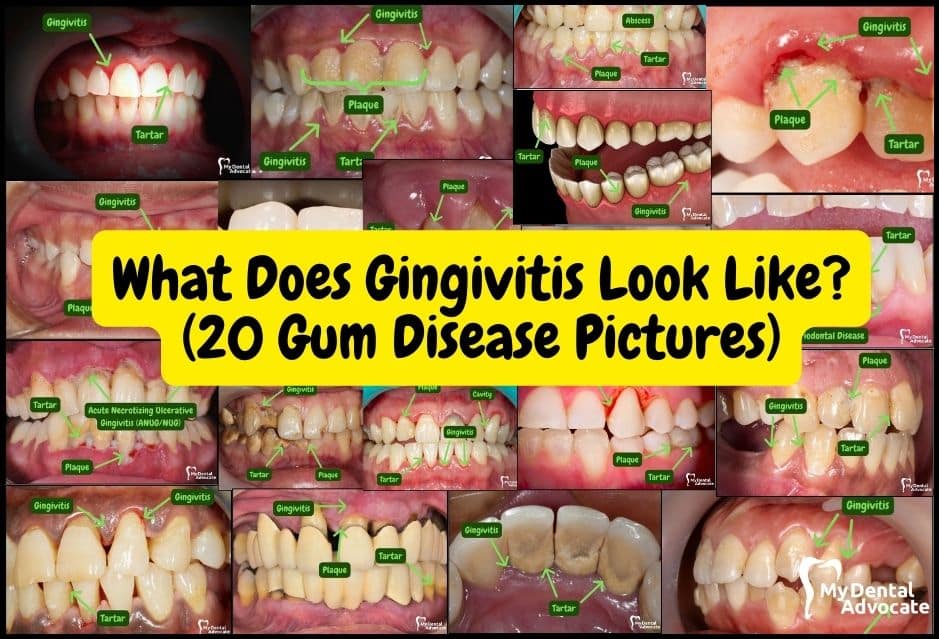 Gingivitis is uncomfortable; your gums bleed, your breath smells, and your teeth hurt. But did you know that 94% of Americans have gingivitis? That's an alarming statistic! However, what's more alarming, gingivitis can progress to gum disease if left untreated. If you believe you have gingivitis or gum disease check out the pictures and schedule an appointment with your dentist ASAP.
Recommended Reading: Gingivitis | The Ultimate Guide
Table of contents
What is gingivitis?
Gingivitis is inflammation of the gums caused by harmful bacteria. If harmful bacteria are not removed by your dentist or hygienist, the bacteria will congregate and multiply into advanced gum disease (periodontal disease). The bacteria that infects the gums lead to swollen, red and puffy gums. Gingivitis is a common gum issue; however, oral hygiene improvements can help prevent this ailment. According to the American Dental Association, gingivitis and periodontitis cause tooth loss in adults.
Recommended Reading: What is Gingivitis? Causes, Symptoms & Treatment

---
What causes gingivitis?
Poor oral hygiene – If regular brushing and flossing habits are not maintained, dental plaque will form on teeth, causing gum inflammation. However, improved oral hygiene and regular visits to the dentist for routine cleanings aid in the removal of dental plaque. A more severe gum disease (periodontal disease) will occur if left untreated.
Poor nutrition – Harmful bacteria rely on sugars and carbohydrates to multiply. The bacteria begin to proliferate (increase in number) after it congregates – brushing, flossing and routine cleanings prevent harmful bacteria from forming above and below the gum tissue. Foods high in sugars and carbohydrates are sticky and desirable for oral bacteria.
Dental plaque – Occurs when food debris is not removed, most commonly along the tooth and gum margin. It may feel a bit "fuzzy" when you run your tongue over it. Dental plaque is composed of bacteria that "eat" sugars. Acid formation and other byproducts form, leading to gum inflammation. To limit dental plaque, brush twice daily and floss nightly.
Tartar – Plaque that stays on your teeth can harden under your gumline into tartar (calculus), which invites more bacteria formation. Tartar protects plaque from breaking down, creating a protective shield for bacteria. In addition, tartar formation causes gum irritation and inflammation. Unlike plaque, tartar cannot be removed at home and requires a dental cleaning to remove it.

</ol id="SIGNS">

---
Recommended Reading:Pregnancy Gingivitis: Causes, Symptoms & Treatment
---
What are the signs & symptoms?
It's possible to have gingivitis without any symptoms. However, in mild cases of gingivitis, there may be no discomfort or noticeable symptoms. Often, it remains undetected for quite some time. The symptoms of gingivitis are somewhat non-specific.
Additionally, the pink-salmon coloring and stippling in the gum tissue will often disappear. Also, the gums may appear shiny as the gum tissue becomes inflamed and stretched over the tissue surface.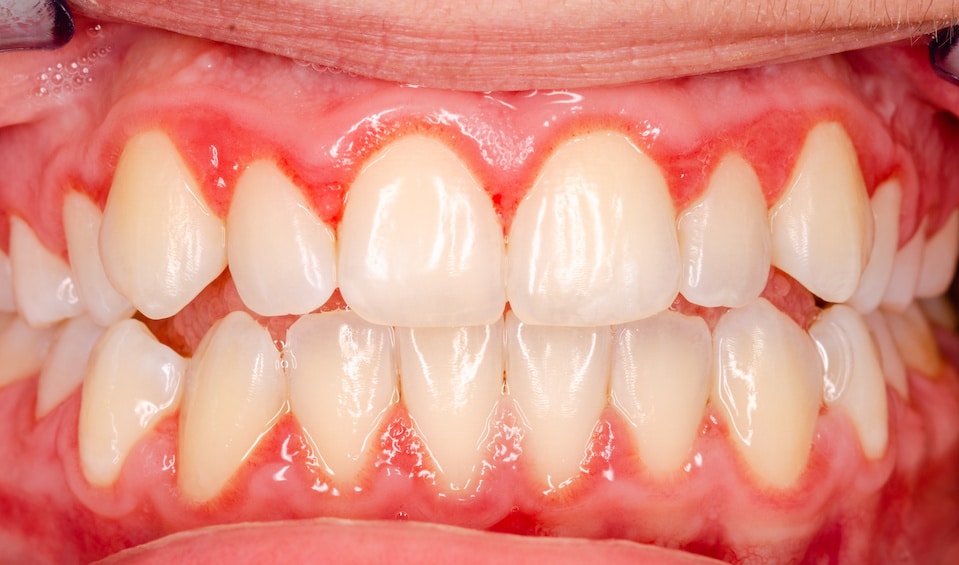 Common signs
Red & purple gums
Swollen & puffy gums
Gum inflammation & discoloration
Gum separation & recession
Bleeding gums
Halitosis (bad breath)
Common symptoms
Tender gums
Pain when chewing
Sensitive teeth & gums
Recommended Reading:
Gingivitis vs Periodontitis (Gum Disease) Overview
When the gums are swollen, the lining becomes ulcerated, and the gums are prone to bleed even with gentle brushing and flossing. In addition, if the gums are inflamed, they may start pulling away from the neck of the tooth. This causes gaps between the teeth and the gums, known as gum pockets (or periodontal pockets).
---
Recommended Reading: 8 Gingivitis Home Remedies That Work! (Dentist Approved)
---
Similarly, many people aren't aware that they have gum disease (periodontal disease). Periodontal disease, also known as
periodontitis
, can cause teeth to shift position, wobble or hurt when you chew. In addition, periodontal disease will lead to irreversible bone loss.
---
Periodontal disease is treated with scaling and root planing, also known as deep cleaning. If gum disease is not controlled, your dentist will refer you to a gum specialist known as a periodontist.
---
Gum disease classifications
Gingivitis – If regular brushing and flossing habits are not maintained, dental plaque will form on teeth, causing gum inflammation. Harmful bacteria that feasts on sugars and carbohydrates populate, leading to gingivitis. Gingivitis features swollen, red and puffy gums without bone loss. Gingivitis is reversible; however, it will progress into gum disease (periodontitis) if left untreated.
Early periodontitis – As the harmful bacteria increase, it localizes deep underneath the gums. In time, the bacteria will lead to further gum inflammation and infection. In addition, the bacteria will move downward along the tooth root, initiating bone loss.
Moderate periodontitis – As bone loss continues, harmful bacteria find other hidden areas, preventing proper removal. Moderate periodontitis consists of continued gum inflammation and bone loss. In addition, tooth mobility will begin to occur along with bone loss between the roots of the teeth.
Advanced periodontitis – Tooth mobility and puss formation are characteristics of advanced periodontitis. In addition, gum disease is irreversible, so tooth stability is compromised once bone loss occurs. Therefore, immediate professional care and treatment are necessary at this stage to prevent generalized tooth loss.
Acute necrotizing ulcerative gingivitis (ANUG/NUG) – Acute necrotizing ulcerative gingivitis is a stand-alone condition that's more severe than advanced periodontitis. The harmful bacteria that cause this disease process are more severe and damaging. This condition is characterized by the sudden onset of inflammation, pain, and the presence of "punched-out" crater-like lesions of the papillary gingiva. This disease process commonly occurs in young adults.

</ul id="DISEASE">

---
Recommended Reading: Acute Necrotizing Ulcerative Gingivitis (ANUG) "Trench Mouth"
---
Gum disease pictures
Let's take a closer look at what gingivitis and gum disease looks like in the mouth. We'll order them from least to most severe so you can see a distinct transition from health to harm. Take note of the colors of the gum, inflammation, plaque and tartar present. Although we have great pictures available, an accurate diagnosis is incomplete without gum measurements, dental x-rays and medical/dental information.

---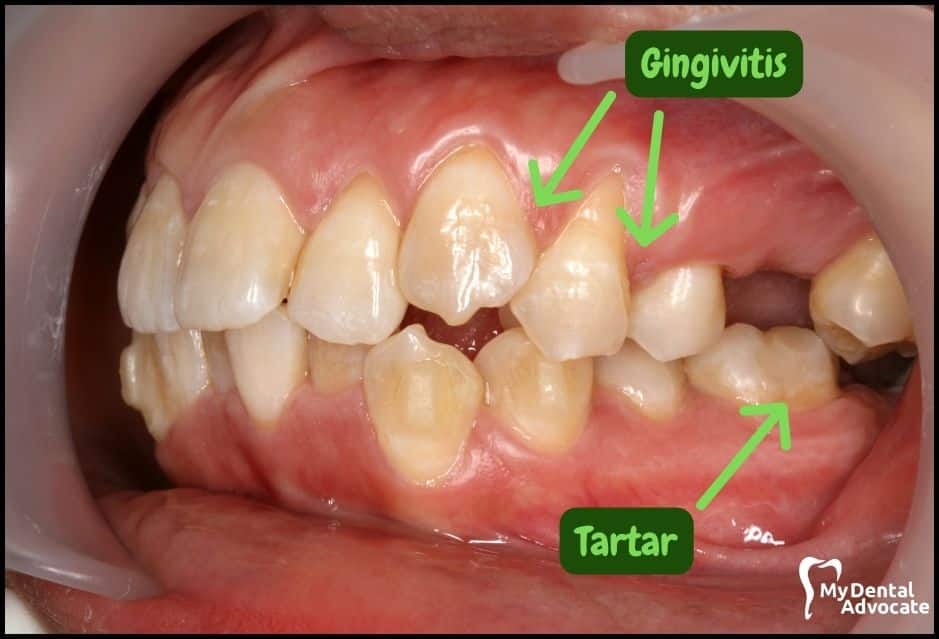 ---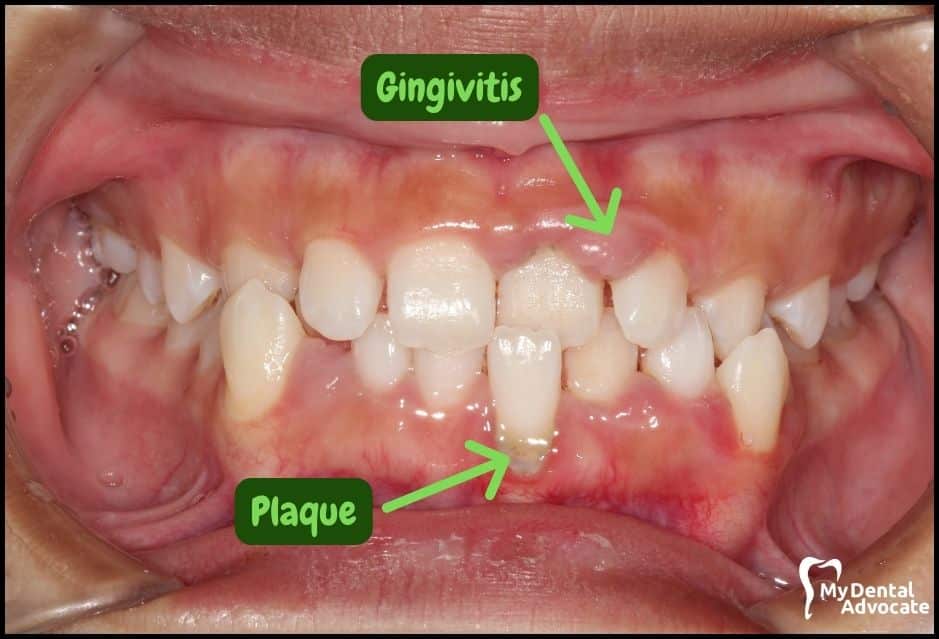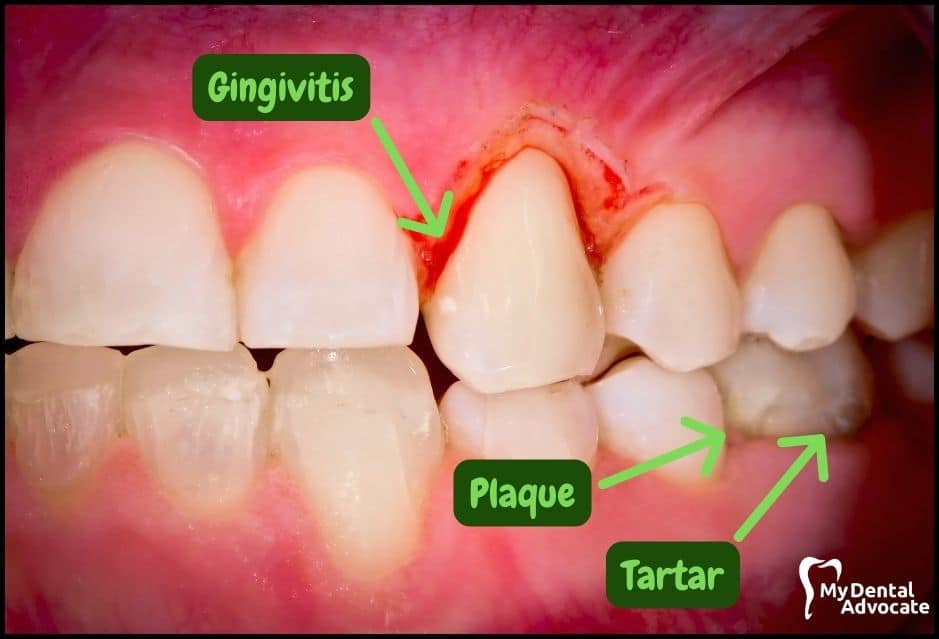 ---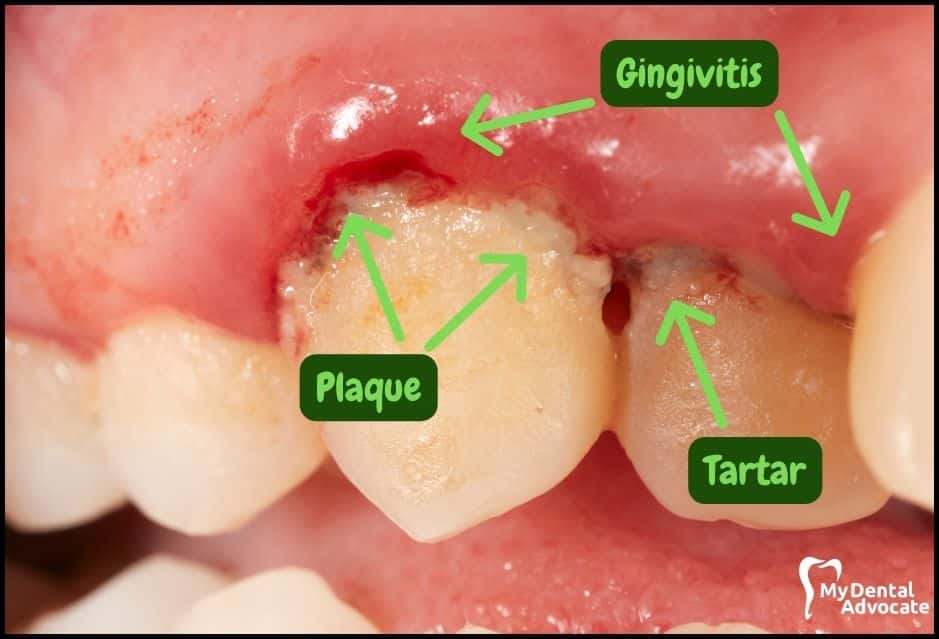 ---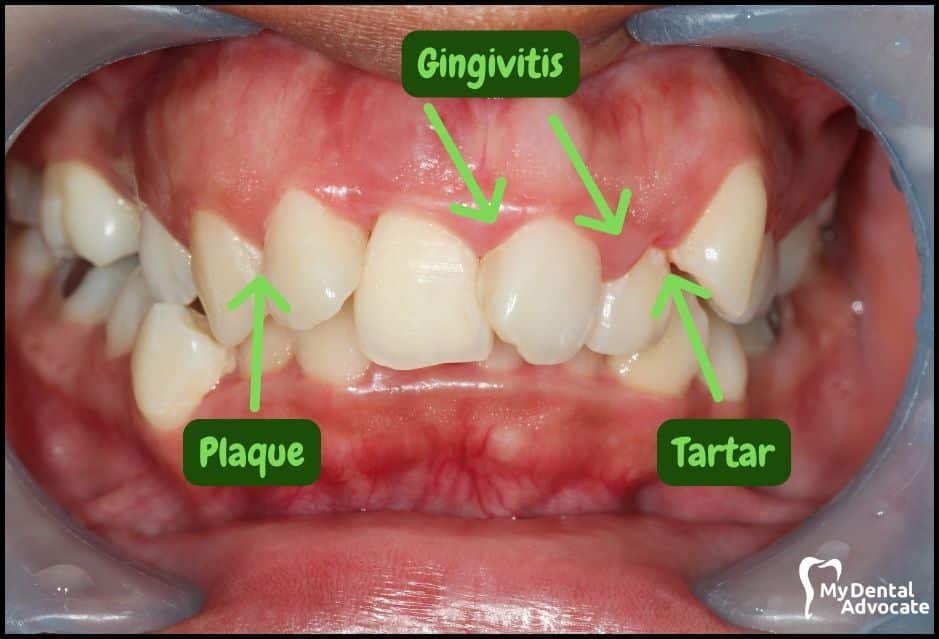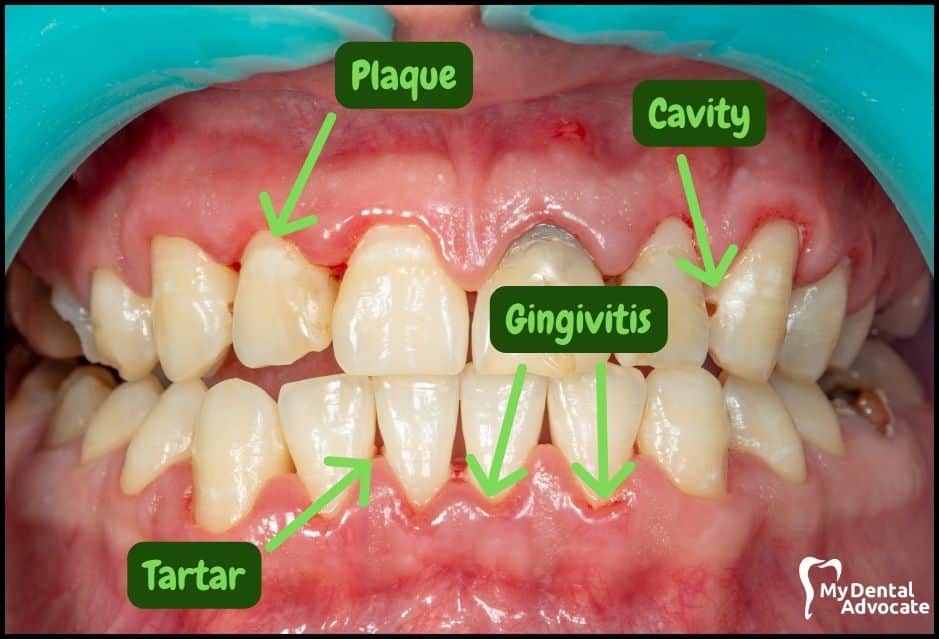 ---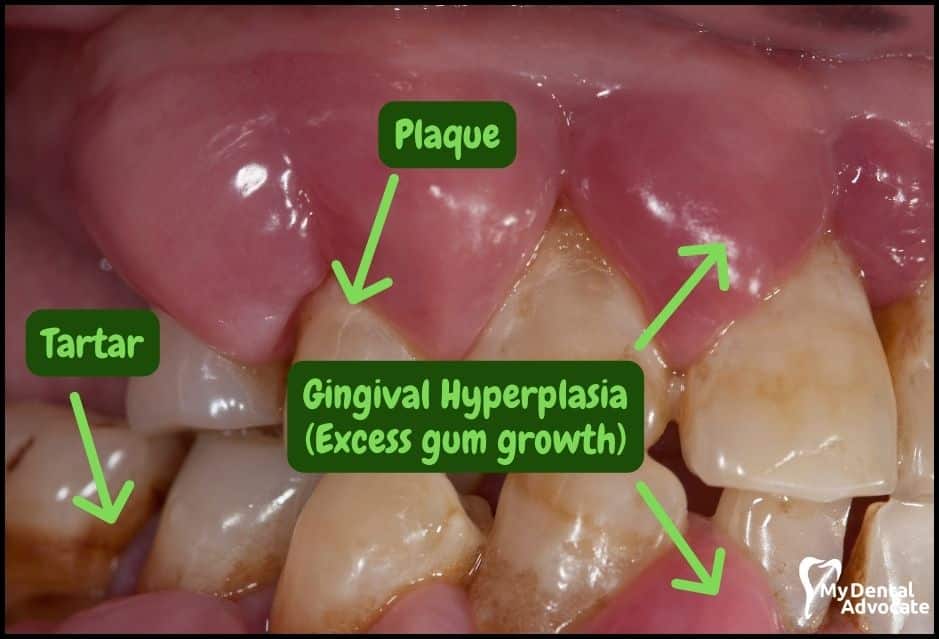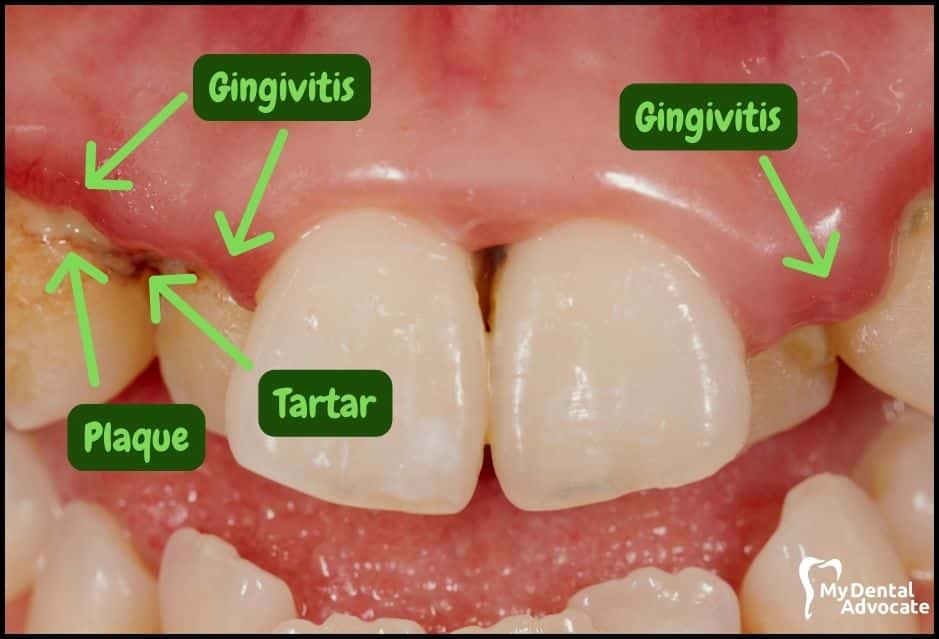 ---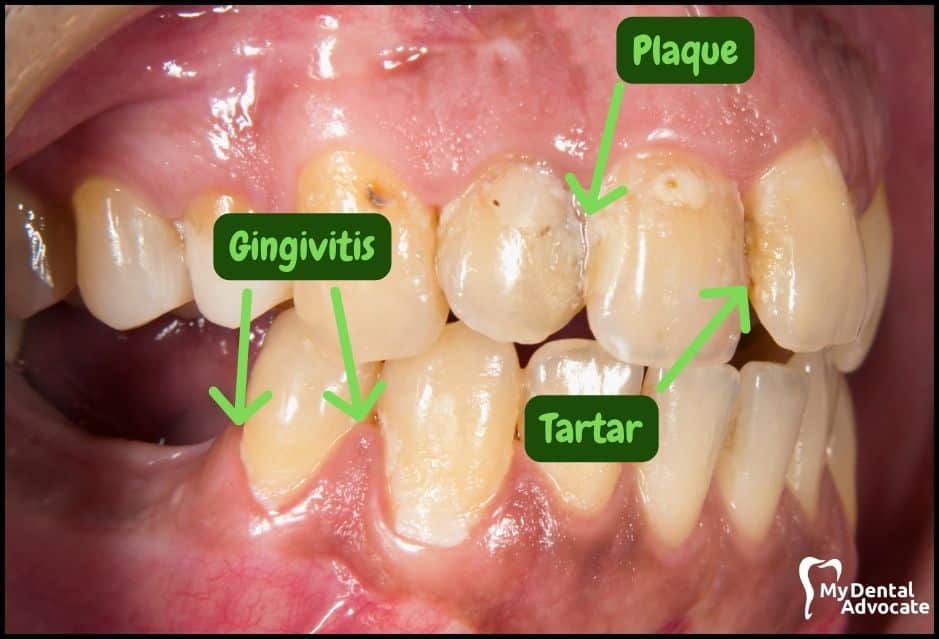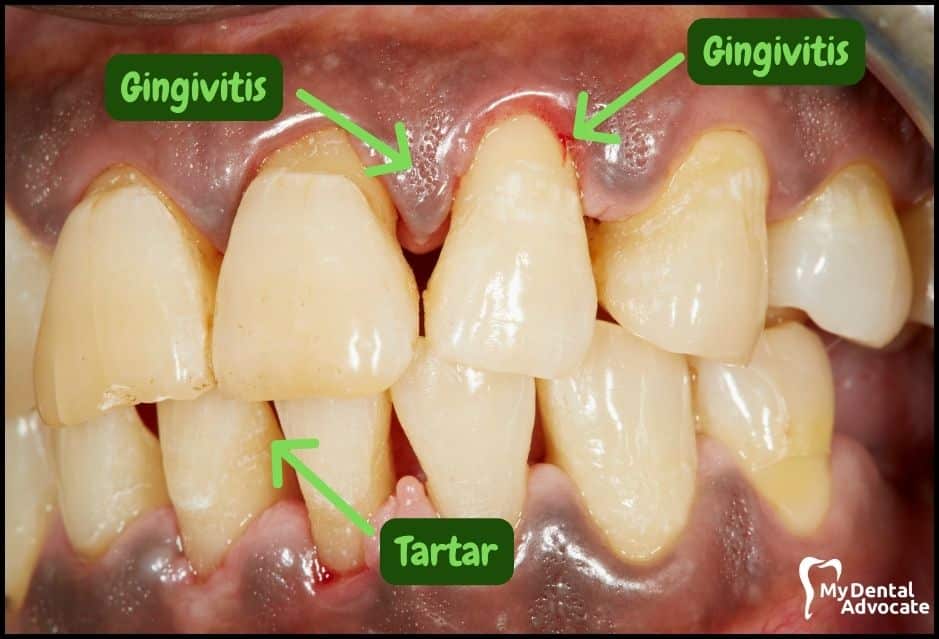 ---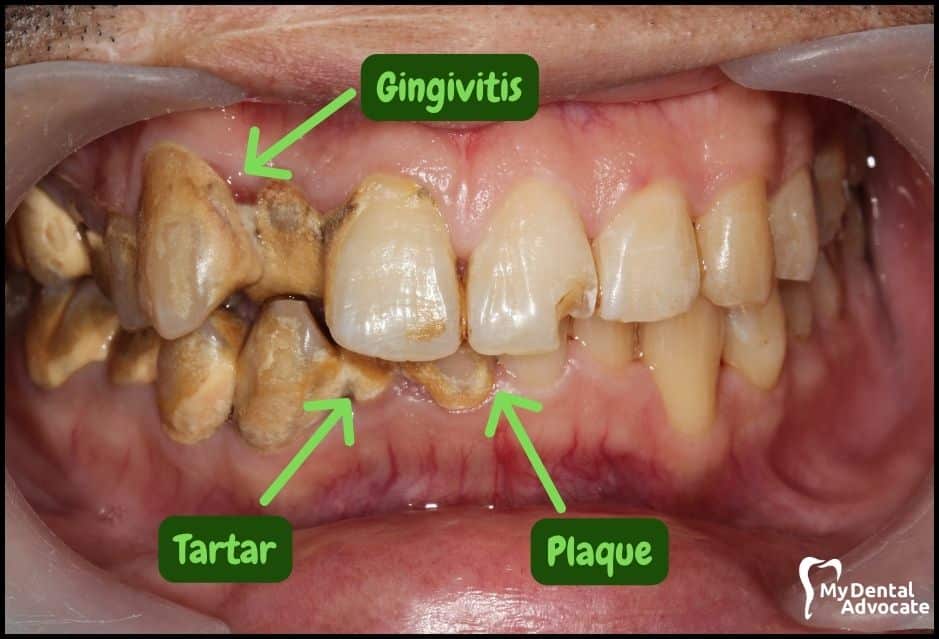 ---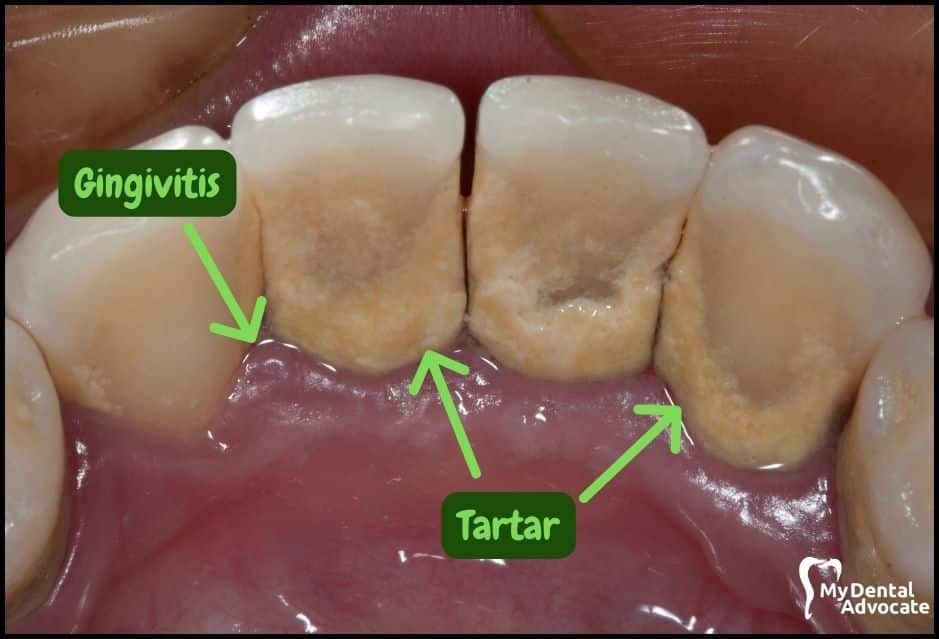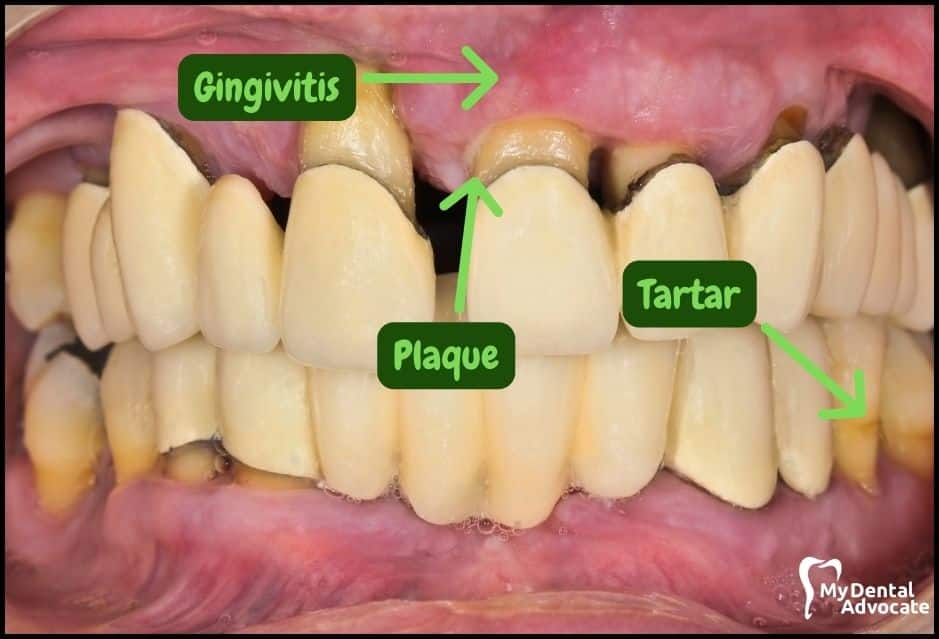 ---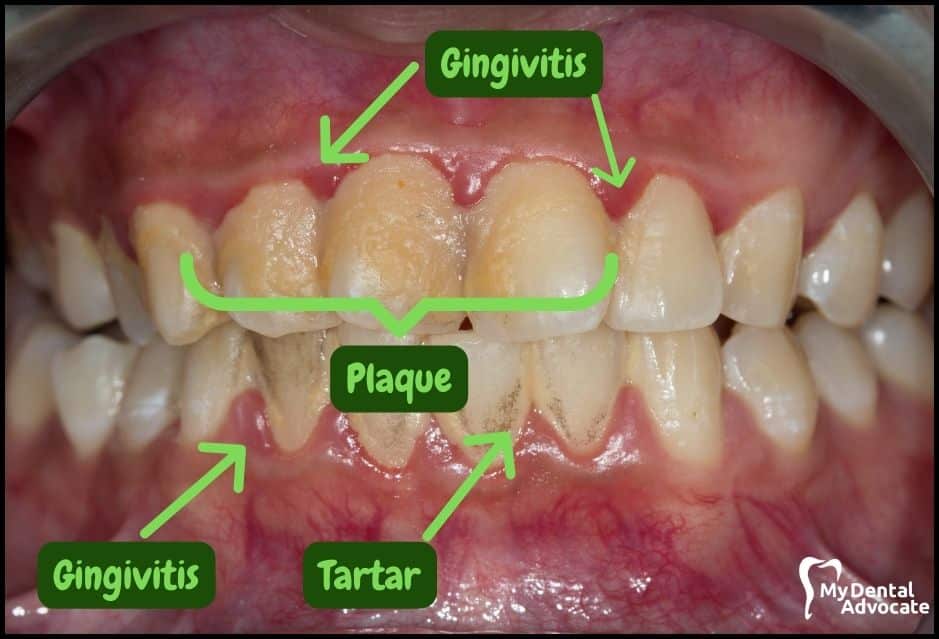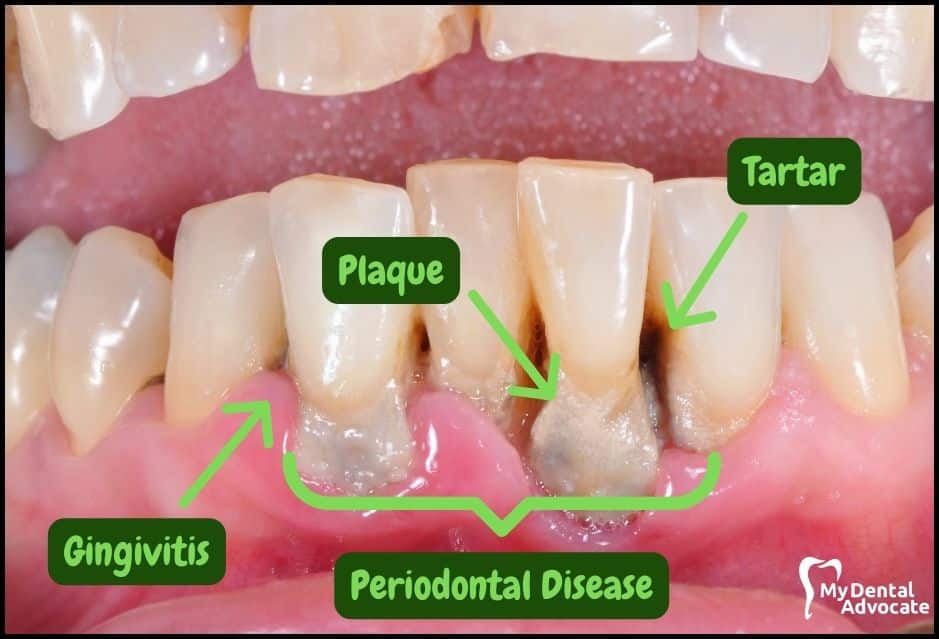 ---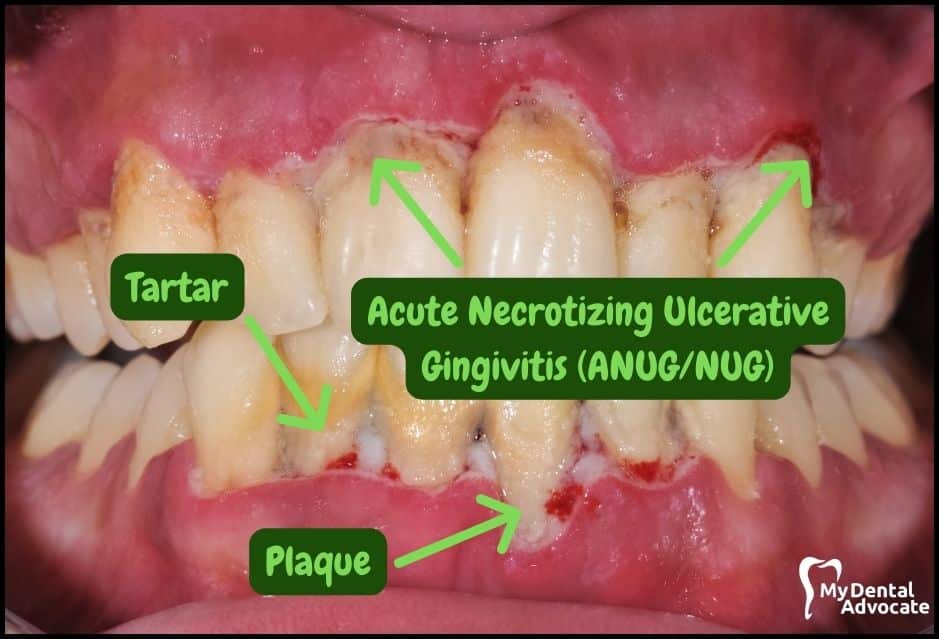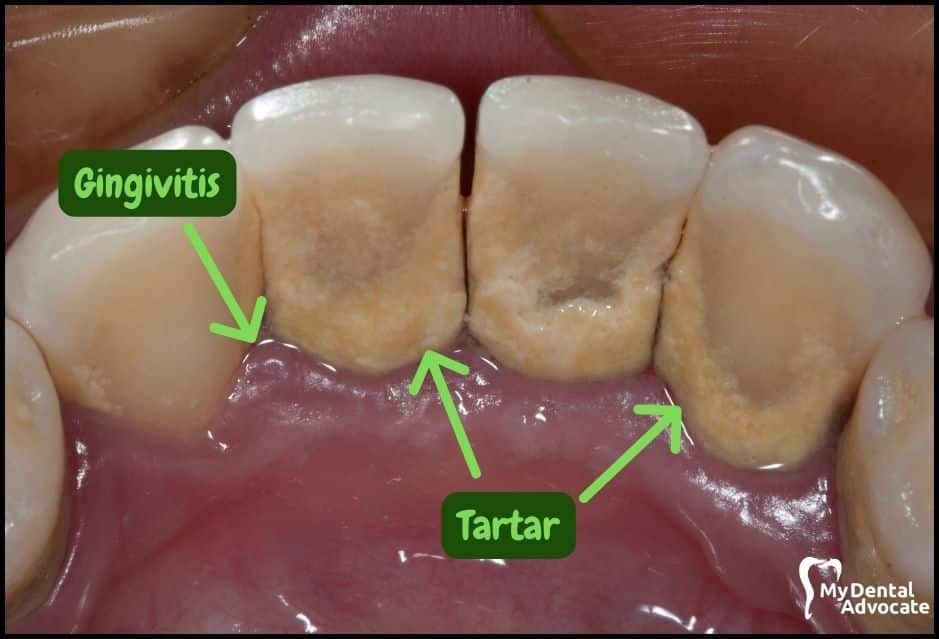 ---
When to see the dentist
According to the CDC, researchers have uncovered potential links between gum disease and other severe health conditions. The harmful bacteria in the mouth that enters the bloodstream are usually harmless to individuals with healthy immune systems. But under certain circumstances, these microorganisms are associated with health problems such as stroke and heart disease. Call your dentist if you or someone you know has signs and symptoms of gingivitis. Your dentist may examine you at your next checkup or make a special appointment.
Recommended Reading: Is Gingivitis & Gum Disease Contagious? (What the Research Says)
---
Frequently asked questions (FAQ)
---
---
Final thoughts
The prevalence of gingivitis is exceptionally high. If you've been diagnosed with gingivitis, don't panic. Instead, contact your dentist ASAP for professional care and treatment. Fortunately, gingivitis is reversible and managed with improved oral care, routine cleanings and proper nutrition. Don't delay; contact your dentist today!
---
The more you know, the more healthy habits you can develop, saving you and your family from avoidable and potentially expensive dental procedures. Talk to your dental professional for more suggestions on improving oral health and check back for more blog posts and relevant information. Please share this site and let us know what else you'd like to know!
---
---
---
About the Author
Dr. Advocate is an actual board-certified dentist with clinical practice experience and a mission to provide accurate dental patient education. He believes everyone should access easy-to-read dental resources presented in layman's terms with relevant, up-to-date dental research and insight to improve their oral health.
---
---