Wisdom Teeth Removal Cost 2023 (With & Without Insurance)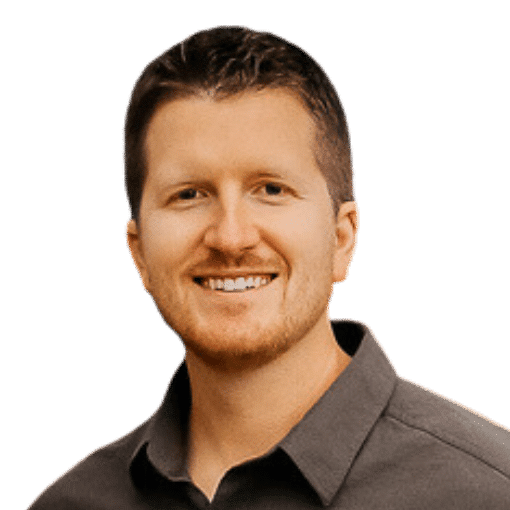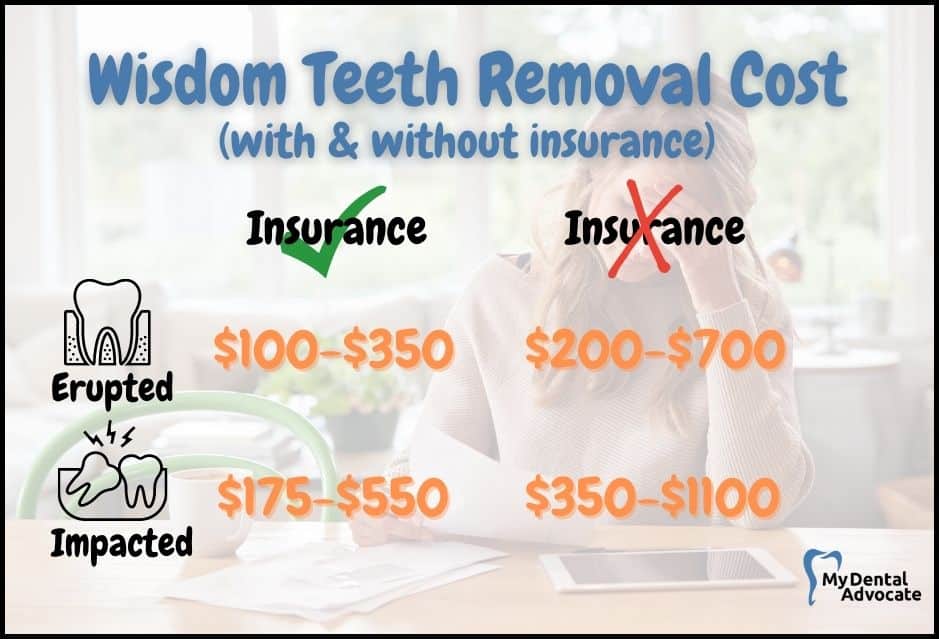 Are you worried about the cost of wisdom teeth removal? Wisdom teeth surgery is considered a major dental procedure and necessary for most 15 to 25-year-olds. Expect to spend between $200 and $1,100 per tooth!
On top of that, you might have to pay another $100-$300 for anesthesia and antibiotics. Consider dental insurance or discount plans to make wisdom teeth extractions more affordable.
Recommended Reading:
Wisdom Teeth | The Ultimate Guide
How much does wisdom teeth removal cost WITH insurance?
Calculating the exact cost of wisdom teeth removal relies on many factors. First, verify your dental insurance payment terms. For example, 100/80/50 means they will pay 100% for the preventive procedures, 80% for basic procedures and 50% for major procedures.
If your wisdom teeth have erupted, it would be considered a basic procedure, and you'd likely need to pay 20% of the cost (insurance will pay the remaining 80%). However, if they're impacted, your insurer probably classifies the procedure as a "major," and you'd be responsible for paying half the bill.
The cost for erupted teeth can range from $100 – $350 a tooth, and the cost for impacted teeth can range from $175 to $550 a tooth.
The dentist may need to perform an exam, take a panoramic x-ray, other x-rays, or even a cone beam CT (3D imaging). A dental exam is required to evaluate and diagnose the teeth accurately. Often, dental exams are fully covered along with yearly x-rays. Full mouth x-rays are often covered every 1-3 years, and panoramic x-rays every 3-5 years.
If a CBCT (cone beam connective tissue) image is required, expect to pay $150 and $750 as most insurances will not cover this procedure.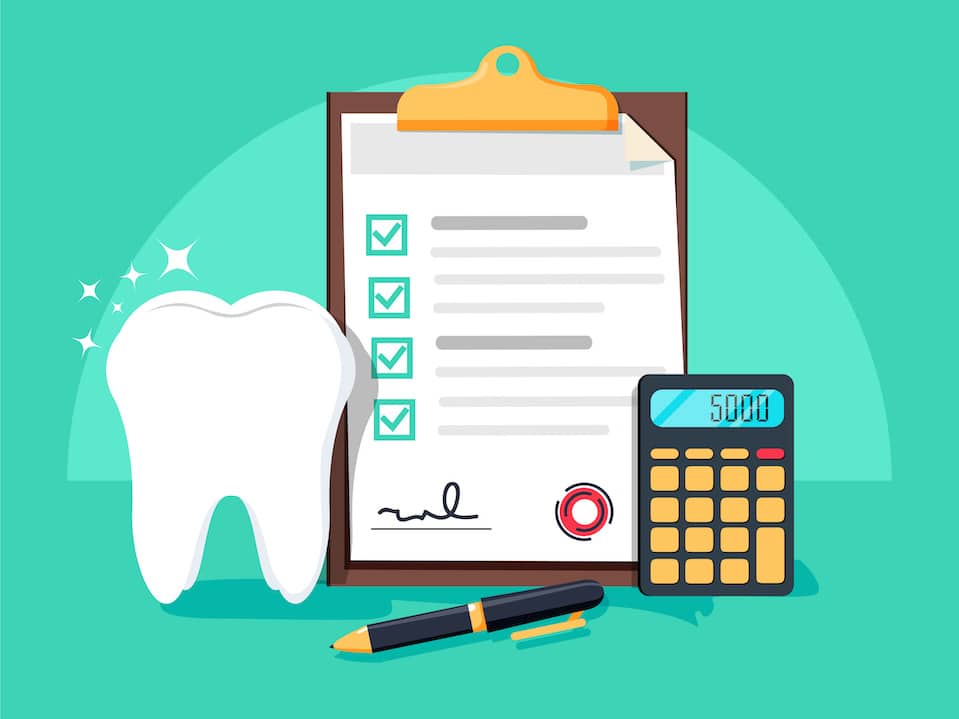 Cone beam CT images are necessary if wisdom teeth are near vital structures. For example, if lower wisdom teeth are near or within the inferior alveolar nerve (IAN), it's critical to know how invasive the extraction will be. Proper treatment will prevent damaging the IAN leading to temporary or permanent paresthesia.

In addition, if deep sedation is required, expect to pay $50 to $225 depending on the length and type of anesthesia. Sedation fees are calculated in 15-minute intervals.
Recommended Reading:
Wisdom Teeth Removal (What's Involved?)
Dental insurance plan considerations
Most dental insurance plans don't cover the total cost of tooth extractions and other major procedures. Instead, you'll typically pay a portion of the total price, with the insurance plan picking up the rest.
With so many insurance plans available, it's essential to understand the significant differences between them.
Recommended Reading:
Sedation Options for Wisdom Teeth Removal (Read this FIRST)
How much does wisdom teeth removal cost WITHOUT insurance?
The cost for erupted teeth can range from $200 to $700 a tooth, and the cost for impacted teeth can range from $350 to $1,100 a tooth.
In addition, the dentist may need to perform an exam, take a panoramic x-ray, other x-rays, or even a cone beam CT (3D imaging). Most dental exams cost $50 to $200 for the dentist to thoroughly review your wisdom teeth removal needs. In addition, panoramic x-rays cost $100 to $250, periapical x-rays cost $25 and $50 and cone beam CTs cost $150 and $750.
If general anesthesia is required, expect to pay $100 to $450 depending on the length and type of anesthesia. Sedation fees are calculated in 15-minute intervals.
Factors that affect how much you'll pay
Tooth condition
Recommended Reading:
Impacted Wisdom Teeth: Symptoms, Causes, Removal & Recovery
Number of teeth
Dental extractions are priced per tooth. If only one wisdom tooth is extracted, expect to pay less than having all four removed. From a dentist's perspective, I recommend removing as many troublesome wisdom teeth at once so you don't have to return for multiple procedures.
Type of anesthesia
During the procedure, dentists typically use local anesthesia to numb the area. Your extraction costs include local anesthesia, so you won't be charged extra. However, if general anesthesia or IV sedation is required (most patients and clinicians prefer this), expect to pay more for the procedure.
Practice location
Dental practices closer to a city or coastline are more expensive for dental treatment. For example, patients living along the California coast expect to pay more for their dental treatment than those in Nevada. In addition, state dental boards review and dictate the cost of services each year.
Clinician expertise
Expect to pay more if you're being treated by a clinician with more experience. They commonly charge more for their services because of their expertise. In addition, some clinicians won't take any insurance and run a fee-for-service dental practice.
How to lower the cost of wisdom tooth removal?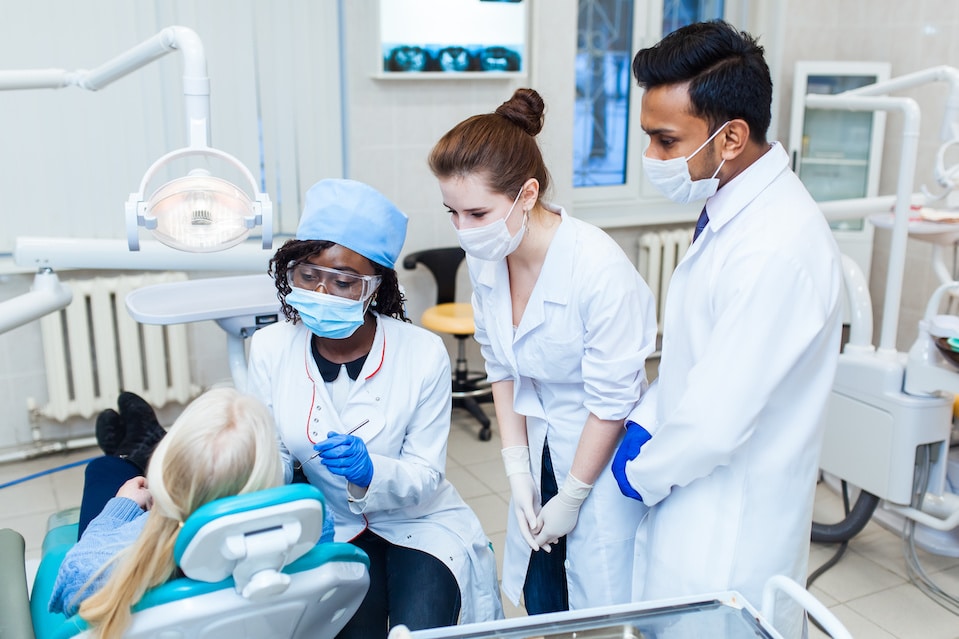 The costs of wisdom tooth removal can be high. However, aside from finding an in-network provider, there are other ways to save on wisdom teeth removal.
Dental school – I know what you're thinking, but dental school students are well-trained, have direct supervision from faculty members and will cost much less. Consider this method if you are near a dental school and don't have urgent pain.
Discount dental program – Some dental offices offer discount dental programs to reduce the overall cost. Though not the same as dental insurance, these programs can lower costs and provide monthly payments. Ask your dentist for recommendations.
Third-party payment plans – Care Credit and other third-party plans allow patients to open accounts and use funds for dental procedures. Like a credit card, you will have a maximum and be required to make payments or pay a high penalty if payments are delinquent.
Recommended Reading:
What to Eat After Wisdom Teeth Removal? (BEST & WORST Foods)
Potential complications that cost extra
Bone graft – Bone graft is necessary to replace extensive bone loss after wisdom teeth removal. For example, if removing the wisdom tooth leaves the adjacent tooth weak and unsupported, a bone graft should be placed to secure it.
Alveoloplasty – Alveoloplasty involves the smoothing and shaping of bone after a tooth is removed. The bony tooth socket has sharp edges that can be uncomfortable for the patient, especially if they wear a denture or removable partial denture.
Operculectomy – Partially impacted wisdom teeth will be buried under bone and gum tissue. Therefore, the oral surgeon may charge more if removing the inflamed gum tissue is extensive or requires more treatment. If this is necessary, it will add $50 to $300 per tooth to the overall treatment cost.
Dry socket – This is one of the most common complications of wisdom teeth removal. It occurs when the blood clot falls out of the tooth socket leaving infected, exposed bone. Dry socket is more likely to occur 3-5 days after surgery in the lower extraction sites. Avoid smoking, sucking, spitting and using a straw to avoid this complication. If you have a dry socket, you'll likely need to return to the dentist. They'll apply a special zinc oxide paste that may cost $50 to $100.
Infection – If your wisdom tooth is infected, your dentist will prescribe antibiotics to eliminate harmful bacteria. Your dentist may charge you $50 or more for the emergency visit.
Recommended Reading:
How to Sleep After Wisdom Teeth Removal? (BEST Tips)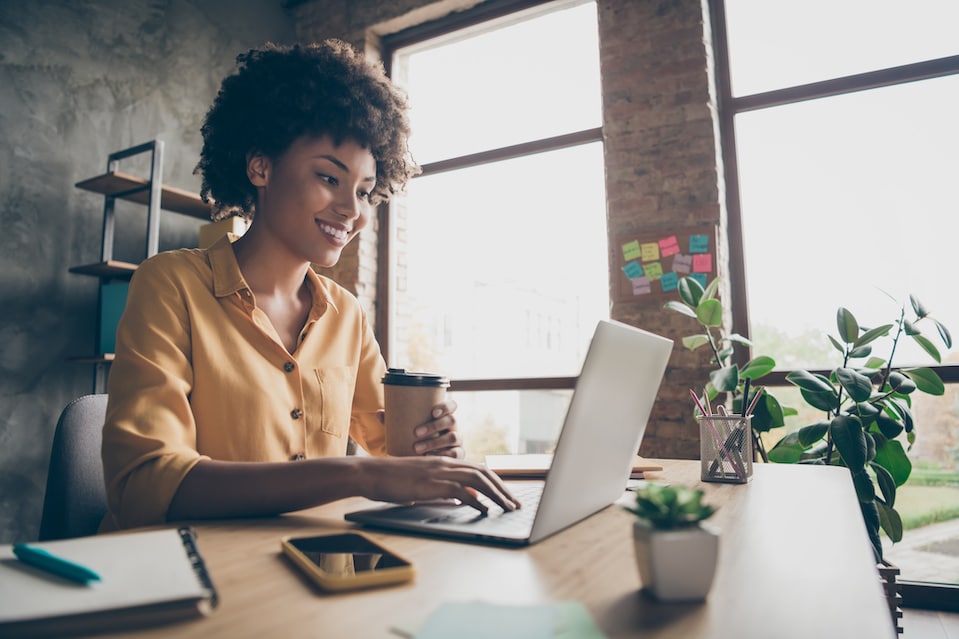 Best dental insurance plans
Dental plans with no waiting periods are valuable because they allow patients to immediately get coverage for preventive, basic, and major services—and sometimes even orthodontics.
These plans are ideal for patients who cannot purchase insurance due to cost or who need to undergo a major dental procedure.
The best dental plans with no waiting period have low monthly premiums, high annual coverage limits, and a comprehensive network of in-network dentists.
Humana
Humana has no waiting periods for four of its seven dental insurance policies. In addition, the choices and benefits offered by these policies are among the best in the industry, including a PPO policy, an HMO policy, and a dental discount policy with some of the lowest premium costs. Humana's Preventive Value Individual and Dental Loyalty Plus plan provide PPO coverage.
Preventive Value Individual is best for those who need only preventive and basic services, while Dental Loyalty Plus adds major service coverage. In addition, both plans pay for 100% of preventive services.
Humana's Dental Value HMO plan has no deductible or annual maximum. Humana also offers a Dental Savings Plus discount plan that costs $6.99 monthly. This plan provides 20% to 40% discounts when you visit one of the 160,000 in-network dentists. In addition, this plan includes a 20% discount on orthodontics.
United Healthcare
UnitedHealthcare is an excellent choice if you want insurance to cover preventive and basic services and don't want to wait six months to a year for the policy to take effect. Seven of the provider's ten dental plans have no waiting period for preventive and basic services. But, unfortunately, most cover major services after a six-month wait.
Metlife
MetLife is a global insurance provider offering insurance in many lines and has been doing business since 1868.
MetLife requires waiting periods for most of its policies. The standard plan has a $50 deductible, and annual maximums range from $1,000 to $3,500, depending on the plan. For in-network dentists, the plans cover 100% of preventive care, 50% to 70% of basic services, and 30% to 50% of major services.
Delta Dental
Delta Dental is a significant provider of dental services, serving more than 80 million Americans and maintaining a wide range of dental insurance options. By focusing exclusively on providing dental care, Delta Dental can provide its clients lower prices than most competing companies.
Delta Dental offers no waiting periods and a low monthly premium; the HMO plan is named DeltaCare USA. Copays are listed by procedure and are relatively reasonable; you'll pay only $20 out of pocket for cleanings and exams. X-rays are free of charge, fillings cost $25 to $120, and root canals cost $240 to $400. There are no deductibles or annual maximums.
Frequently asked questions (FAQ)
My Experience & Expertise
Understanding the cost of wisdom teeth removal will help alleviate anxiety. Although the procedure is a significant expense, removing third molars is essential before they become problematic.
Knowledge is power when cultivating healthy dental habits. The more informed you are, the better positioned you'll be to prevent avoidable and potentially costly dental procedures for you and your family. Watch for future blog posts, where we'll continue sharing important information, product reviews and practical advice!
---
Sources