---
How Much Are CEREC Crowns? (Pros, Cons & Treatment Cost)
Category: Adult Dentistry, Common Questions, Dr. Advocate's Insights
By: Dr. Advocate
Updated: August 25, 2022
---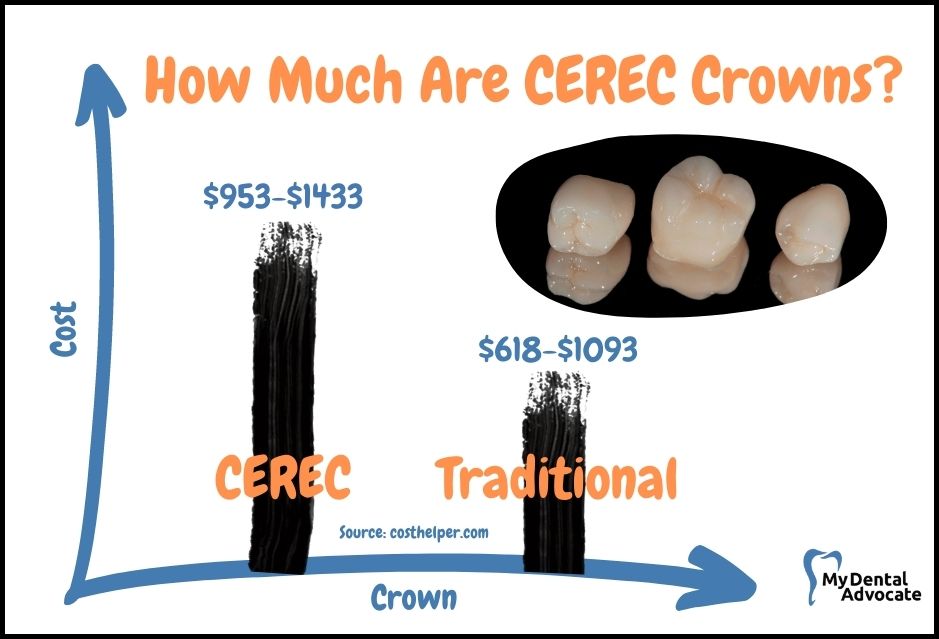 CEREC crowns are a popular dental restoration option composed of high-quality, esthetic ceramic; however, you may be paying a premium. Treatment cost for CEREC crowns varies depending on where you live and the dentist's credentials, but it is typically more expensive than getting traditional crowns. This blog post will discuss how much are CEREC crowns, pros and cons, and factors that constitute the crown price.
Recommended Reading:
CEREC Crowns | The Ultimate Guide
---
How Much Are CEREC Crowns?
CEREC (same-day) crowns are more expensive than PFM (porcelain-fused-to-metal) and gold crowns because their fabricated in-office, highly esthetic, durable and cemented on the same day. CEREC crowns cost $800-$3,000 or more per tooth, according to costhelper.com.
Many factors contribute to the cost of CEREC crowns; however, with insurance, your out-of-pocket expenses will be $530-$1875 ($953-average). Without insurance, CEREC crowns will cost $860-$3000 ($1430-average).
---
Recommended Reading: What Are CEREC Crowns? (Advantages & Disadvantages)
---
What factors contribute to CEREC crown cost?
CEREC (same-day) crowns are NOT cheap! You may think crown costs are randomly decided, but there is a method. For example, various factors are considered when determining the price of a specific crown (PFM, gold, CEREC, etc.) or any other dental procedure.
---
Let's take a closer look at these factors.
Tooth type – Dental procedure/treatment codes are used to document tooth numbers and the type of crown used. Anterior (front of the mouth) crowns are cheaper than posterior (back of the mouth) crowns because posterior crowns are more significant and require more material for fabrication.
Location – The cost of goods and services varies depending on where you are in the country. For example, the price of gas may be lower in Texas compared to California. Similarly, the cost of CEREC crowns varies based on location. In addition, most states meet yearly to discuss dental treatment price increases and how much. Also, treatment costs can even vary based on location within the state or city.
Dentist – CEREC crowns are a premium type of crown because it requires advanced training, equipment and expertise. Not all dentists are capable of fabricating a CEREC crown in-office. CEREC CAD/CAM equipment costs $150k+ and consists of an intraoral scanner/computer, milling unit and specialized firing oven. Also, dentists may dictate costs according to their expertise as skilled clinicians may charge more for their services.
Insurance – According to the CDC, 50% of individuals utilize dental insurance to supplement dental treatment costs. Most insurances will cover 50% of the price of the crown if it's medically necessary; however, if the treatment is for cosmetic purposes, they won't cover any. Some insurances provide greater coverage than others, so understanding the benefits will help you gain the most insight.
Discount plans – For patients who do not have dental insurance, in-office discount plans are a great benefit. For example, the Smile Generation Dental Plan provides discounted dental rates for 700+ in-network dental offices. In addition, fee-for-service dental offices will often offer their own dental plan for cash-paying patients.
CEREC material – Occassionaly, CEREC crown costs may vary depending on what type of CEREC material is chosen. For example, Vita Mark II is a glass-ceramic material that can be milled and cemented without being heat-treated in a specialized oven. As a result, this crown may be less expensive than an e.max CAD "blue-block" lithium disilicate crown because the e.max crown is twice as strong after being fired in the oven.
---
CEREC vs. traditional crowns (cost analysis)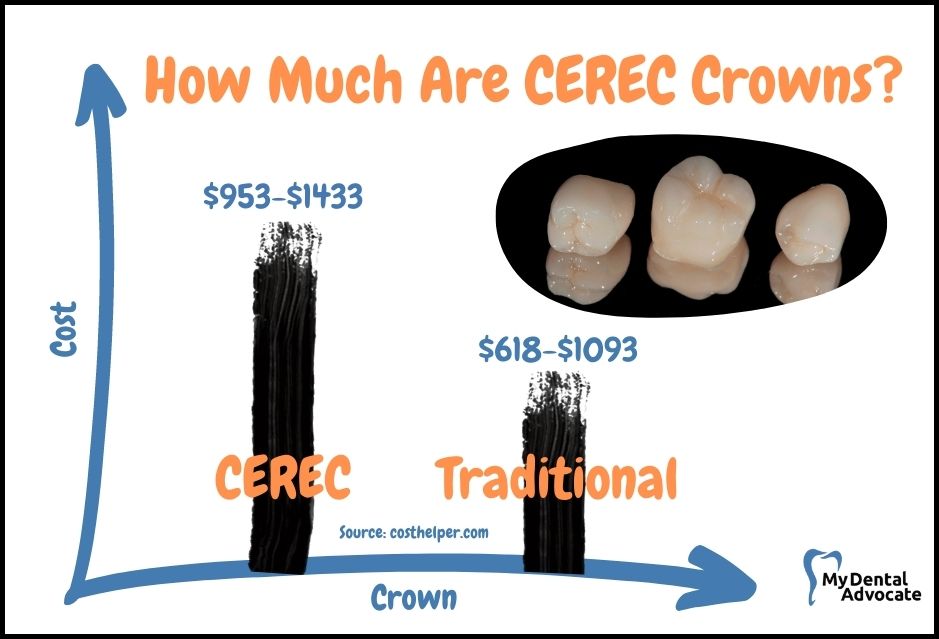 The four most common types of crowns include CEREC (same-day), PFM (porcelain-fused-to-metal), gold and zirconia. PFM and gold crowns are often cheaper because they require multiple visits, contain metal (precious and non-precious metals), and are fabricated in a dental laboratory.
CEREC (same-day) and zirconia crowns are more expensive for other reasons. CEREC (same-day) crowns are a premium type of crown because they can be fabricated in-office, are highly esthetic and require no temporary crown or gooey impression.
In addition, more training and expertise are required for the clinician. CEREC CAD/CAM technology will also need to be installed in the dental office for same-day crown fabrication.
Zirconia crowns are the strongest crowns available and are commonly fabricated at a dental laboratory. However, CEREC CAD/CAM technology is now offering sophisticated milling equipment to fabricate zirconia crowns in-office. Check out this video of a zirconia crown hammered into a 2X4 HERE!
---
Recommended Reading: Are CEREC Crowns Better Than Traditional Crowns? (Dentist's Perspective)
---
Why are CEREC crowns more expensive?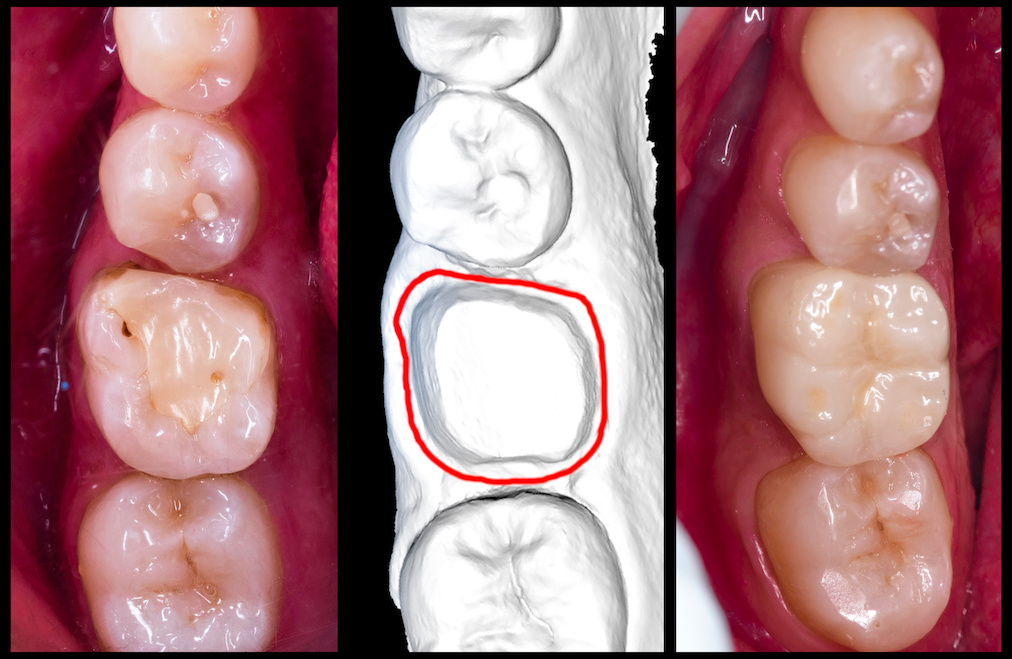 CEREC crowns are more expensive than traditional crowns because of ceramic material benefits, advanced technology, dentist expertise and patient efficiency.
First, CEREC crowns are made from various types of long-lasting, pre-formed ceramic blocks. Ceramic is more expensive than metal because it's more esthetic and costs more to fabricate. CEREC crown materials include feldspar ceramic, glass-ceramic, zirconia ceramic and lithium disilicate glass-ceramic.
Second, the CEREC CAD/CAM technology is more complex and requires the installation of an intraoral scanner/computer, milling unit and specialized firing oven. The computer-aided design, digital manufacturing, and state-of-the-art materials have greatly improved the dental crown procedure.
Third, CEREC crowns require a higher level of skill to scan, design and fabricate correctly, which also drives up the cost. As a result, there's a significant learning curve for the dentist and dental team during the initial education process; however, once it's understood, it allows the dentist to control the crown fabrication process from start to finish.
Fourth, and most importantly, CEREC crowns are the most time-efficient crown available. For example, most clinicians can complete a CEREC crown procedure within two hours, which includes crown preparation, scanning, designing, milling, firing and cementing. Some dentists can complete this process within one hour!
---
Traditional crowns require two appointments minimum; if the crown is faulty, more appointments are necessary. If you're considering getting a CEREC crown, discuss all available crown options with your dentist to better understand before treatment begins.
---
Are CEREC crowns worth the extra money?
In my practice, almost all patients were blown away by the sophisticated CAD/CAM technology and the ability to have a CEREC crown cemented within two hours. The excitement they experienced not having to come back for a second appointment, receive another shot (or two), no gooey impression and no temporary crown was enjoyable for me to see.
In addition, most patients were busy balancing family life, work, or other obligations and valued the procedure's efficiency.
---
Recommended Reading:
Same-Day CEREC Crown Process (Step-By-Step Guide)
---
Certain dental practices, such as those affiliated with Smile Generation Dental Plan, will offer a 5-year warranty for CEREC crowns, adding an extra layer of comfort for those hesitant to pay the premium crown price.
Studies show that the quality of the CEREC crown material has an exceptional survival rate. For example, lithium disilicate glass-ceramic e.max CAD "blue-block" crown has a 97.2% survival rate over ten years, and Vita Mark II CEREC crown is composed of feldspar ceramic and has a 30-year track record.
---
CEREC crown Pros & Cons
CEREC (same-day) crowns perform best within specific parameters. In my opinion, CEREC crowns work significantly well for 80% of the cases. Stronger CEREC crowns should be used on molars that receive more bite force, whereas more esthetic CEREC crowns (less durable) work well on anterior teeth.
In addition, CEREC crowns can be custom glazed and stained within a specialized firing oven to match the unique characteristics of adjacent teeth. Let's take a closer look at the pros & cons of CEREC crowns.
---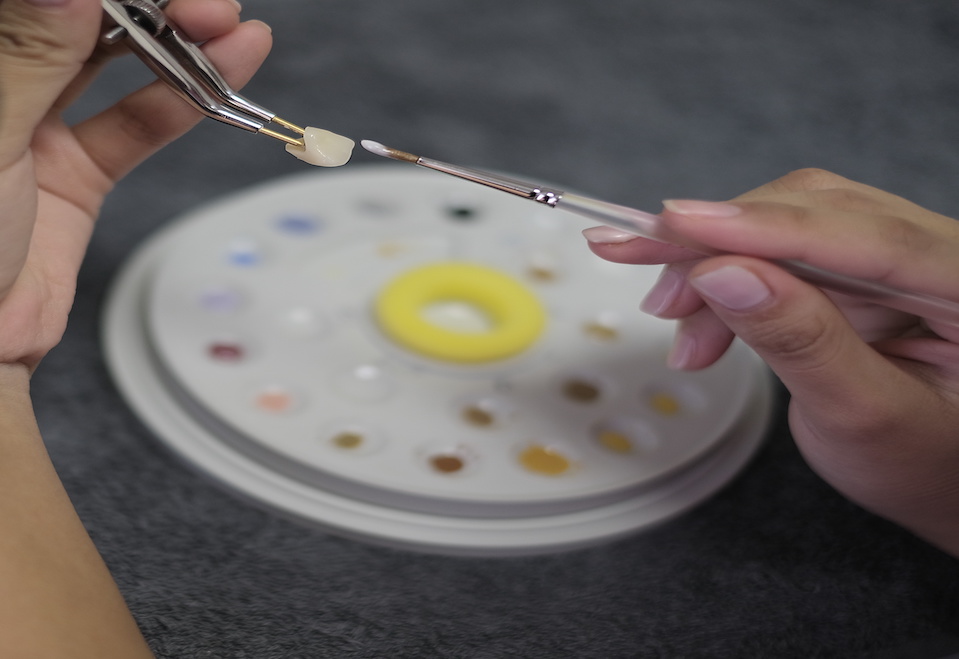 Pros
Efficient, in-office, same-day procedure
No temporary crown
No gooey impression
Biocompatible (Non-irritating material)
Highly esthetic
Can be bonded to tooth (stronger than cement)
Cons
More expensive than other crowns
Fracture potential if ceramic is too thin
Not recommended for bruxing patients (grind/clench)
Requires more tooth structure removal compared to other crowns (gold,
zirconia)
Lacks long-standing research and clinical trials compared to other crowns
Not all dental offices are equipped with CEREC CAD/CAM technology
---
Recommended Reading: When Are CEREC Crowns NOT Recommended (Top 6 Reasons)
---
Final thoughts
CEREC crowns are premium crowns and more expensive than other options, including PFM or gold; however, the quality ceramic material, advanced technology, and custom dentist-designed crown are convincing reminders that it's a superior product in most scenarios. Talk to your dentist to see if you are a good candidate for a CEREC crown.
---
The more you know, the more healthy habits you can develop, saving you and your family from avoidable and potentially expensive dental procedures. Talk to your dental professional for more suggestions on improving oral health and check back for more blog posts and relevant information. Please share this site and let us know what else you'd like to know!
---
---
---
About the Author
Dr. Advocate is an actual board-certified dentist with clinical practice experience and a mission to provide accurate dental patient education. He believes everyone should access easy-to-read dental resources presented in layman's terms with relevant, up-to-date dental research and insight to improve their oral health.
---
---