What Are CEREC Crowns? (Advantages & Disadvantages)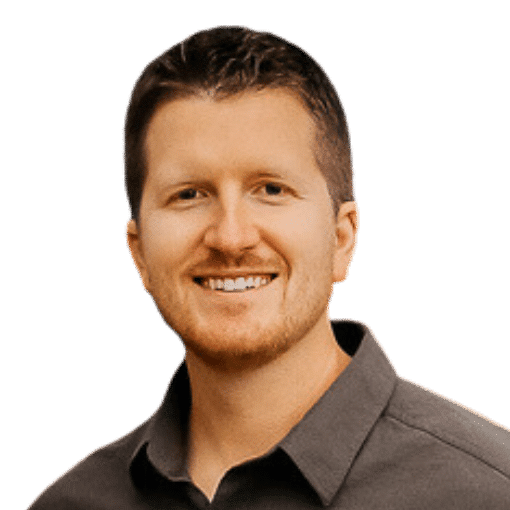 Dental crowns are a popular choice for restoring damaged teeth. Traditionally, crowns were made in a dental lab and required multiple visits to the dentist. However, with CEREC technology, dentists can create crowns in-office in just minutes.
This guide will explain CEREC crowns, how they work, and what patients can expect from the same-day crown process.
Recommended Reading:
CEREC Crowns | The Ultimate Guide
What are CEREC crowns?
CEREC stands for Chairside Economical Restoration of Esthetic Ceramics or CEramic REConstruction. CEREC crowns are fabricated in the dental office using different glass ceramics with varying strengths, hardness, and esthetic qualities. From crowns to bridges and abutments to veneers, CEREC is versatile and provides exceptional dental crowns for patients.
In less than two hours, you can have a permanent, custom crown using CEREC CAD/CAM technology.
Recommended Reading: Are CEREC Crowns Better Than Traditional Crowns? (Dentist's Perspective)
What is CAD/CAM technology?
CAD/CAM stands for Computer-aided design (CAD) and Computer-aided manufacturing (CAM). CAD/CAM technology in dentistry consists of taking a digital impression of the tooth using an intraoral scanner. Once the 3D image of the tooth is captured, it's then sent to a computer where the dentist can virtually design the restoration.
The computer-generated restoration is then milled using a CAM machine from a ceramic material block. The beauty of CAD/CAM technology is that it's minimally invasive, accurate, and provides same-day results for patients!
What are the benefits of CEREC crowns?
Many benefits come with getting CEREC crowns over traditional crowns. First, since CEREC crowns are made in-office, you won't have to wait weeks for your permanent crown to come back from the dental lab. Second, CEREC crowns are made of high-quality ceramic materials that closely resemble your natural tooth structure in color and translucency. This means your new CEREC crown will blend seamlessly with your existing teeth!
Another great benefit of CEREC crowns is that they're incredibly durable and can last up to 15 years with proper care. Plus, CEREC crowns are easier to clean than traditional ones since no metal margins can trap food and bacteria.
Are you a good candidate for CEREC crowns?
CEREC crowns are an excellent option for patients who need one or more teeth restored. If you have a chipped, cracked, or broken tooth, a CEREC crown can help to protect and strengthen your tooth. Crowns are also commonly used to cover teeth that are discolored or misshapen. If you have a tooth that needs restoration, talk to your dentist about whether CEREC crowns suit you!
What are CEREC crowns made of?
CEREC crowns can be milled from many types of material. Each material has unique qualities and is recommended for specific situations. For example, feldspar ceramics closely resembles natural tooth structure and can be placed immediately after milling. Let's take a closer look at the three most common CEREC crown materials.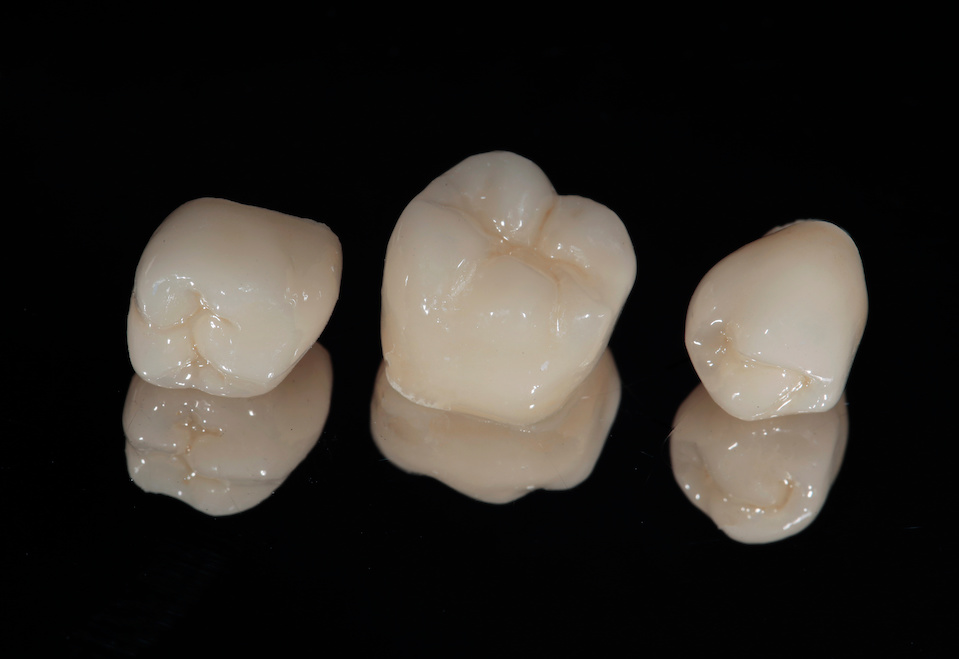 Feldspar ceramics – With enamel-like properties, feldspar ceramics provide an excellent color integration with adjacent teeth. Feldspar ceramics are indicated for inlays, onlays, and anterior and posterior crowns. Some blocks have three different layers based on varying degrees of color saturation. Feldspar ceramics are high esthetic and can be cemented immediately after milling (they don't require a "firing phase"). Lastly, studies show they have a 90% survival rate after ten years.
Glass-ceramics – Can be processed by milling and polishing followed by cementation in the mouth or milling and firing (in a specialized oven) to increase overall strength. IPS e. max crowns are made of lithium disilicate and are considered "the world's best-selling glass-ceramic crown." Other blocks such as Celtra Duo (ZLS) crowns are reinforced with zirconia resulting in impressive strength.
Zirconia ceramics – Considered the strongest all-ceramic dental restoration material on the market. Zirconia crowns are available in 10 different shades and provide the highest strength (+900 MPa). Zirconia ceramics are not as esthetic as glass ceramics or feldspar ceramics but make up for their lack of esthetics with high flexural strength and hardness. Zirconia ceramic crowns require a milling and firing phase before crown cementation.
Lithium disilicate ceramics – With more than ten years of clinical experience and maximum versatility (used for crowns, veneers, and implant abutments), lithium disilicate glass-ceramic crowns are a quality material of choice. In addition, it has a 97.2% survival rate over ten years. Unlike other materials, it requires an additional firing phase that hardens the ceramic material and allows the color to transition from blue to white. IPS e. max crowns are considered "the world's best-selling glass-ceramic crown."
Recommended Reading: Same-day CEREC Crown Process (Step-by-step Guide)
Are CEREC crowns considered same-day crowns?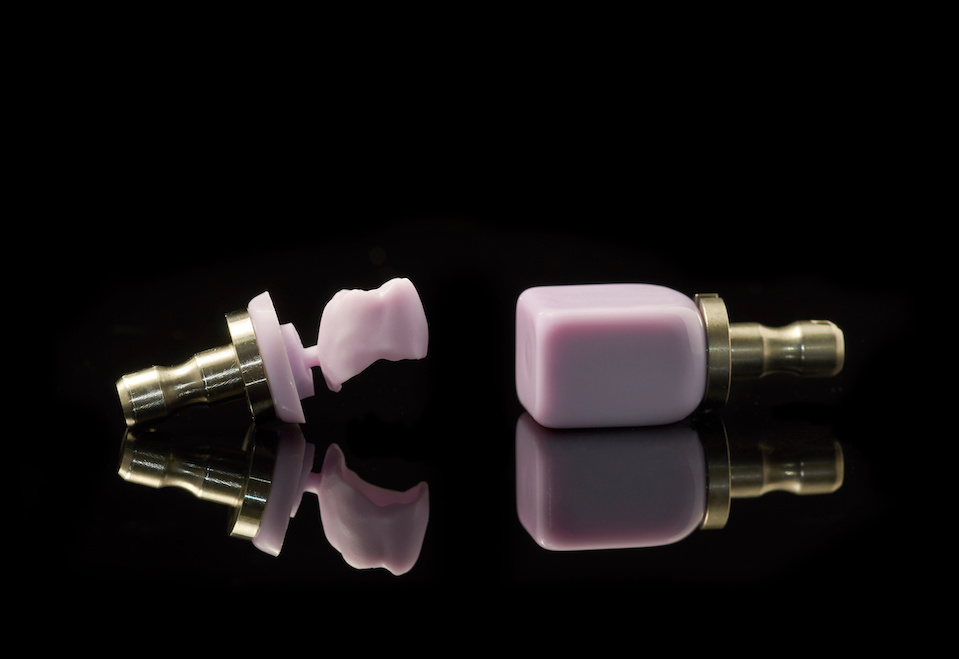 Yes, CEREC crowns are considered state-of-the-art same-day crowns. This means you won't have to wait weeks for your permanent crown to come back from the dental lab. Instead, your new CEREC crown can be made in the office in just a few minutes!
Also, because a digital impression is taken with an intraoral scanner, no dental laboratory is needed, and more importantly, you don't have to wear a temporary crown. Temporary crowns are only required for traditional crowns that can take multiple weeks to fabricate at a dental laboratory.
Benefits of CEREC CAD/CAM technology include:
Versatile restorations (inlays, onlays, veneers and crowns)
On-site milling & firing machine
Optical/digital impression using intraoral 3D camera
Software maps the contours of teeth for a precise fit
Dentist-designed dental crown
Easily mill out replacement crown if damaged
What's the difference between porcelain & ceramic crowns?
Porcelain crowns are fabricated in the dental laboratory by a dental technician. The porcelain fabrication process requires multiple porcelain applications followed by firing in a specialized oven. Porcelain comes in many different shades and translucency and is highly esthetic. Porcelain crowns are more esthetic than ceramic crowns but lack high flexural strength.
Ceramic crowns come as pre-shaded blocks and ready to be milled using CAD/CAM technology and a milling unit. Ceramic crowns are often stronger than porcelain and come in varying degrees of strength and hardness. Ceramic crowns are indicated for anterior and posterior restoration, whereas full-contoured porcelain crowns are indicated for anterior crowns.
Recommended Reading: How Do CEREC Crowns Stay On? (Top 8 Reasons Crowns Fall Off)
What is a digital impression?
A digital impression is a three-dimensional scan of your teeth using an intraoral camera. The scan is sent to a chairside computer, allowing the dentist to custom design and fabricate your CEREC crown. Also, it allows dentists to get an accurate, precise picture of your teeth to create a crown that fits perfectly.
Is CEREC a 3D-printed crown?
No, CEREC is not a 3D printed crown. Instead, it is a computer-generated dental restoration that uses optical scanning and CAD/CAM technology to create a replica of your tooth in minutes. This replica is then used to create your custom dental crown.
Rather than constructing a crown using 3D technology, the CAD/CAM milling unit houses two motors securing diamond burs that grind out CEREC restorations in six to twelve minutes, depending on the material, size, and shape of the restoration.
Advantages of CEREC crowns
The CEREC CAD/CAM system provides accurate, repeatable precision milling for many different restorations. According to a long-term CEREC clinical trial, the survival rate was 94.7% after five years and 85.7% after ten years. The study results show that the survival rates are comparable with the survival rates of gold restorations. Patients will appreciate highly esthetic, durable crowns that can be completed within a few hours. Also, the dental team will enjoy patient efficiency and learning about cutting-edge technology.
Advantages of CEREC crowns include:
No temporary crown required
No gooey traditional impression
Durable and long-lasting
Same-day crown capabilities
Smooth and natural crown with polishing or glazing
No second appointment needed
Accurate color match with chairside shading
Minimal tooth structure removal
Disadvantages of CEREC crowns
CEREC crowns are exceptional but not indicated for all types of patients. For example, patients who grind and clench their teeth at night or with a high bite force are more likely to fracture posterior (molar) CEREC crowns.
Also, some glass ceramic CEREC crowns have high translucency and will allow dark teeth to show through the crown. Therefore, other crown materials are recommended for these patients, including porcelain fused to zirconia (PFZ).
Disadvantages of CEREC crowns include:
Potential to fracture with high bite force
Not recommended for grinding or clenching patients
Inability to mask dark-colored teeth
Lack of research compared to other materials
Difficult to bond to tooth with high salivary flow
Recommended Reading: When Are CEREC Crowns NOT Recommended (Top 6 Reasons)
My Experience & Expertise
CEREC may be the perfect solution for you if you need a dental crown. With its high esthetic rating, accuracy, durability, and quick turnaround time, CEREC crowns using CAD/CAM technology are hard to beat. If you're interested in learning more about CEREC crowns, visit the content hub HERE.
Knowledge is power when cultivating healthy dental habits. The more informed you are, the better positioned you'll be to prevent avoidable and potentially costly dental procedures for you and your family. Watch for future blog posts, where we'll continue sharing important information, product reviews and practical advice!
---
Sources